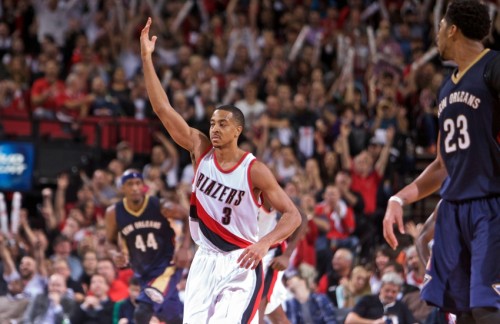 C.J. McCollum and Portland's Next Generation
December 9, 2015
Nobody knew quite what to expect out of the Portland Trail Blazers this season, with the exception, perhaps, that one could have reasonably expected to at least expect the unexpected. Such is life, we can all agree, when a veteran team that had defied expectations for several seasons goes sadly but swiftly the way of nature, imploding in upon itself like a dying star.
The Blazers were a force in the Western Conference from 2013 to 2015, about as close to the Legitimate Contender threshold without ever actually crossing that essential, defining line. With the emergence of LaMarcus Aldridge – a good big man who masqueraded masterfully as great before opting to join Gregg Popovich and company in San Antonio – and a band of effective veterans, the Blazers were genuinely impressive albeit slightly surprising with a value that most found difficult to gauge.
Not surprisingly, Portland's unexpected success, didn't last and credit thus ought to be assigned to any and all Blazers stakeholders who saw the writing on the wall and decided to temper their expectations leading up to 2015-16. In the summer of 2015, Oregonians watched longingly as the club bid farewell to not only Aldridge but veteran Wes Matthews whose prototypical grit out on the perimeter helped fuel the team's run. All-Everything forward Nicolas Batum was promptly unloaded to Charlotte, a move that stands as a testament to the foresight of Portland's front office.
There was nothing ugly about the demise of the fleetingly successful LaMarcus Aldridge Era Blazers, in fact few would argue that the rebuild (unbuild?) was anything less than reluctantly graceful. Instead, fans and critics alike watched as the franchise bid farewell to their first playoff team since the Brandon Roy days, like a child waving somberly as a moving van putters down the road carrying their best friend to the other side of the country.
Left alone to lead the franchise during this transition was Damian Lillard and the guard has done a fine job spearheading the next generation of Blazers stars. Lillard's points per game have crept up, as well as his assists in a slightly increased workload. In fact, his roughly 25 and 7 numbers put him right up among the elite at his position with such names as John Wall and Chris Paul.
The rest of the Portland roster looks refreshingly raw and unpolished, a convoy of unrealized potential. In the front court alone, promising big Meyers Leonard has been joined by Mason Plumlee and Ed Davis, both of whom have consistently produced at rates they flirted with at other stops in their young NBA careers. Even Noah Vonleh and Cliff Alexander have been brought on board to round out a depth chart rife with malleable promise.
Perhaps most intriguing though, has been C.J. McCollum.
In the summer of 2012, the Blazers decided to roll the dice on a confident combo guard from a mid-major college. Lillard, of course, would go on to thrive, immediately showcasing a penchant for performing under the spotlight. Lillard won the Rookie of the Year award that year and from that point on it was clear that Portland had no intention of sticking around in the lottery very long after.
In the summer of 2013, the Blazers decided that since it worked so well the first time, they may as well employ a similar tactic at the 2013 NBA Draft. Enter McCollum.
Both Lillard and McCollum were tall guards capable of playing at the two, but disciplined enough to log minutes at the point. Both had benefited from throwing the weight of their mid-major college squads on their back and carving out a name for themselves as a dominant force on the NCAA landscape. Both, however, could not simultaneously flourish in a lineup that relied on the balanced contributions of players like Aldridge, Matthews and Batum.
In a nutshell, it was nice to have Damian Lillard and a talented backup whose circumstances were eerily similar to Damian Lillard's, but there weren't enough opportunities for those to translate into success on an NBA court. McCollum's rookie season came and went without the guard even getting so much as a chance to show that he was capable of matching Lillard's first-year impact.
Naturally, Blazers fans and fans of young talent in general looked optimistically at McCollum's sophomore season, but the majority of the 2014-15 campaign saw much of the same. It wasn't until April of last season that McCollum was officially tagged in. On April 3, 2015, McCollum dropped 27 points in a win over the Los Angeles Lakers. He added 26 more in a close loss to the Jazz ten days later. In eight games that month, McCollum averaged 16 points per game in just over 27 minutes, but then we all forgot about it as Portland geared up for their second consecutive postseason.
To say that McCollum's success in 2015-16 came out of nowhere may at first appear reasonable – his jump from 5.3 and 6.8 points per game all the way to 19.5 suggests as much – but more accurately it was a carefully preserved contingency plan. Through the first quarter of this 2015-16 season, a season in which McCollum has averaged 36 minutes per contest, the rebuilding Blazers are a respectable 9-14 in the West.
Alongside Lillard, who continues to make a name for himself as an elite-level star at the point, McCollum has proven an ability to shoulder much of the offensive load freewheeling his way to the 21st spot on the NBA's scoring leader board. That may not look like much when compared to the production lost with Aldridge's departure or the fact that Portland isn't likely to extend their two-year 50-plus win streak, but given that this transition was inevitable, it's proof that the Blazers know how to rebuild better than most.
The LaMarcus Aldridge Era is over in Portland, but the roster of burgeoning talent that the transition has already brought appears as good a consolation prize as anybody could expect. There's beauty, after all, in the inevitable implosion of dying stars, giants whose times have come.
Just wait and see what happens next.