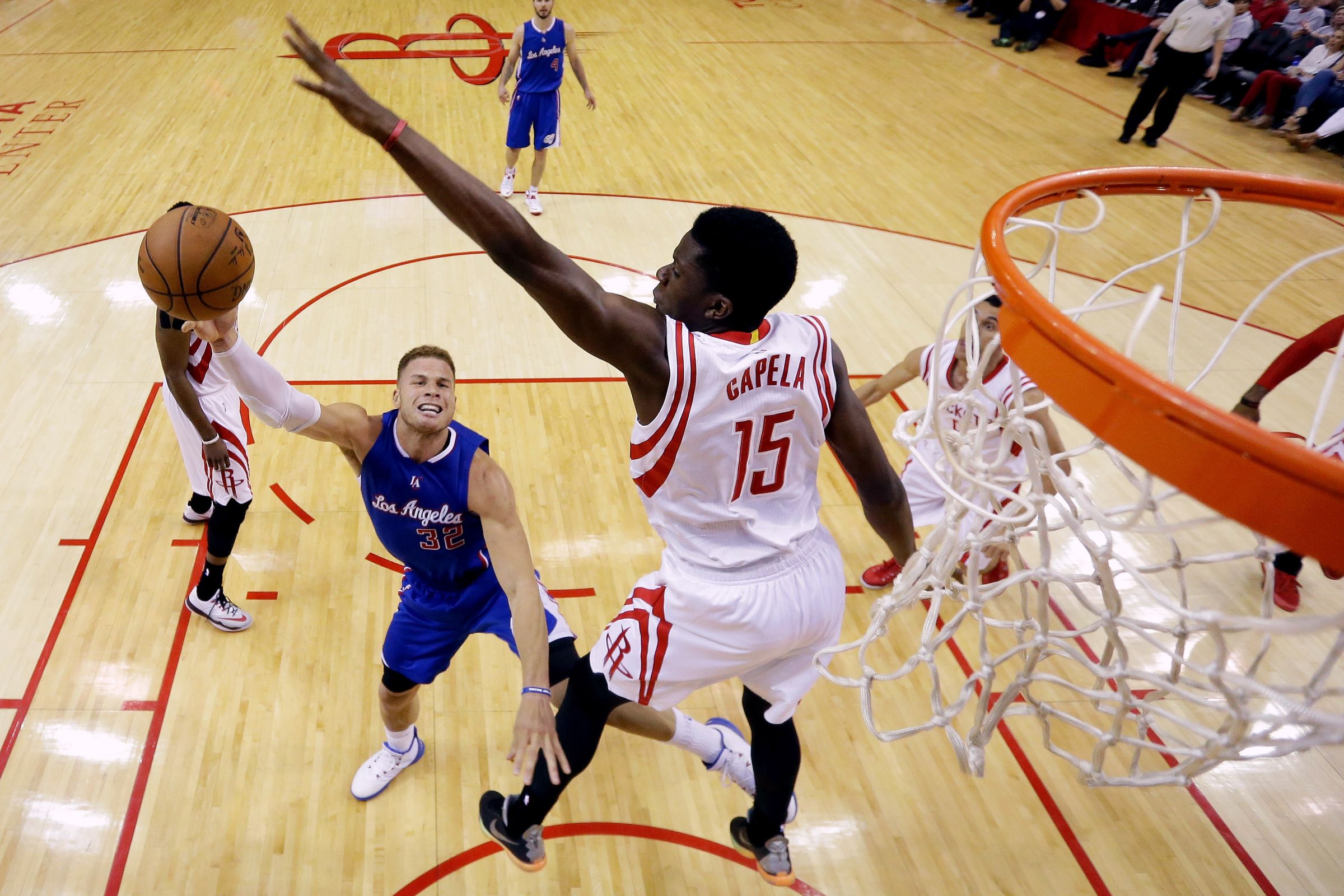 Clint Capela's Stock Rising in Houston
December 2, 2015
The train of efficient power forwards and centers that have played for Daryl Morey's Rockets is a long one, but of those intriguing bigs, the latest and perhaps most exciting of the bunch is Clint Capela. The 21-year-old came out of nowhere during Houston's playoff run last season, establishing himself as a defensive asset worthy of quality minutes under the spotlight of a postseason series against the eventual champions.
Not bad.
Such past postseason heroics are always hard to ignore when training camp of the following season rolls around. This year, everybody from journalists to Rockets fans and fantasy basketball owners were quick to earmark the Swiss-product as one to look out for in 2015-16.
If you missed that memo, consider this your one free follow up memo, a slightly more sternly worded, but still polite note, the type that gives off a vibe like "Daryl, I'm not sure if you got my last email, but I was curious to gauge your thoughts on my idea to host The Good Point night at the Toyota Center", but not quite going so far as to come off like "DARYL, I KNOW YOU GOT THE ******* EMAIL, DID YOU THINK I WOULDN'T CHECK MY MAIL SERVER LOGS? YOU'RE TOO COOL TO EVEN RESPOND NOW?!? WHATEVER HAPPENED TO 'MATH CLUB BROTHERS BEFORE ANY OTHERS'. YOU'VE CHANGED, DARYL, I DON'T EVEN KNOW YOU ANY MORE".
*Ahem*.
Not only has Capela proven that last spring's impact was no fluke, he's done so while contributing in other aspects of the box score as well. Through 18 games of his sophomore season, Capela has averaged 16.4 points and 13.0 rebounds per 36 minutes. His actual minute-per-game total has slowly climbed over the course of the year all the way up to 18.6 and shows no signs of slowing down any time soon (check the game log).
Simply put, with much going wrong in Houston, Capela's emergence as a legitimately reliable rotation player is one of the few bright spots. Head coach J.B. Bickerstaff has felt increasingly confident with his young power forward, a change of pace big that complements Dwight Howard's lumbering playing style well. In four of the past five games Bickerstaff has called on Capela for 22-plus minutes, and in two of them, over 30.
Naturally, proponents of Capela's game were curious to see if he could sustain his production with an increased role (his per-36 rebound totals were, after all, even higher in 2014-15, clocking in at 14.4 in just 7.5 minutes per game). Fortunately, the numbers have scaled. From a fantasy perspective, that's great news, from a basketball perspective, that's even better.
Capela's emergence in Houston has given the Rockets a much-needed boost and even if it that hasn't  translated into the win column yet, it's a necessary component of any success the club is to experience going forward. Already a plus player on the defensive side of the ball, the energy Capela's presence on the court brings keeps Houston from falling into a malaise too easily fallen into when a team's best player's bread and butter involves shooting free throws while the rest of the lineup has little else to do but stand around dripping just enough sweat to ensure that there will always be a market for those circley broom-mops (mop-brooms?).
Currently Capela is owned in 83% of Sports.ws leagues (where player efficiency has always mattered *wink*) and even the traditional fantasy sites are starting to get on the bandwagon now that his usage is creeping ever higher. Before you know it, even the mainstream media will be acknowledging the Geneva product as one of the best buys of the polarizing 2014 NBA Draft class.
For those ready to take a flyer on the lanky forward (he's 6'11" with a 7'5″ wingspan, The Dream Shake's Ethan Rothstein says), he's the latest athletic big to demonstrate the value of a power forward with the coordination and agility to guard multiple positions.
From Colin Ainsworth, also at The Dream Shake:
In [a postseason] game, the Warriors tried to feed David Lee with Capela on him, assuming the rookie couldn't hold the veteran. Lee couldn't do a thing. They also tried to pick on Capela off the pick and roll, having him switch onto Steph Curry in an isolation situation … They did this a few plays in a row, thinking Capela couldn't stay with Curry. But he could!
Physically speaking, Clint Capela is Nerlens Noel in a more relevant situation. Contextually though, he's forcing himself into the conversation of most important role players in the NBA. Right now that may culminate in little more than the occasional double-double with sneaky block and steal totals, but the intangible benefits are so much more.