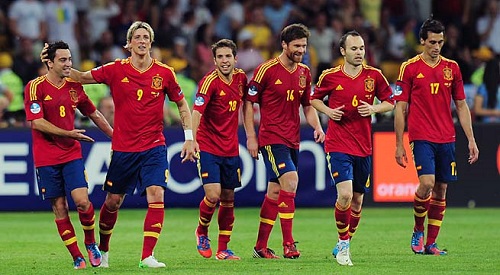 Brazil setting sights on World Cup after Confederations Cup championship
July 4, 2013
Brazil's Confederations Cup championship was one of individualism bound together by the most marvelous of joint aspirations. Beauty, ambition and guile carried the day in Rio, carrying Brazil to a 3-0 win over Spain and, at the same time, something greater than victory.
Sunday's final wasn't a changing of the guard in international soccer, but Spain must at least be on guard when they return to Brazil for the 2014 World Cup. By next June, Brazil's dominance in the dress rehearsal won't matter. Instead, the display of natural, fundamental and unadulterated skill they put on at the Maracana will most assuredly be remembered. Just as Barcelona unleashed beautiful fury upon Europe for five seasons, Brazil's young guns did the same to a squad that started five Barca players.
While none of Neymar, Fred, Paulinho, Hulk or Oscar cracked the World Cup side in 2010, each shone last month, toppling the aging world champions in their own magnificent way. They made moves no other players would try, and others that no one else would ever have considered. Ensnared in an international final, facing the best team of the 21st century, here they were, flicking the cheekiest of chips at goal and hoping for the best.
Except Brazil's three goals, countless chances and wave after wave of relentless, inquisitive, inspired rushes they sent down the throats of the Spanish defence can't merely be attributed to hope. Talent makes such hope possible. Neymar, the fiery wunderkind very recently tabbed to join Barcelona's empire, attacked the goal with a singular focus and flair. The 29-year-old Fred was overshadowed by various Brazilian strikers for the better part of his career, yet he has outlasted Robinho, Luis Fabiano, Adriano and Alexandre Pato, and now stands as his country's primary scoring threat heading into 2014.
[php snippet=1]
Criticized for stodgy play at the last two World Cups – both culminating in disappointing quarterfinal exits –Brazil may have finally found a remedy. Look at the creativity exhibited in Sunday's goals: first, Oscar displaying remarkable patience, freezing seven defenders, using the outside of his foot to feed a suddenly onside Neymar, who wired a perfect blast over keeper Iker Casillas and under the crossbar. Brazil's third tally arose out of nothing: a leaping steal, spin, gather and pass from Marcelo to Hulk, leading to a probing through-ball, a masterful dummy from Neymar to draw the defender and a clinical finish from Fred, picking the exact spot where Casillas was vulnerable.
They even made grit look beautiful. Practically seconds after kickoff, Fred, sideways on the turf somehow willed the ball upwards at an angle and force that belied his prone position. The punch to the mouth came two minutes in. From there, Brazil turned to body blows, finessing the ribs, gently persuading their stunned opponent to fall.
Lacking all of Brazil's genius and ambition, Spain still threatened, but the severity of those threats felt weightless by the final whistle. Brazil didn't dismiss scoring chances; they dismissed the idea that those chances could ever mean anything. Inches from equalizing, a rolling Spanish shot was cleared from the goal line by center back David Luiz, as steady as his attacking counterparts were flashy, casually making the improbable appear routine. Later, Sergio Ramos sent a penalty wide of the post, though accuracy would have simply meant a brilliant save from Julio Cesar, the tournament's best keeper.
Entering Sunday's final, the narrative stretched in two directions: either Spain would wrest Brazil's designation as history's dominant side, or Brazil would vault ahead in modern rankings. Neither extreme should carry any weight; the stakes of the Confederations Cup aren't high enough to spur a tectonic shift, nor does Spain's present reign override Brazil's multi-generational preeminence. If Sunday's result means everything, it's only until the next heavyweight tilt, when everything will again be on the line, rendering prior outcomes worthless.
No Confederations Cup champion has ever repeated at the World Cup the following year. Brazil is the main example of such letdowns, faltering in 1998, 2006 and 2010 after lesser triumphs the year before. (Brazil's most recent world title, in 2002, came after placing fourth at Confederations.) It's never been an indicator of positive returns, but home field advantage and a radically revamped roster should be more pertinent for Brazil in 2014 than any Confederations curse.
Three years ago, over half of Brazil's 23-man lineup had made 30 national appearances or more entering the World Cup. At 21, Neymar was already the fourth-most experienced player on the Confederations Cup squad, with only Julio Cesar, captain Thiago Silva and veteran fullback Dani Alves exceeding or matching him in caps. The others are basically earning their first taste of international play.
Under manager Luiz Felipe Scolari (the same man who guided the Selecao to their fifth and most recent World Cup), the willingness and ability to play with ambition has produced familiar, beautiful results.
Astonishment, in essence, is what soccer should evoke – the possibility of something the viewer (and opponent, and maybe even the player himself) would never have envisioned. That was Barcelona, that was Spain, and once again, after Sunday, it's something quintessentially Brazilian.
Merely winning isn't sufficient, and having witnessed the potential that such daring football holds, maybe it should never be.
[php snippet=1]