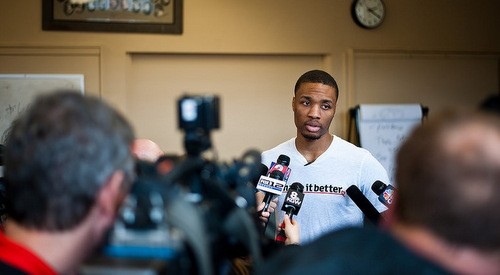 A closer look at Damian Lillard
October 21, 2013
The sixth pick of the 2012 NBA Draft was thrown into the deep end the moment he set foot in the league. Logging the third most minutes per game of any player in the game, Damian Lillard instantly became the starting point guard for a Portland Trail Blazers team with arguably the worst bench in the league, eventually rising to the challenge better than anyone expected, leading all rookies in both points and assists per game.
Not bad for a point guard out of Weber State University.
Offense
Lillard spent four years at college, not opting for the one-and-done route that many high draft picks before him had taken – or perhaps more realistically, not building the necessary brand to take the one-and-done route that so many of his peers chose to follow – and this extra time at school lead to his offensive game being much more polished than your average rookie's. He's strong, athletic, can finish at the rim or shoot either the three or mid-range jump shot.
His shot chart is telling.
What jumps out is the 39% on threes at the top of the key, and the 38% on threes on the left wing. Being able to knock these down consistently is such a great attribute for a player who runs a lot of pick and roll. It requires the defense to pay extra attention to the offensive player, oftentimes leaving the roll man (LaMarcus Aldrige or J.J. Hickson) open for easy shots.
In fact, Lillard shot 37% on all three point shots as a rookie. For comparison, Reggie Miller (36%) and Ray Allen (39%) had similar three-point percentages as rookies.
Almost half of Lillard's three-point attempts came from either isolation or off the pick-and-roll (230/500), which makes it all the more impressive, since players tend to shoot much better off the catch. He loves to pull up for the long three when his man is slow to get through the screen, or goes under it, as shown here.
He has great range on his jumpshot too, and if you dare him to shoot from his favourite spots, he's going to knock it down. Like here for instance – Reggie Jackson gives him about three feet of room beyond the arc, Lillard pulls up and hits the shot right in his face.
And it's not all jumpshots – he shot 50% from under the basket and is a great free-throw shooter. Combined with his great first step and that defenses having to play up on him because of his shooting ability, he's a hard player to guard. He looks like an NBA veteran in the way he uses his body to create contact and the space to finish. Watch him blow by Evan Fournier and absorb the contact as he (Fournier) tries to recover. When Fournier brings his arm down, Lillard throws his up into the air to sell the foul, and he gets the call, something James Harden has become an expert at.
And since defenses respect his jumpshot, they'll close out strong on him, opening driving lanes. Like here, for instance, when we see his defender run at him to prevent the open three, Lillard drives right by him and finishes at the rim with a nice step through and reverse.
As mentioned earlier, Damian Lillard is a very skilled pick-and-roll player. Last season, running pick-and-rolls accounted for 43% of all his offensive possessions, resulting in 0.89 points per possession, good for a rank of 23rd in the league. He has a knack for being able to read the defense and slip in a pocket pass to the big rolling to the hoop, or can pull up for the jump shot if he's given just a slither of daylight. Watch Klay Thompson go under the ball-screen for Lillard, who steps back a little and hits the long two.
Lillard also has great court awareness, and is great at spotting the driving lanes. Here you'll see him fake a step towards the ball screen as if he's going to take it, then cross over back the other way, drive to the basket and dish to Leonard, who after missing the initial shot, finishes.
Defense
While we know that Lillard is a great offensive player, he is often criticized for his defense. As I did in my James Harden column, I decided to take a look at what earned him this reputation.
It's not a lack of effort for Lillard on D. One on one, he's always down in a stance and is never lazy, but his opponents shot 45% from the field when isolating against him, and a concerning 39% from the three-point line (granted, it was a tiny sample size). He does get beat off the dribble a bit too often, but will always hustle back, and always tries to get a hand up on shots, as we see here when Westbrook pulls up for this tough three in his face.
He backs up a bit too much when defending on the ball, allowing good point guards to get into the lane, but is athletic enough that he can still recover and poke the ball away, like we see here as he forces a Deron Williams turnover.
Defending the pick and roll was one of the weakest parts of his defensive game, allowing 0.81 points per possession (still not incredibly bad), ranking him 138th in the league at defending this category. His mediocre ranking was mainly due to Portland as a team having a pretty bad philosophy for defending the pick and roll.
For instance, watch here as Curry gets an on-ball screen from David Lee, and Lillard defends it by chasing Curry through, with Aldridge helping then hustling back to Lee, but leaving Curry too early as he nails the shot.
Now watch as they defend it the same way, and Jarrett Jack splits the gap between Lillard and Meyers Leonard who is defending the roll man then hits a nice floater over Aldridge.
Lillard has a huge 6'8″ wingspan, allowing him to bother shooters easily by getting a hand up, but sometimes that's not enough when he's just too slow closing out, especially against good shooters. See here, as he closes out on Klay Thompson a bit late, giving him enough space to nail the three.
Regardless, Lillard held his opponents to 34% on all spot up shots last year, and 33% on those that were three-point shots. That's nothing to laugh at, and most coaches would be okay with giving up only 0.89 points per possession.
It's not uncommon to see Lillard get a bit lost trying to get through a screen, or being a bit slow to fight through it. However, he still held his opponents to 36% shooting (35% on threes) which works out to 0.87 points per possession – once again not too bad. His long arms allow him to close out pretty well even if he is a bit slow fighting through, like he is here in this screen for Jeremy Lin.
So after spending a few hours watching film, it's not completely clear why Lillard has been labelled as a bad defender. Sure, he's not elite, but he's not atrocious like Jamal Crawford, or Jose Calderone. He's long, which usually (and in this case, does) translate to being good at defending jumpshots, and he's not too bad on the ball either. Defending isolation is the only area that he is ranked horribly in, and that's mainly due to him allowing his man to go to the middle too often, backing up too much allowing driving lanes, and not having a great rim protector who could make up for his mistakes, and his issues in defending the pick and roll, as I pointed out, are more due to the Blazers defensive philosophies than to Lillard as a defender.
In short…
Damian Lillard is a great player, and has one of the most polished offensive games we've seen from a rookie in a long time, paired with not-as-bad-as-you-might-have-thought defense. There's plenty of room for improvement in his game, particularly on the defensive end, but he is a great example of how much it helps to stay in college for the full four years – perhaps we will see this in C.J. McCollum, too, during his rookie year.
With the new additions of point guards McCollum and Mo Williams, Lillard will be able to play less minutes than last season, and have the chance to play off the ball a bit, where he has all the tools to excel with his great shooting ability. With part of the load taken off his shoulders, perhaps we will see an improvement on the defensive end too. However it pans out, I expect Lillard to continue turning heads in this coming season.