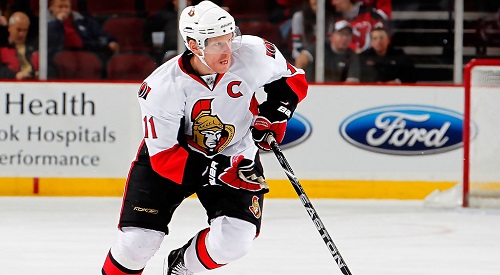 Daniel Alfredsson: History Made
June 6, 2013
You can learn volumes about a hockey team from their championship banners. They're primary documents, mementoes of past glory or, in their absence, reminders of missed opportunities. History is made in real time, at ice level, but to crane your neck upward is to see that history quantified. Children pick-up sticks from Goalie Monkey hoping to be a part of a hockey legacy one day.
Take the Montreal Canadiens. The Bell Centre, not yet two decades old, still oozes history – 24 Stanley Cup banners dangle from the ceiling, with nearly an equivalent amount of retired numbers. Contrast that with the Florida Panthers, born of Gary Bettman's Southern fantasy in the 1990s. There's one conference championship banner, a burgeoning team's earliest and greatest triumph – but with nothing since 1996, we know they never came close again.
Then there's the Ottawa Senators: for better or worse, a franchise inseparable from its past. The team shares the name of Ottawa's 1920s dynasty, the result of an early ploy to rouse fan support or to legitimize a brutal expansion lineup. By extension, the Sens claimed their predecessors' championships as their own. Eleven Cup banners currently hang atop Scotiabank Place – none, of course, won since 1927.
The Scotiabank rafters aren't entirely bereft of modern success. There are a few scattered Northeast Division banners, a decade-old President's Trophy pennant and one Eastern Conference flag. They pale in comparison to the team that roared through the '20s, but the Sens have never strayed from their past. Upon their inception, they retired Frank Finnigan's No. 8, honouring the last man alive from Ottawa's last champion.
[php snippet=1]
Which brings us to Daniel Alfredsson.With 17 NHL seasons played and 13 as team captain, he's the one player in the league that's come to define his franchise's entire being. Nearly all hockey legends teamed with other greats throughout their career, or suited up for teams whose collective greatness far preceded them. To think of Alfie, though, is to think of the modern Senators.
No. 11, the first remnant of these first-generation Sens, will soon sit alongside Frank Finnigan, and the only question is how soon. Alfredsson's retirement decision is his to make; he's said he'll defer for a few weeks, recuperating after Ottawa's playoff loss to the Pittsburgh Penguins. At 40 years old, is another offseason of constant training worth the possibility of a Cup run? Last year, the answer didn't come until July 31, after Alfredsson mulled his options, mulled some more, then finally decided to come back.
Boy, was he back. In a year where every significant Senator was sidelined by one injury or another, Alfredsson somehow emerged unscathed. He was the only forward older than 26 to play more than half the season, finishing third in team scoring and valiantly logging first-line minutes. Late in the season, Erik Karlsson, Jared Cowen, Jason Spezza and Milan Michalek were forced to reacclimatize on the fly, and Alfredsson led the charge with 10 points in 10 playoff games.
By and large, the Sens cracked this year's playoffs because of their goaltending: Craig Anderson was a wall when healthy, while Robin Lehner and Ben Bishop were superlative in stints. Still, some measure of veteran stability was crucial for a young roster in constant flux. Alfie's imprint was there in every key playoff win: three points in a Game 3 shellacking of Montreal; a sneaky assist on Cory Conacher's equalizer in Game 4; the biggest and peskiest goal of the year, scored in Game 3 against Pittsburgh.
Ottawa fans of a certain age have grown up with the Senators, and the Sens have grown alongside their captain. Alfredsson arrived in 1995, unheralded, a sixth-round draft pick that immediately won the Calder Trophy and pushed a perennial loser to a historic string of playoff berths. He caught heat for the team's early postseason struggles, captaining talented squads that stopped winning when push came to shove, especially against their despised provincial rival.
During the 2004-05 lockout, Alfredsson won a Swedish league championship, then returned to Ottawa as the leader of a juggernaut. Teamed with Spezza and Dany Heatley on hockey's most fearsome trio, Alfredsson terrorized defenses in the new, offensively inclined NHL, with Ottawa flaming out of the 2005-06 playoffs only after goaltender Dominik Hasek was injured at the Olympics.
Alfredsson has never been better than the 2006-07 playoffs, spurring a one-line hockey club to the Stanley Cup final with clutch goal after clutch goal. Two-thirds of the CASH line was stifled in the final round against Anaheim, with Heatley and Spezza combining for three measly points in five games. Facing a deeper, balanced squad focused specifically on shutting him down, Alfredsson draggeda shell-shocked Sens lineup exactly as far as he could take them.
It's the closest Ottawa has come to the Cup since '27, but that shouldn't be reason to belittle Alfredsson's greatness. Any series of bounces could have seen him hoist Stanley's chalice – Heatley and Spezza stepping up in 2007, or Wade Redden covering Jeff Friesen in 2003. It's one thing to win a Cup for a franchise with championship infrastructure already in place; it's quite another to try with a team you've built from the ground up, with no history to draw upon.
There's one play that encapsulates everything Alfredsson represents: more than just his 1108 career points or milestone tenure as captain, but the tenacious, pesky mentality he's afforded his adopted city, leading a team teetering on the precipice of greatness. It came in the deciding game against Anaheim in 2007, with the Sens down in the series, down on the scoreboard, down a player – and Alfie steamrolling down the ice.
History is more than a banner, and it's not always quantifiable. Oftentimes, it's one man staring at inevitable defeat, baring in alone and making something happen by sheer force of will. It's the player shooting top shelf and rounding the net, the pristine No. 11 clear as day, signifying not only the arrival of a modern franchise, but its entire life to date.
[php snippet=1]