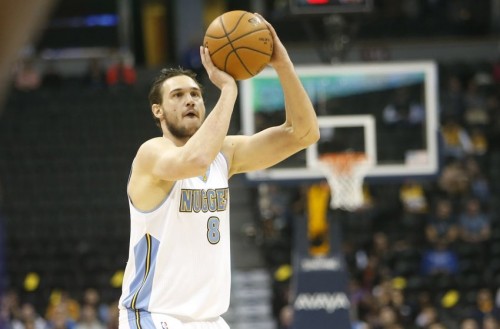 Danilo Gallinari and Denver's Nuggets of Hope
December 11, 2015
The Denver Nuggets haven't done much in terms of establishing themselves as either movers or shakers in the Western Conference, but that doesn't mean their 2015-16 campaign – a year  of transition, though lined with promise – has been for naught. Through the first month of the regular season, the franchise has shown that they boast no shortage of valuable commodities. How those puzzle pieces all fit together, however, is a different story.
Just last season Jusuf Nurkic came out of nowhere to steal our hearts. Fast forward to winter 2015, however, and the Bosnian hasn't even recorded the first minutes of his sophomore campaign. Lest we forget, Nurkic made a killing last season as an under-the-radar asset for fantasy owners, all the while carving out a reputation for himself as one of the most refreshing personalities on the floor. Need we remind thee of his dropping a deep two on DeMarcus Cousins only to let him hear it the entire way back down the court?
Rather than sit around feeling sorry for themselves that their uniquely talented 20-year-old big man would miss an extended portion of the year though, the Nuggets got back to work assembling a smorgasbord of certifiably effective NBA assets. Today the roster readers like a shortlist of competent chips that could make a good team great of a woefully tractionless franchise like their current one in Colorado slightly more tolerable.
Perhaps the sass isn't entirely called for, Nuggets general manager Tim Connelly has done a fine job hoarding quality players of all niches while head coach Michael Malone developed them admirably from the top-down after their slightly less productive tenure under Brian Shaw. At this point though, despite the fact that the organization has demonstrated that they know what a successful roster looks and smells like, the club remains a hodgepodge of solid cogs that don't fit quite together as seamlessly as they need to in order to start pumping out wins.
The most popular assets on Denver's payroll remain Kenneth Faried, a burgeoning star whose efficiency has always exceeded his perceived value, and rookie Emmanuel Mudiay whose shown that they may, just may, be able to make the whole big, powerfully athletic point guard thing work, but this isn't an article about Faried or Mudiay.
Rounding out the surprisingly intriguing core of Nuggets players are critical pieces like Danilo Gallinari, Will Barton and Joffrey Lauvergne. Then, of course, are the youngsters Gary Harris and Nikola Jokic who've shown that their development has only just begun and the posse of veterans that make up the rest of the lineup. It's Gallinari, Barton and Lauvergne on which I'd like to focus.
In Gallinari the Nuggets have a prime-aged perimeter threat getting his best opportunity to help lead a franchise to date. The 27-year-old has responded with 18 and 7 numbers that would make anyone proud. He's producing career best Sports.ws efficiency numbers in both default scoring formats and has systematically reminded us that the potential he had flashed earlier in his career were legitimate signs of things to come. On Nov. 24th he hung 20 and 18 on the Los Angeles Clippers. He's already topped the 20-point plateau nine times.
But while Gallinari is surprising fans and fantasy basketball GMs alike by finally living up to what his most loyal followers had always believed he was capable of, Will Barton has spent the season forcing hoops stakeholders of all kinds to redefine his worth as an NBA player altogether. Barton was a bit player during Portland's brief tour as a formidable force in the West, now with double the work load, he's showing that he can be relied upon to fill all nooks and crannies of a given game's box score.
Barton has topped 15 points ten times so far this season (in just 22 games), but he's also recorded two or more blocks and steals (an arbitrary but effective way of measuring one's ability to make an impact on the defensive end of the floor) a total of 14 times. It's this ability to contribute in a multitude of ways that has made him a deep-league fantasy darling and valuable reserve option for a roster that's getting ever closer to being relevant in the west again.
Lauvergne, in contrast to both Gallinari and Barton, had no sort of benchmark expectations. While he did creep into the conversation as an efficient low-minute fantasy option in 2014-15, his contributions went mostly unnoticed by the mainstream basketball community up until this season. Even now Lauvergne's numbers aren't about to take the  league by  storm, but he's shown that he's able to do plenty with relatively little burn.
A back injury that kept him out of the majority of November has skewed Lauvergne's early season numbers, but in games where he's played over 15 minutes (but always less than 25), he's shown he's nearly a lock to post double digit points with a handful of rebounds. Per 36 minutes, he averages 18 points and 12 rebounds. Add him to a front court that already boasts Nurkic (14 and 12 per 36), Jokic (17 and 11 per 36) and veteran J.J. Hickson (17 and 10 per 36) and suddenly the franchise has one of the most efficiently productive front courts in basketball.
Expect youngsters like Mudiay and Harris to continue to grow as they get more familiar with the NBA, expect Faried to continue to thrive in his own role as an underrated star on a team full of them and expect the likes of Hickson, Randy Foye and Jameer Nelson to keep doing what they do as wise men whose value exceeds their contributions on the court.
After that, though, the fate of the franchise falls to the X Factors like Gallinari, Barton and Lauvergne.
Say what you want about the Denver Nuggets franchise, whether through the draft, shrewd transactions or simple player development, at least they've stockpiled tangible assets. If Nurkic can jump back into the mix without disrupting any of the growth that the rest of the team has experienced without him, they'll be even closer to finally cashing in on all of it.