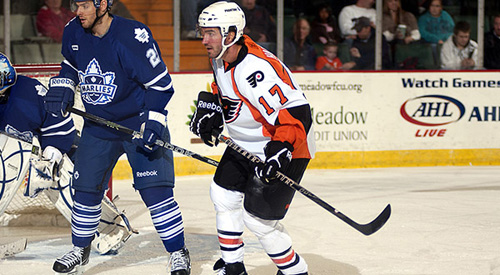 Denis Hamel and life in the AHL
August 4, 2011
It's no secret every young hockey player dreams of pulling an NHL team's sweater over their head one day. Unfortunately, thanks to supply and demand, that task is easier said than done.
Some players enter the league at the wide-eyed age of 18 and never look back. For others – for most – it can be quite the journey.
Enter Denis Hamel – a Lachute, Quebec native who, to date, has played just 192 games in the NHL throughout his over 10-year professional career.
Every time he skates onto the ice, whether its an NHL or AHL surface, Hamel makes each stride of the journey worthwhile.
"Even at the AHL level, I still get a chance to play the game I love, and I'm very proud I've been in this league for so many years," Hamel told The Good Point. "There are challenges each year and it's still a very competitive league, but for an older guy like me, it's all about proving that I can still compete and play at a high level so you just have to take it day by day and enjoy it."
Evidentially, Hamel practices what he preaches, as the 34-year-old reached the 300-goal milestone last season and the 600-point milestone the season prior – both accomplishments he knows don't come around too often.
[php snippet=1]
"Reaching those totals was really something special for me, no matter what league it's in, knowing your hard work has paid off is definitely something to be proud of," he said.
Despite his consistent contributions in the minors, Hamel acknowledged that cracking an NHL lineup takes a tremendous amount of skill and dedication not everyone can bring to the table.
"Every player has the same dream, and with all the talents from around the world working towards the same goal it makes it really tough to standout," the grizzled veteran explained. "It's a much quicker game obviously, and you really have to work hard in your early years to get up to speed and prove yourself as an elite competitor."
"For me, I'm just happy to be playing the game in a league that's just under the NHL, so you have to be proud of what you're doing or you'll always be disappointed."
Hamel began making his mark while playing three seasons with the Chicoutimi Sagueneens in the QMJHL. He broke out during his sophomore season, posting 40 goals and 49 assists, before finishing his major junior career with a 50-goal, 100-point season in 1996-97.
The promising forward was drafted by the St. Louis Blues in the sixth round of the 1995 NHL Entry Draft, but didn't get his first taste of NHL hockey until the 2000-01 season when he suited up for 41 games with the Buffalo Sabres.
Even though his stints in the NHL were brief, Hamel recalls several memorable moments, including his first NHL goal scored against Martin Brodeur, and playing on a line against Mario Lemieux.
"Every game I played in the NHL was special for me, so it's hard to narrow it down but all the experiences I had there I will never forget," he added.
Following his junior career, Hamel's played his first three seasons in the AHL with theRochester Americans. Overall, he has spent the majority of his career with the Binghamton Senators where he compiled six successful seasons including a 56-goal, 91-point year in 2005-06.
While in Binghamton, he also played several games as a call-up with the Ottawa Senators, Atlanta Thrashers and Philadelphia Flyers.
In 2010, Hamel was traded to the Adirondack Phantoms where he notched 50 points last season, earning him a one-year contract extension with the AHL club.
"Not too long ago I was thinking of retiring, but now I've resigned and I'm thinking of playing another three our four years," he laughed.
"Anything can happen, but right now I'm happy with what I'm doing. I'm looking forward to playing this season in Adirondack and I feel lucky to have experienced what I have so far in hockey."
As far as Hamel's plans go for when he does choose to retire, continued involvement in hockey on a coaching staff is an option he'd like to consider. If all else fails, he wouldn't mind returning to the simple life.
"I'd like to stay connected with the game of hockey as long as I can," Hamel admitted.
"My dad and I own a farm back in Montreal though, and I always enjoy working there with him and living at a slower pace, so we'll see what happens when the time comes."
[php snippet=1]