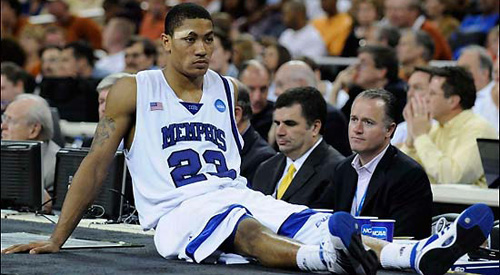 Changing of the Guard
September 28, 2008
They are fast, strong and athletic. They play above the rim in traffic, own passing lanes and can dominant with their backs to the basket, and although they may not look like John Stockton, make no mistake, these players are point guards in the truest sense.
With the drafting of Derrick Rose first overall in this past summer's entry draft, the Chicago Bulls took notice. They, like the rest of us watched Michael Beasley put up utterly ridiculous personal numbers all season, while another freshman led Memphis all the way to the national championship game. The latter was their choice. A new breed of point guard with the potential to change the game of basketball just as players like LeBron James and Michael Jordan had done before him.
Players who have the ability to redefine the way the game is played from their positions are truly special. Rose is this type of player. A pass-first point guard, whose uncanny combination of size, quickness and court vision allow him to seemingly create passing lanes that leave even the most seasoned basketball fans shaking their heads in disbelief. Add to this an NBA-ready isolation game, anchored by a deadly crossover and you have the ability to dominate the paint at only 63, a la Tony Parker. 
[php snippet=1]
Rose's combination of speed and body control match up with the best athletes in the world, but what sets him apart is where he finishes; above the rim, in traffic, over taller players, it doesnt matter. Rose is a general managers dream guard. A player who can run a controlled offense, score at will, play lock down defense and put fans in the seats with his jaw-dropping aerial assaults.
Like his predecessors, Rose marks the ushering in of a new era; where scouts and general managers alike will scour the globe in search of a player who embodies the very same abilities. Enter John Wall, a high school senior from Raleigh, North Carolina, seemingly cast from the same dye as Rose. Wall, too, possesses great size and athleticism, and his first step and arsenal of manoeuvres off the dribble are unrivalled by anyone other than Rose himself.
Already considered by many in the know to be the number one prospect in the 2010 draft class, his name is only fluent among hoops fanatics and division one recruiters. Expect this to change. Like Rose before him, Walls name will become household quicker than you can say freshman of the year. His college decision remains inconclusive, although he is said to be considering Baylor, Kansas, Kentucky, Oregon and Roses alma mater Memphis.
What is certain is however, is that wherever he decides to showcase his game, the media will be there, not only because of his special talent, but because of what Rose has done with his.
[php snippet=1]