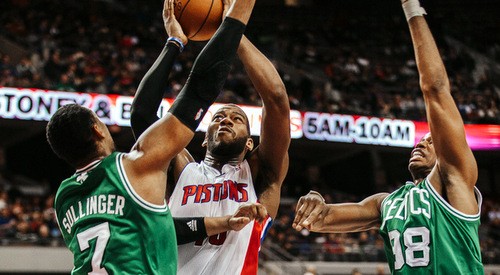 What now? The 2013-14 Detroit Pistons
February 6, 2014
The Detroit Pistons are trapped in a whirlwind of hopelessness. While they'd spent the better part of the past half decade dwelling in the Eastern Conference basement, slowly acclimating themselves with what's been a stark contrast to their previous decade, this year is different. This year the Pistons have genuine expectations to succeed, the NBA equivalent of an unspoken obligation to drag themselves out of bed in the morning and actually put on pants.
"Obviously the talent level is higher than it has been, with the guys who came over in free agency and through trades this summer," Greg Monroe tells me. "So of course when you add that level of talent, the expectations are going to rise."
The big man acknowledges that the stakes are different in Auburn Hills, but as a professional firmly entrenched in the epicentre of Hurricane Hooper, he doesn't quite have the liberty to truly critique and analyze at arm's length that the rest of us have.
In a bold display of rare (but sadly not uncharacteristic) action, Joe Dumars hit the offseason transaction scene hard, making two separate but equally volatile decisions to bring in polarizing power forward Josh Smith and, well, polarizing point guard Brandon Jennings.
Now the roster which just last year assembled a rag-tag team of feel-good stories, including one of the most exciting young prospects in the NBA, the closest thing to a Tim Duncan Tribute Big Man and Will Bynum's facial hair, is suddenly overshadowed by two select individuals that the NBA community just can't seem to stop perseverating on.
Monroe, of course, is the aforementioned second rendition of the Big Fundamental and the leader of this Pistons ball club in more ways than one.
"I haven't approached [this season] any differently, really," he insists. "Personally, my approach has always been to do whatever it takes to win. I just think as a whole, the expectations are higher."
It's a weird time to be Monroe, not only has the power forward had to adjust to life with the emergence of Andre Drummond, but also everything that happened over the course of the 2013 summer.
In Drummond, Monroe has a partner in crime, one who it's alleged he suggested the Pistons draft in the first place. The two combine to form a dominant tandem, with Monroe the relative outside threat complemented by Drummond closer to the basket.
Together Monroe and Drummond can fill a front court with the best of them, and just last season when nobody actually sought or expected anything from or out of the franchise, they were one of the happy Eastern Conference story lines that stood out for anybody who bothered to look.
This year, that seemingly healthy relationship has been eclipsed by the addition of Smith, a freak of nature athlete signed to a four-year $54 million deal who's sort of joined the front court and sort of hasn't.
The wishy-washy language is intentional.
While one needn't look far for a sports writer willing to insist that Smith is a power forward through and through, it isn't so simple. Much as he did in Atlanta, Smith has spent a great deal of time throughout the 2013-14 campaign out on the perimeter. He possesses both the handle and slashing ability of a primary wing player and exists by in large on and around the three-point line.
The caveat is that he isn't particularly efficient when he's out there, leading many to take a look at his physical specifications and assume that since he looks, smells and shoots like a duck that he should only ever be played as a genuine four.
Josh Smith is not a power forward, he's, if anything, a small forward on pace to have one of the worst shooting seasons in NBA history. That's an important distinction to make, but it doesn't mean he shouldn't still bear much of the blame.
The majority of sub-par small forwards, however, don't have the luxury of a body or the athleticism to thrive somewhere else on the court. In that regard, there's some justification for the angst that's seeped out of the Pistons fan community since the day that the deal was announced.
While nothing's more obnoxious than a fan base that's turned on its own team, the masses calling for Smith, Dumars and team owner Tom Gores' head aren't exactly misguided. That brings us back to the Drummond-Monroe-Smith paradox.
Drummond is about as pure a five as one will find in the NBA. Monroe, a legitimate four that's more than capable of filling in at the five when called upon. Fitting, since that's exactly what he did for the first three years of his career. Smith is a three in the body of a four, that really needn't be classified as either.
What Josh Smith needs – and what he more or less had in Atlanta with Al Horford in and around the key and little else in his way – is the space to be both a three and a four, switching fluidly between the two as his physical strengths and real-time opportunities permit. This is 2014, a time when traditional positions have been compromised and more combo guards, stretch fours and ambiguous big men break into the league each season.
Needless to say, Smith doesn't have the luxury of wandering space in Detroit, where front court real estate is limited.
"[The coaching staff has focused on] the spacing and the offense that we're running," Monroe explains, referring to what he believes is a gradual and effective team game plan. "The coaches have done a really good job of trying to get us in the best position possible".
On one hand, that's easy to believe, there've been times when Detroit's sheer size has been a thing to behold. More often than not, however, the opposite is true. Smith, lacking the perimeter skill set to thrive as an exclusive small forward, hasn't lived up to expectation as an exclusive small forward and the results are obvious.
Considering that the easiest solution, to give him more space to work his hybrid magic would mean either sitting or trading Monroe, fans, critics and haters alike have every reason to be sour about the predicament that the club brass has steered the team into.
Not all is lost though.
"Obviously we want to have a better record, but I think that guys have, over time, slowly found a way to get comfortable with the front court we have. I don't think that's really a problem anymore," says Monroe.
It may be slightly optimistic considering that the franchise won just four games in all of January, but he's not necessarily wrong.
It is possible that this Detroit team can learn to flourish with their entire roster in tact, but that would presumably involve a major role change for Smith. Where Hawks teams of the past five years found success letting Smith loose alongside Horford, with the freedom to work in and out of the paint on a play-by-play basis, this year's Pistons team will need to find a way to rein him in on offense or risk spinning out just as they have been but for the remainder of the 2013-14 campaign.
Smith as a rich man's Gerald Wallace (of yesteryear, not today) or Corey Brewer, meaning Smith as a shut down defender whose contributions on offense come almost entirely in transition and from the organic flow of the game, could be the difference between a disappointing Detroit ball club and one that fulfills lofty expectations as a dark horse Eastern Conference contender.
Think about it, Smith with a genuinely enforced red light (or at least yellow.)
Such a role change may not come easily – there's a man's brand, not to mention ego, at stake and you can't blame Smith if he's initially reluctant – but it's the only happy alternative to a significant trade in which the Pistons are forced to give up part of their core.
This hypothetical wouldn't do anything to lessen the blow of the four-year contract, but there are worse things to spend money on than a lock-down defender with the potential to drop a 5 x 5 in any given matchup. Especially when it's money that comes from the pockets of the individuals responsible for the log jam in the first place.
It wouldn't do anything to resolve the team's shooting woes either, although the empirically ineffective Smith would be shooting less, thus creating more opportunities for Kentavious Caldwell-Pope and Kyle Singler who are at least familiar with the concept of limiting themselves to spot up jumpers off of healthy ball movement. Call it addition by subtraction, call it the Rudy Gay effect.
"You never want to hope that shots start falling, if you have to rely on that, then you're in trouble. There are obviously some things that we have to fix, some things that we have to tweak on both sides of the ball."
Monroe, like a good soldier, takes on his share of the responsibility, it's an onus he's spent the past four years preparing to shoulder. He does so despite the tempest of trade rumours flying around the Pistons locker room, the majority of which have him all but packing his bags by the trade deadline later this month.
The 23-year-old remains calm, unwilling to subtly point blame or pity himself when it would be far too easy to do either. He's an optimist perhaps, or at least somebody who isn't afraid of expectations.
"Once that happens I think we'll be fine, but we definitely aren't relying on just hoping that shots fall."
As a legitimate All-Star candidate, Monroe has both the skill set and temperament to guide this Pistons team to a level they haven't even sniffed in five years. Isn't that something worth exhausting all other options for when the alternative is just giving up and pulling the trigger?