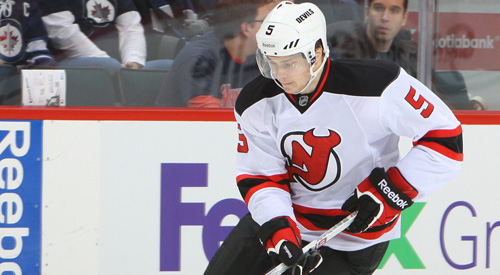 Roles reversed: Devils youngsters playing tough as veterans slump
December 12, 2011
It's no secret the New Jersey Devils have had their struggles over the past few seasons. Things haven't seemed to be getting any better for the club this time around.
Despite having all of their regular pieces back in the lineup, the Devils have remained stagnant around the .500 mark this season, currently sitting fourth in the Atlantic Division.
We can trace their struggles back to February, 2010 when the Devils first acquired Ilya Kovalchuk, who took much longer than desired to find his game with his new club, and some would argue he still isn't living up to the expectations of his massive contract he was given the following summer.
After being a consistent 80-100 point player with the Atlanta Thrashers, Kovalchuk managed just 60 points in 81 games last year – his lowest totals since his rookie season.
Moreover, captain Zach Parise played just 13 games in 2010-11 after suffering a serious knee injury and still hasn't been able to reach his full potential after returning to action.
After scoring 45 goals and 94 points in 2008-09, and 38 goals and 82 points the following season, we can come to the conclusion that Parise's injury has been a roadblock for him post-recovery.
[php snippet=1]
Both he and Kovalchuk have strikingly similar numbers so far. Parise has eight goals and 19 points in 28 games while Kovalchuk has eight goals and 18 points in 23 games. These figures are satisfactory, but far from what their past performances have indicated should be the norm. It also doesn't help that they both have the worst plus-minus ratings on the entire Devils team (Kovalchuk, minus-12, Parise, minus-nine).
Although they have picked up their respective games of late – both recording a six-game point streak from Nov. 26 – Dec. 8 – their less than point-per-game play has undoubtedly hurt New Jersey's overall performance, and it's safe to say more is expected of them.
Meanwhile, amidst their struggles, the Devils have found some excitement in their future stock, with exceptional performances coming from power forward Adam Henrique and 2011 first round pick Adam Larsson.
Both are playing in their rookie seasons. Henrique currently sits second in team scoring behind veteran Patrik Elias with six goals and 20 points, while Larsson has proven to be a key part of the team's backend, also contributing offensively with two goals and 10 points.
With less pressure and less expectations as rookies, the pair has been able to come out of their shells and play consistent hockey for the Devils to start the season, which could take some of the pressure off of Parise's and Kovalchuk's shoulders down the stretch.
Along with the exceptional play of the rookies, the Devils have also been able to get the best of certain role players further down on the depth chart.
Grinder David Clarkson has had no trouble putting the puck in the net and contributing thus far, tied with Elias for the team-lead in goals with nine (three on the power play to tie Kovalchuk in for second that department), while also adding three assists and 52 penalty minutes.
Clarkson plays a rounded game, contributing physically on both sides of the ice, while also using his size to be effective with the man advantage.
We've seen many times before how added depth can rekindle a team's flame. With the contrasting youngsters and role players stepping up their games, it will only drive the leaders on the team to play better themselves.
Watching the Devils this season makes it clear how important it is to employ a deep team with players young and old suited for all types of situations, in addition to making the proper choices when drafting.
As we've seen with the aforementioned pair in New Jersey, not to mention the lacking performance of Washington Capitals franchise player, Alex Ovechkin, you can't always rely on your highest-paid, highest skilled players to constantly carry the load.
[php snippet=1]