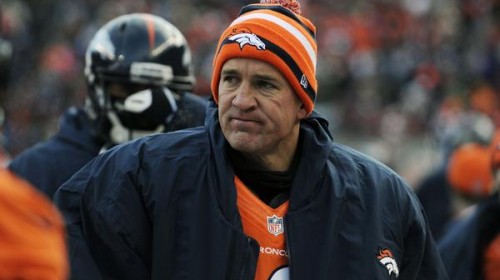 Wrongfully Accused: QBs take heat after NFL's Divisional Playoffs
January 14, 2013
[php snippet=1]
Four big-name quarterbacks wound up on the wrong side of the score during the NFL's weekend of divisional playoffs: Peyton Manning, Aaron Rodgers, Matt Schaub and Russell Wilson. Many have already blamed each of them for their team's losses, and that's understandable; quarterbacks get much of the attention in any game, win or lose. However, just as pivots are often heaped with undeserved praise following poor performances in a win, they often get undeserved criticism after turning in a solid showing in a losing effort. That was particularly true in the offensive explosions that characterized this weekend's games, and a case-by-case examination of each quarterback's performance illustrates that putting a loss squarely on the shoulders of any of these pivots is problematic.
Let's start with Wilson and the Seattle Seahawks, who came within seconds of pulling off the largest fourth-quarter comeback in NFL history, taking a 28-27 lead with 31 seconds left before Falcons' quarterback Matt Ryan produced a last-second field-goal drive of his own to give Atlanta a 30-28 win. Wilson was criticized heavily in the first half after Seattle fell behind 20-0, but the second-half comeback he almost pulled off was stunning, and the numbers show he was the better all-around quarterback on the day; he completed 24 of 36 passes (66.7 per cent) for 385 yards and two touchdowns with one interception and added 60 rushing yards and a touchdown on just seven carries (8.6 yards per carry), while Ryan completed 24 of 35 passes (68.6 per cent) for just 250 yards with three touchdowns and two interceptions and ran once for six yards.
Wilson and the Seahawks' offence certainly weren't in perfect form early on, but he bounced back to deliver one of the best overall quarterbacking performances of the weekend. Other problems were what doomed Seattle. One key one? Atlanta held running back Marshawn Lynch in check, as he picked up just 46 yards and a touchdown on 16 carries, a measly 2.9 yards per carry. The Falcons also torched the Seahawks on the ground, as Michael Turner and Jacquizz Rodgers combined for 162 rushing yards.
It was a similar story in San Francisco for Aaron Rodgers and the Green Bay Packers. Rodgers had a solid but not spectacular day, tossing 26 completions on 39 passing attempts (66.7 per cent) for 257 yards with two touchdowns and an interception, and he played a key role in the 31 points his team put up. The problem was that they gave up 45. Opposing quarterback Colin Kaepernick was effective through the air for the 49ers, completing 17 of 31 passes (54.8 per cent) for 263 yards with two touchdowns and an interception, but he destroyed the Packers on the ground, rushing 16 times for 181 yards (a ridiculous 11.3 yards per carry) and two further touchdowns. Rushing defence was an issue for Green Bay all day, as San Francisco running back Frank Gore added another 119 yards and a touchdown on 23 carries (5.2 yards per carry). Those looking for scapegoats in this one shouldn't turn their eyes on Rodgers, but rather a defence that simply couldn't handle the 49ers' attack.
[php snippet=1]
Like his aforementioned counterparts, Schaub's getting more of the blame than he should. He completed 34 of 51 passes on the day (66.7 per cent) against New England and threw for 343 yards and two touchdowns with one interception. Those kind of offensive numbers from your quarterback will win you a lot of NFL games. They weren't enough Sunday, though, and that's thanks to Tom Brady (25 of 40, 344 yards, three touchdowns) and the rest of the Patriots' offence, who simply demolished the Texans' once-vaunted defence. Houston had problems stopping the run as well (Stevan Ridley and Shane Vereen combined for 123 yards on 22 carries), and they simply couldn't do much to disrupt Brady and the New England attack. Granted, some of Schaub's stats came once the game was already out of hand, and the 41-28 final score flattered the Texans. Still, pinning the blame on him seems unreasonable when his defence couldn't give him any help.
We finally come to Manning, and he bears the most direct responsibility for his team's loss. His overtime interception against the Ravens set up the game-winning field goal, and it came on a terrible read and an even-worse throw. Thus, he certainly deserves some criticism. However, Skip Bayless and his ilk are already using this as a chance to suggest that former Denver quarterback Tim Tebow (who was traded to the Jets to make way for Manning) was better for the Broncos, as Tebow won a playoff game. That's just ridiculous.
Manning's showing Saturday against Baltimore certainly wasn't the best of his career, but he still turned in an effective overall passing performance, throwing for 290 yards and three touchdowns (with a 65.1 completion percentage, but two interceptions), and it's unlikely the Broncos would have even made it to overtime in a game this high-scoring with Tebow (or would have done well enough during the year to host a playoff game in the first place.) Manning made a game-sealing blunder, but there are plenty of others who deserve substantial blame for this one, including repeatedly-burned cornerback Champ Bailey and coach John Fox, who elected to take a knee and send the game to overtime instead of driving for a game-winning field goal. Like the others on this list, though, Manning's taking much of the criticism. It goes to show how frequently quarterbacks are judged by their teams' wins and losses instead of how they played personally, and that's a problematic concept that should change.