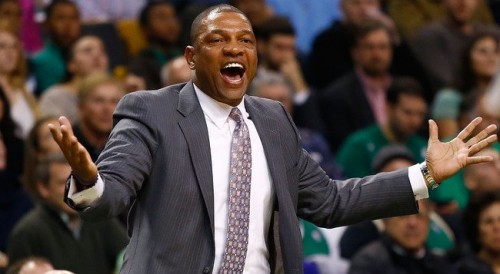 Circle of Life Forges on in NBA
June 28, 2013
In the National Basketball Association, the Los Angeles Clippers and Boston Celtics are polar opposites.
On one side of the spectrum we have the Los Angeles Clippers; they've been forgotten in the attics of the minds of Los Angeles sports fans as the Lakers have always reigned supreme in Hollywood. They've been the ugly sister no one wants to talk to, or about, characterized as a club lacking credibility. They had an identity and always have. The Clippers organization was largely regarded as a financially cheap organziation run by the penny-pinching grinch owner Donald Sterling. Sterling was never big on paying top dollar for talent or coaches and front office personnel.
On the other side you have the Boston Celtics. They've won more championships than any other team and have as many retired jerseys as the Clippers have all-time All-Star appearances. Couple that with the fact that some of the all-time greats have gone through Boston either as a player or opponent further elevates that prestige. The Celtics have never had trouble attracting free agents to Boston and have often been engaged in huge trades which have not only altered their team but also the landscape of the entire league. Just look at the draft day deals for Kevin Garnett and Ray Allen as evidence.
[php snippet=1]
The events of this past week indcate two elements very clearly. Times have changed in the NBA. One, powerhouse organizations like the Lakers and Celtics are now taking a backseat to teams like the Clippers and Heat with no end of that trend in sight. Two, the Celtics are in clear rebuild made and the question remains if they have a well thought out blueprint or plan to follow. Is a point guard, allergic of outside shooting and coming off a knee surgery the right building block to rebuild this team? Retrospectively, were the Celtics as successful as they should have been?
That argument was definitely amplified with the developments of this past week. The Miami Heat have competed in three straight NBA Finals and just repeated as champions while the Los Angeles Clippers put a serious dent in changing the stigma attached with their organization. They no longer appear cheap and uunwilling to relinquish power. Doc Rivers was let out of his contract by the Celtics with over $20 million left and was given the same contract with the Clippers.
This is not a typo. Donald Sterling agreed to pay Doc $7 million per season and also agreed upon Rivers' role as VP of Basketball Operations. This makes Doc Rivers the only coach with a player personnel role in the NBA other than Gregg Popovich. What's more, bringing in a respected coach with championship pedigree only enhances the possibility Chris Paul returns. It practically guarantees it.
As much of a coup this hiring is for the Clippers, you have to assume it's a colossal dissapointment for Boston. Although there are plenty of coaches still out there on the market, they just lost a great one. Perhaps more telling was the look of discombobulation on the face of Danny Ainge as he discussed Rivers' departure. It was that deer in headlights look. Perhaps he felt Sterling and Co. would not be willing to pay what Doc would command. If that's the case, it backfired grossly. Not only did Sterling pay Doc, put also gave him the player personnel role he had long coveted. To make matters worse, they sent out a big red alert to the entire league, confirming they are in full rebuild mode.
Adrian Wojnarowski of Yahoo Sports reported yesterday that the C's have engaged in serious trade discussions with the Brooklyn Nets surrounding future Hall of Famers Paul Pierce and Kevin Garnett. During the NBA Draft last night, those talks came to fruition. Garnett agreed to waive his no trade clause to head to Brooklyn with Pierce and Jason Terry in exchange for Gerald Wallace, the expiring contract of Kris Humphries, Kris Joseph, Marshon Brooks, Keith Bogans and first-round picks in 2014, 2016 and 2018. The deal was agreed upon in principle because the salary of a new contract for Pierce is required to make the numbers work. The deal won't be made official until the start of business for the new year in a little over a week.
You definitely cannot argue with the Celtics' angle here. Three first-round picks for two Hall of Famers, whose best basketball is behind them is an absolutely great haul, before we even mention the salary cap relief. With Doc no longer in tow and the team that went to two straight finals all but obliterated; who coaches this team? The Celtics missed out on quality coaches and young coaching talent that may have helped in teaching young players. Off the market are young, promising coaching prospects such as Patrick Ewing, Jason Kidd and Brian Shaw – who took the head job in Denver earlier this week. With such a rebuild underway in Boston, established coaches such as Stan Van Gundy, Lionel Hollins, Vinny Del Negro and Byron Scott will most likely look elsewhere.
Meanwhile the Clippers continue on their path to upstage or stand on equal ground with the big, bad Lakers. Since the arrival of Doc, trade talks involving Eric Bledsoe have tempered considerably. It was all but guaranteed before-hand that he woud be dealt to Orlando on draft night; that obviously didn't happen. It seems Rivers and the Clippers woud love to hang on to Bledsoe although financially it may be impossible as he is a restriced free agent coming off a year in which he blossomed into a legitimate contributor to a winning ball club. It also complicates a possible sign-and-trade if that is their intention.
Bledsoe or no Bledosoe, the Clippers have amped up anticipation and fan expectations heading into a potentially exciting offseason. Going into next season, they should be championship contenders. It will be an exciting offseason in Boston as well, especially for those on the other side of the trade table looking to raid the fridge of the remainder of Celtics goodies. There will be no championship aspirations for the Celtics next year, who ever they are. They will end up a lottery team.
As one era ends in Boston, another begins in Los Angeles.
[php snippet=1]