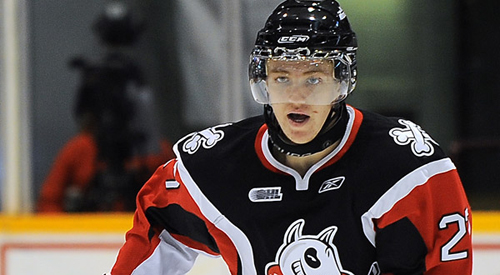 Draft Dogs part one: Dougie Hamilton
February 25, 2011
Jack Gatecliff Arena in St. Catharines, Ont., affectionately referred to as "The Jack" by the Niagara IceDogs and their devoted fan base, is nearing its 80th year of operation.
Its vents clatter so forcefully that they shake standing room counters and, in turn, patrons' beers between swallows. Its advertisements dominate the facility's aesthetics, making certain that all 3,046 spectators are cognizant to the local economy. And its 1996 renovations are becoming antiquated.
Behind the scenes, however, youthful fervour overcomes the old-school rink and its narrow, white-bricked halls. It's 4:17 p.m. on a weekday in February and the "kids" have just finished their post-practice wind-down routine on the Niagara IceDogs' stationary bikes.
Amongst the kids is Dougie Hamilton, a zealous yet composed 17-year-old defenseman.
With 50 points to show in 56 contests, he holds the top offensive numbers on the No. 9-nationally ranked major junior squad's blue line. The Toronto, Ontario native is no chump in his own end either as he sits pretty with a team-leading plus-30 rating.
While a large chunk of the IceDogs roster presumably looks up to proven NHLers, Hamilton prefers to mimic a San Jose Sharks prospect that has yet to play in The Show – his brother and teammate, Freddie.
"[My brother] is my role model; I've grown up following him and watching what he does. He's my best friend, too, so if I'm always around him then I'm always around my best friend," said the younger Hamilton brother, without a glimpse of hesitation.
[php snippet=1]
The two offspring of Doug, Olympic bronze medal rower, and Lynn, World Champion basketball player, not only share immense talent on the ice for the same major junior team, at that but also excel equally well in the classroom.
Their peers must envy their one-two punch of smarts in hockey and academics as the pair took consecutive OHL Top Academic Player Attending High School awards (Freddie in 2008-09; Dougie in 2009-10) while simultaneously acting as essential components of the IceDogs, a surging major junior presence.
After being asked how the seemingly unfathomable multi-tasking transpires on a daily basis, Dougie emphasized effective time management and the occasional need to push further than his mind and body want.
"It's really tough when you go to practice then come home tired and you've got to do your homework," said the 6'4″ rear-guard."That's probably one of the toughest things – bearing down and doing homework when you're beat."
It appears he has mastered the hockey-school juggling act for the time being, obtaining a 94 average and attracting scouts from across the continent for non-academic reasons.
While draft lists throughout the 2010-11 campaign have placed Hamilton as high as fifth in worldly rankings, the general consensus from pundits and scouts is that he is a first-round guarantee but not a top-five lock.
Scouts have marvelled at the right-handed D-man's platform of natural skilfulness, physical mass and perceptual sensibility.
With the IceDogs expected to make a long-lasting playoff run, their go-to defenseman will have plenty of chances to add to his current portfolio of impressions.
"Just keep working hard," said Hamilton of what he's hoping to personally display down the stretch,"being physical, and taking care of my own end. If I chip in offensively and help the team out with that then I'm all for that."
Fortuitously for Hamilton, he is not the lone IceDog expected to go in the first-round of the 2011 NHL Entry Draft.
Ryan Strome, a light-hearted character who sits atop the OHL's scoring leaderboard for draft eligible players 90 points in 54 games has been ranked within the top-10 as well.
The inclusion of both players in draft talks has lifted personal pressure and provided the two 1993-born pals with another commonality. Now every time they walk the narrow, white-bricked halls of The Jack, even if just for a mild-mannered practice, the two youngsters are engulfed in a contest of sorts.
"It's a fun little competition between Ryan and me," said Hamilton, with a contagious laugh.
[php snippet=1]