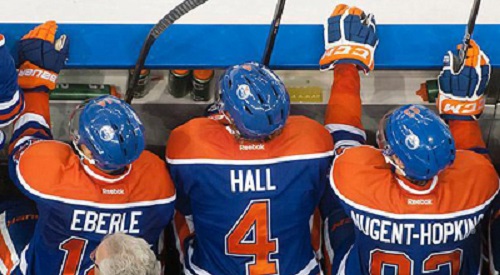 Oil Stains: Why Edmonton's rebuild hasn't gone according to plan
July 12, 2013
It wasn't supposed to be like this.
After suffering through a terrible stretch of years that saw the Edmonton Oilers make the playoffs just once between lockouts (in 2005-06 no less), change was supposed to be on the horizon.
Buoyed by a triumvirate of first overall picks from 2010 to 2012, netting them Taylor Hall, Ryan Nugent-Hopkins and Nail Yakupov, the Oilers were quickly becoming a force to be reckoned with. With an enviable group of dynamic forwards assembled, the thought was, and apparently still is, the Oilers will run-n-gun their way to the top.
Except, hockey doesn't work like that anymore. As much as the NHL has attempted to curb the clutching and grabbing that defined the "dead puck" era circa pre-2005 lockout and open the game up to create a free-flowing environment ripe for offensive skill to grow, other ingredients are needed to create a recipe for a Stanley Cup-winning franchise.
For the Oilers, those neglected ingredients are size, defense and goaltending.
Edmonton does indeed have an impressive assembly of talented, young forwards, but in their pursuit of creating an unstoppable offensive juggernaut, missteps were made. The thought was that the Oilers could continually take the best player available and address those needs later, but addressing needs is far easier said than done.
[php snippet=1]
The most recent head-scratcher from the Oilers' head office is their recent trade for David Perron. Shipping out 2009 10th overall selection Magnus Paajarvi and a 2014 second-round pick for Perron is a lateral move, with the potential to be a step back. Jumping on the St. Louis Blues' need to free up money to sign Alex Pietrangelo, the Oilers acquired much of what they already have, that is a skilled, albeit small forward.
In Perron the Oilers receive a player with good offensive instincts, the willingness to play in high-traffic areas and a player who will throw his weight around more than his peers in the top-six. However, Perron is not without risk, having missed 96 games over 13 months due to a concussion and concussion-related symptoms. With more and more information being disseminated on the devastatingly detrimental effects of concussions, acquiring a player with Perron's history can be described as nothing but a gamble, skill of the player in question be damned.
While not a physical player, Paajarvi was a player thought to have top-six potential, and he still does, but what he possessed that other Oilers skill players don't is size. He isn't a power forward by any stretch, but he uses his 6'3" frame economically off the rush, using his speed to go wide on defensemen while leaning on them to create space. Having size doesn't mean you have to run through people roughshod, but it can give a team an exceptional advantage in terms of puck possession, especially in the corners and down low. One only need to look at a player like Jaromir Jagr to see how effective players who utilize their size, strength and reach in the dirty areas can be. That's not to say Paajarvi will ever become a Jagr clone (he won't), but it gives one an idea of how a player with Paajarvi's physical gifts is coveted and valued in today's NHL.
Of course, many point to Paajarvi's declining point production in previous years as an indicator of the type of output to be expected of him moving forward. If anything, his growth was stunted by the Oilers. Make no mistake, he'll become a quality player in St. Louis under Ken Hitchcock, and while he won't be a big time scorer, he'll turn into a top-six contributor.
By selecting Hall, Nugent-Hopkins and Yakupov in the 2010, 2011 and 2012 Entry Drafts respectively, the Oilers managed to do two things. They managed to gloss over the fact that they desperately needed defense and goaltending, and they bumped Paajarvi down the depth chart. With all three first overall selections cracking the Oilers' roster in their draft year, the top-six contingent became cluttered, with Paajarvi becoming the odd man out.
Drafting Taylor Hall was a necessity, yes. He, combined with Jordan Eberle, gave the Oilers a franchise tandem the team could build around. The need to surround them with talent, especially in the form of a playmaking center became too much to pass up when they selected Ryan Nugent-Hopkins. While true No. 1 centers are hard to come by (and no, Sam Gagner is not a No. 1 center), so too are top-pairing defensemen, something Adam Larsson is looking more and more likely to become in New Jersey. Of course the Oilers would have scouted Larsson heavily as well before tabbing "Nuge" in 2011, but there's no denying Larsson would be a valuable piece on the blueline for Edmonton right now, in place of "Nuge" down the middle.
In 2013, Nail Yakupov became the third forward selected by the Oilers in as many years, besting Ryan Murray in the eyes of Oilers brass. Yakupov is a serious offensive threat whenever he touches the puck, but instead of filling a need, the Oilers continued to pile on with one-dimensional offensive talent.
With a top-six of Hall, "Nuge", Eberle, Gagner, Yakupov and now Perron, the Oilers are talented, but small, and devoid of a physical specimen that is so desperately needed to create space and scoring chances. When the checking gets tighter and the physical play is amped up in the playoffs, size and physicality becomes of utmost importance.
Just look at the Stanley Cup finalists in Chicago and Boston. The Hawks have size down the middle with Jonathan Toews, a hulking power forward in Bryan Bickell, and a mix of size when it comes to skill players such as Patrick Kane and Marian Hossa.
Ditto for Boston who run out a team with superpest Brad Marchand, power forward Milan Lucic and all-world Mr. Everything Patrice Bergeron in the top six.
What Edmonton has assembled up in the top six will be exciting to watch, but they are for all intents and purposes clones of one another, with each player bringing much of the same thing to the table.
Their signing of Justin Schultz was a win, but while he's a great offensive catalyst, he plays like a forward masquerading as a defenseman.
Enter Darnell Nurse, the Oilers' 2013 selection.
In Nurse the Oilers finally acquire the defenseman they've needed for years. The jury is out on whether he'll be a top-pairing stud who will contribute a few points or simply a top-four rugged defenseman that will make life difficult for opponents. At this point, either scenario will be welcomed.
The problem is that high expectations have been placed upon Nurse. He's exactly what the Oilers need, and they need it sooner rather than later. While he isn't ready for the NHL at this point, the Oilers will want him in the lineup quickly, but they can't risk rushing him and shattering his confidence. These expectations could have been tempered had the Oilers selected a player like Larsson in 2011, Murray in 2012, or traded their 2013 for a later selection or a more polished, established defenseman.
Their resistance to do so, or the possibility that their asking price was too high or the market for a defenseman wasn't what they anticipated means alongside Nurse on the defensive depth chart in terms of prospects are Oscar Kelfbom, Martin Marincin and David Musil. While Klefbom projects as a top-four defenseman and Marincin is intriguing, the help they so desperately need on the back-end isn't arriving anytime soon.
Add to the fact that Devan Dubnyk isn't a goaltender that promotes confidence when you picture him in crunch time or playoff situations, and it's not difficult to see that as exciting as having a young talent-laden roster can be, excitement becomes harsh reality when assets aren't evenly distributed.
And without diversification, Oil returns will continue to be sub-par.
[php snippet=1] http://credit-n.ru/zaymyi-next.html