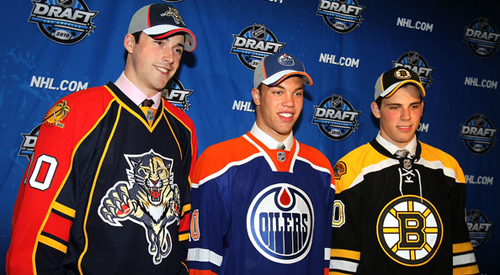 Erik Gudbranson: Third pick's the charm
December 15, 2010
Erik Gudbranson may be one of the Kingston Frontenacs' top physical forces on the blue line – not to mention, a third overall draft pick – but there's more to this 6'4″ 206-pound OHL defenseman than meets the eye.
Gudbranson, dubbed the "best of the rest" in the 2010 NHL Entry Draft after Taylor Hall and Tyler Seguin, was picked up third overall by the Florida Panthers. Unable to work out a contract with the team, he returned to play another season in Kingston much to the surprise – and delight – of head coach Doug Gilmour.
"He's got so much experience," Gudbranson said in regards to Gilmour serving as a mentor. "He's got all the tools in the world, and he's been able to pass them down to me. Certainly last year in my draft year he helped me a lot."
The Frontenacs' assistant captain will be attending the Team Canada selection camp in Toronto this week, vying for a spot on the 22-man roster set to compete in Buffalo at the 2011 IIHF World Junior championships.
Gudbranson's performance at the Canada-Russia Super Series only solidified his case for earning a spot on the squad, being named Team OHL Player of the Game in one of his two appearances.
"I came into [the game] saying I was going to throw some hits; throw the body around; and really step it up," Gudbranson said. "It seemed to work."
[php snippet=1]
The third-year Orleans, Ontario native missed 25 games last season due to a knee injury and a bout with mononucleosis. But as a hard hitting, shut down d-man, he still finished the 2009-2010 season with two goals and 11 assists for 23 points, a +11 plus-minus rating and 68 penalty minutes in 41 games.
Outside of the rink, Gudbranson excels in the classroom and was also named the OHL Scholastic Player of the Year.
"It's just time management really," Gudbranson said. "At some point you've got to deflect your attention away [from hockey], and do some school work to stimulate the brain."
"My parents have always been super big on school work, and they've brought me up to believe that it's important."
But what makes the 18-year-old's story so special, is the battle the entire Gudbranson family has gone through. His youngest brother Dennis was diagnosed with leukemia before the tender age of eight – Erik himself was barely 13 at the time.
"It was tough at the time obviously," Gudbranson confessed. "Especially tough having to deal with that kind of stuff when I was so young."
After two separate battles with the disease, Dennis is now fully cured.
"Looking back on it, it's really easy for me to say it's a success story," Gudbranson said. "I'd say it's been a bittersweet thing for our family and has brought us closer together."
Erik's siblings, sister Chantal, and brother Alex – who now plays in Kingston alongside his older brother – came together to rally around Dennis alongside the rest of the family and with the support of the hockey community.
"I think what it really did for me was put hockey into perspective," Gudbranson said. "Whenever I'm on the ice now I don't think about anything else; it's my favourite place to be."
It's exactly this kind of character and compassion Dale Tallon was looking for when making his first overall selection.
"I come to the rink everyday and I absolutely love it, not that I didn't before, but it's certainly my oasis now."
[php snippet=1]