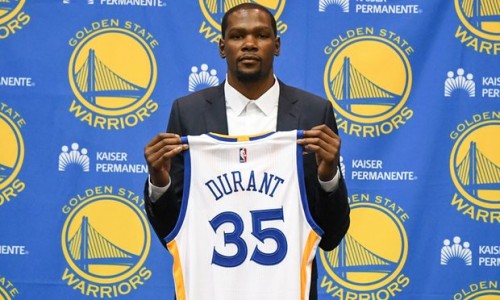 Who to avoid in the Top 10 of your fantasy basketball draft
August 8, 2016
It's the time of year where writers start stringing together fantasy basketball rankings for the upcoming NBA season. I'm no different.
Although the actual season remains nearly three months away, the most hardcore fantasy basketball players are already signing up for leagues at Sports.ws or wherever, harassing each other on message boards and pretending they saw Giannis Antetokounmpo's breakout coming all along.
I'm in the middle of a comprehensive Top 100 list, currently sitting in an Excel spreadsheet at about, oh I don't know, 400 or so. In the coming weeks I'll narrow this down but for now I'm comfortable with my Top 10. Put another way, I'm finally comfortable with the players that I've excluded from my Top 10. It's these players on the outside looking in that I want to talk about. These really are the most notable individuals that I elected not to include in my list this year.
Edit: My official Top 10 fantasy basketball rankings have been published here.
I figured I would share that here today because I know that this year of all years Top 10 lists will be a topic of genuine conversation. In case you forgot, there were a decent amount transactions that went down over the course of the offseason and yes, they've impacted the elite tier significantly.
Usually we don't see somebody as high profile as Kevin Durant swap jerseys, but this year we did. As a result of the ensuing transition, I've bumped the former MVP out of my Top 10 altogether. I can't imagine there will be a more controversial move and I'd be curious to hear any and all feedback on Twitter either at @TheGoodPoint or @SportsWS. (I'm sorry?)
I suppose I should preface the actual results with my criteria for determining them. I've assembled the list assuming you play fantasy at Sports.ws and thus are at least minimally educated in the concept of player efficiency. If not, I'll ask why the heck not and refer you to this.
I'm using the Production Scoring format for our purposes here as the vast majority of Custom Scoring formats tend to fall more in line with the weighted configuration of Production Scoring than the the unweighted configuration that is Standard Scoring. Sadly I cannot come up with an empirical list of the hundreds of various different Custom Scoring configurations being used throughout the site. That said, I do see and appreciate the merciless penalties that some of you ruthless bastards impose on players who turn the ball over. Good on you.
I've also constructed my list under the premise that you have about 12 teams in your league. Particularly deep leagues will want to give a greater priority to FPPG, as minutes can be hard to come by. The opposite is true for particularly shallow leagues that can afford to assemble a team with high FPPM values knowing that there will never really be a shortage of players who can fill their 240 game minutes.
In short, I've taken into consideration a balance of efficiency and usage, so adjust your own interpretation of my list accordingly. The result may not line up exactly with your own league's Custom Scoring configuration, but it's a solid submission for a prediction of the year's most effective players from a subjective value and/or PER perspective.
Without further ado, here's a list of the most notable players that I left off my Top 10 and why. (Sorted alphabetically by last name).
Andre Drummond – C – I'm obsessed with this big man and you all know why. Over the course of the past few years we've seen him establish himself as an elite big man despite being just 23 years old (yeah, still). That said, while his rebound numbers have approached legendary, there's one major hurdle standing between him and the Top 10. Dre gets slammed for his inability to hit free throws all the time. I don't want to sound like a nag, but there's really no other way around it. Not only does the low percentage hurt him in leagues that penalize poor free throw shooters, it completely prevents the Pistons from running their offense through him they way they need to run their offense through him in order to make him the next Stan Van Gundy-molded Dwight Howard. There's no way a player as imposing as Drummond should be averaging less than 17 points per game. Sadly, the modest changes to the league's Hack-a-Shaq problem aren't going to change the fact that Detroit will have to look elsewhere for offensive production far more often than they'd like to. Dre, prove to us that you can hit at least 60% of your freebies and then we'll talk.
Kevin Durant – F – Relax, Durant could very well be back in the Top 10 as early as next season. The reason I've bumped him this year is because there are too many players whose production is a safer bet in 2016-17. I am convinced that the Durant to Golden State move can work out well for the franchise, but to assume that they'll all hit the ground running seems somewhat unrealistic. He finished eighth in fantasy points per game last year but that was in a system that he was familiar with. Now Durant will have to learn how to gel with the Warriors and he'll do so as the meek-mannered new guy trying not to bugger up an organization that was doing just fine without him. Were Steph Curry not coming off an historic season, you could argue that Durant would step in as the big man on campus out of the gates, but that's just not what we're dealing with. Expect Durant to show signs of greatness here and there, but for the first few months at least, expect him to defer to the well-oiled scheme that just came off of a 73-win season.
Paul George – GF – This is an interesting year to be evaluating George. I'll start by saying that I'm very high on him and think that he'll continue to improve even as the Pacers have restocked their roster with established veterans. This year, however, is the first year that we've been able to build our fantasy strategies around him without any major question marks hanging over his head. Last year we were concerned about his endurance following a brutal leg injury and the year before that we were concerned about whether he'd even play again. Sure his potential was obvious as far back as 2013, but back then, though valued in dynasties and keepers, he wasn't getting touted as a sure-fire elite asset in anybody's redraft leagues. It's important now in 2016-17 that we accurately value what he's worth in his first season as a healthy, established superstar because GMs are going to reach for him in the first round of their leagues and sometimes reach too far. Is George an elite fantasy player? Yes, will he match the tangible contributions of no-brainer Top 10 players like James Harden and Russell Westbrook? Probably not.
Draymond Green – F – Green has managed to break into the league's elite as a jack of all trades that can fill all aspects of the stat sheet. While he's made a name for himself rising up to the challenge of being the guy other team's dare to put the ball in the net, I think the Durant addition will put a damper on the sheer volume that Green is able to produce. They simply don't need him to be as much of a beast all the time. Green's efficiency could stay in the same range that it was last year, which is more than can be said about Klay Thompson, but to think he'll get the same number of reps with the newly reinforced frontcourt the Warriors are introducing (I see you, Zaza) seems like a bit of a stretch.
John Wall – G – Wall has slowly raised his game over the course of his career and took another step forward last year. He may well be the best guard in the NBA not in the Top 10 fantasy-wise. Wall's biggest problem is the system that's been built around him (ie; Marcin Gortat and a handful of perennially disappointing perimeter threats). Unfortunately, the simply woebegone Wizards haven't much of a splash over the course of the offseason suggesting it will be much of the same in 2016-17. Perhaps higher percentages could help Wall raise his efficiency in the workman-like 36 MPG he logs, but unless somebody else steps up offensively, there's no real reason for defenses not to stick to him as closely as they have up until this point. Wall is ever so close to breaking into the 20 and 10 club, but he appears to face a bit of a glass ceiling until Bradley Beal can start keeping opponents honest.