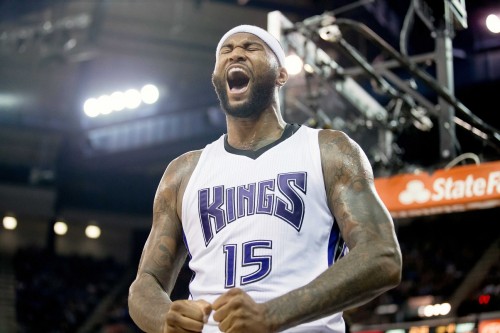 Top 10 Fantasy Basketball Rankings for 2016-17
August 11, 2016
The fantasy season creeps ever closer, so now is as good a time to publish my preseason fantasy basketball rankings… well, part of them. You read my post last week about the best players not to qualify for my Top 10. Here are the ones that did.
I've determined all rankings based on 12-team Sports.ws leagues with Production Scoring because a) Sports.ws is the only fantasy basketball site to take things like player efficiency into consideration and b) Production Scoring is the closest proxy we can get to the hordes of various Custom Scoring formats used throughout the site.
If you're in an especially deep league where minutes are scarce to come by or in an especially shallow one where you can get away with high FPPM guys and deep benches, adjust your interpretation of my rankings accordingly. I gave some priority to dual eligibility players because of the roster flexibility that allows and track record of durability, for obvious reasons.
---
10. Chris Paul. 1.47 FPPM in 32 MPG in 2015-16. (G/P) – After 11 seasons, Paul continues to add to his prolific career, piling legendary assist totals on top of an already excellent portfolio. This, however, could mark the beginning of a decline in the 31-year-old's point production. Even with a slightly lower efficiency rate than what we've come to get used to, Paul would continue stack up among the best guards in the game.
Prediction: 1.38 FPPM in 32 MPG in 2016-17.
---
9. Blake Griffin. 1.31 FPPM in 33 MPG in 2015-16. (F/B) – Griffin has been a pretty consistent source of production over the course of the past few season, but I think there's room for improvement in 2016-17. Just hitting his physical prime now, the forward will only see more of a workload as Chris Paul finally starts to slow down. It's hard not to suspect that Paul's game will age well, but don't be surprised to see Griffin's points per game creep back up into the 24-25 range as his point guard takes on a slightly more passive role.
Prediction: 1.38 FPPM in 34 MPG in 2016-17.
---
8. Hassan Whiteside. 1.45 FPPM in 29 MPG in 2015-16. (C/B) – I was contemplating sliding Whiteside into my Top 10 even before word that Dwyane Wade would be leaving for Chicago broke. With Chris Bosh's status up in the air as well, the torch has fallen right into the undrafted journeyman's hand. Expect Whiteside to log more minutes in 2016-17 with efficiency numbers comparable to what made him an overnight sensation.
Prediction: 1.40 FPPM in 33 MPG in 2016-17.
---
7. Karl-Anthony Towns. 1.32 FPPM in 32 MPG in 2015-16. (FC/B) – Towns wreaked havoc on the NBA as a rookie. This year, at 20 years old, he'll be even more aggressive when it comes to demanding the ball and taking over games. Andrew Wiggins may have had more hype coming in, but it's hard to deny that this franchise has found a clear-cut primary scoring option. Expect the dual eligibility big man to ramp up his FPPM, while logging even more time on the court.
Prediction: 1.40 FPPM in 35 MPG in 2016-17.
---
6. James Harden. 1.37 FPPM in 38 MPG in 2015-16. (G/W) – It's hard to imagine Harden one-upping his numbers this season because the stat line from last year just looks so good. Logging workhorse minutes, Harden produces as well as anybody in basketball. His overall production may stay right where it is in 2016-17, but his efficiency could take a leap forward should the Rockets find a way to cut back on his minutes.
Prediction: 1.39 FPPM in 37 MPG in 2016-17.
---
5. LeBron James. 1.42 FPPM in 35 MPG in 2015-16. (F/W) – James won a title for Cleveland in 2015-16, but don't think that he's done knocking off things on his bucket list just yet. At 31 years old, expect the do-everything forward to continue to produce as efficiently as he ever has, albeit in fewer minutes. His points per game could drop as he looks to develop Kevin Love and Kyrie Irving as stars capable of running the show, but even that would likely be offset by increased assist numbers.
Prediction: 1.42 FPPM in 32 MPG in 2016-17.
---
4. Anthony Davis. 1.40 FPPM in 35 MPG in 2015-16. (FC/B) – If a player plays less than 69 games in each of the first four years of his career, he's a walking, breathing injury risk. That doesn't mean one solid, healthy season couldn't turns things around, but it's hard to be optimistic. Expect a more effective Davis than you saw last year, but know that even a return to his 2014-15 form could still end in heart break for your fantasy team.
Prediction: 1.45 FPPM in 35 MPG in 2016-17.
---
3. DeMarcus Cousins. 1.53 FPPM in 34 MPG in 2015-16. (C/B) – It feels as though Cousins has been toiling away in Sacramento for as long as I can remember, but the big man is still just 25 years old. Currently the biggest star on a franchise with little to nothing going for it, his statistical output is all too reminiscent of Kevin Love's back in Minnesota. I wouldn't advise you build a team around him in reality, but he's an unquestioned fantasy monster so long as the Kings continue to throw him out there all by himself.
Prediction: 1.50 FPPM in 34 MPG in 2016-17.
---
2. Steph Curry. 1.57 FPPM in 34 MPG in 2015-16. (G/P) – Sure, Curry has one of the most unique playing styles in NBA history, but he'll still have to accommodate for the addition of Kevin Durant in one way or another. With just one basketball to go around, I'll go out on a limb and say his points per game drop back down toward 25-26. It will always be his team, but Durant is a far larger offensive presence than Klay Thompson and Draymond Green are combined.
Prediction: 1.48 FPPM in 34 MPG in 2016-17.
---
1. Russell Westbrook. 1.64 FPPM in 34 MPG in 2015-16. (G/P) – Had Kevin Durant stayed in Oklahoma City Thunder, Westbrook would have been a slight favourite to go No. 1. Now with his former running mate out of the picture, Westbrook is as good a first overall pick as we've seen since prime LeBron James. Expect a stat line as efficient as last year's, but more in line with what he produced back in 2014-15 while Durant nursed his foot injury. He could even end up playing more minutes, too.
Prediction: 1.64 FPPM in 36 MPG in 2016-17.
---
In summary, the list breaks down nicely into tiers. There are two can't miss building blocks in Westbrook and Curry, then two more high-ceiling young stars held back by the question marks hanging over their head in Cousins and Davis.
You know what you're getting in James and Harden, two dependable vets, one with a higher FPPM and the other with a higher FPPG. After that you have a pair of high-upside young big men in Towns and Whiteside, each having made obvious cases for stardom but who aren't as safe a bet as the players ahead of them on the list.
Finally, you have a couple of Clippers to do with what you wish.