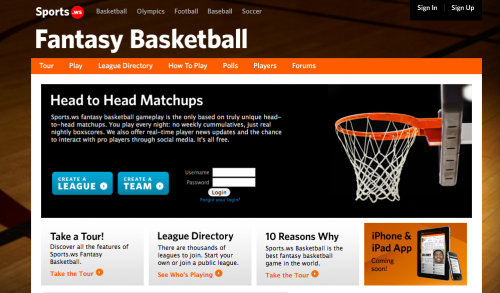 Sports.ws Joins TheGP Family
December 29, 2012
Five years ago when the idea of The Good Point was conceived in a dark, damp college student house basement, neither myself nor Managing Editor and co-creator Rob Boudreau knew where exactly we might find ourselves in 2013. The time though, has come. In the first half-decade of the publication's existence big things have happened, from references in the New York Times and Globe and Mail to interviews with some of professional sport's biggest superstars. Most importantly, though, the site has managed to find and hang on to its own identity.
Although readership has ebbed and flowed over the years, the consistent, quality-driven prose has kept what once could have been considered an unpopular idea alive.
With an emphasis on magazine-style feature writing over the blog-dominated online medium, TheGP has flourished both in North American and around the world. Sites like Grantland and The Classical, in turn, followed suit, discovering at their own pace that there is a place for long-read writing on the fast-paced web.
[php snippet=1]
Though without the mainstream reputation or mainstream bankroll, TheGP has managed to stay relevant in a pond of bigger fish, but that doesn't mean good things don't still happen to the underdog. That, of course, brings us to 2013.
As of the New Year, The Good Point will welcome the addition of a new community: that of the fantasy sports giant Sports.ws. With a global fantasy basketball game at the heart of it all, Sports.ws has served as the longest standing free fantasy basketball website on the internet. You read that right. Online in one form or another since 1995, and open to the public since 1999, Sports.ws has persevered as the most unique and engaging fantasy sports format available.
If you thought battling to win your offensive rebound category in a Yahoo! league was fascinating, Sports.ws' unique approach to the game will revolutionize your expectations. Using a format that allows members to draft and structure a lineup using per-minute production, suddenly every NBA player on a lineup is in play, not just minute-fillers who will be getting volumes of opportunity to fill stat sheets.
You have 240 minute across three positions to fill on a game-to-game basis (a total of 82 games, playoffs included). Whether you do that with superstars playing 40 minutes a night at a productive rate (like the presumed holy grail LeBron James), or a dozen active bench players who make the most of the time on their court (think a combination of Andre Drummond, Kenneth Faried and Larry Sanders, etc.) the options are endless.
I remember the day I signed up for my first Sports.ws league over a decade ago, drafting Alonzo Mourning with my inaugural first-round selection. Since then, I've played religiously with keeper league rivals, NBA staffers and mass media members alike.
Now, as the Editor-in-Chief of The Good Point I couldn't be happier to announce the new addition to TheGP family.
What does it mean for regular TheGP readers and contributors?
Hopefully, tons. Over the course of the next weeks and months, expect the energetic Sports.ws faithful to start making their way over to TheGP publication, injecting a new sense of life into the existing community. For readers, the increase in commotion (we're talking tens of millions of hits per year) leads to more lively debate in the comment section, more advertising revenue and in turn more quality content. For writers, a considerable readership boost.
What does it mean for regular Sports.ws users?
We all know that you've been loyal to Sports.ws for years. Now the site that you've been so committed to over that time will be evolving from the No. 1 fantasy basketball game on the internet, to the No. 1 most engaging fantasy sports community period. We have professional credentials here at TheGP, one of the many perks of working in news, and a team of 50+ writers both past and present delighted to give this site and this community the attention it deserves. The brilliant Patrick Butler and his team of former Sports.ws developers have created this gem that we've all grown to love, now we at TheGP have come together to accept the baton and complement that dream.
[php snippet=1]