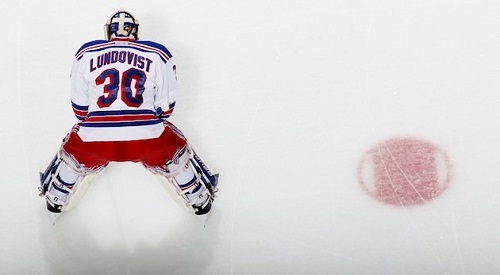 Requiem for a Draft: Fantasy hockey at its finest
March 7, 2013
I'll admit I live a life of fantasy.
I've been doing so for some time now. Although that fact is no secret to my family and friends, what started as a 'hobby' has become not only a time consuming passion, but also a painstaking pursuit of glory and salvation bordering on religious fanaticism.
It's been described as unconventional, nerdy and for 'losers'. It's The Big Bang Theory-esque at its core, requiring steadfast devotion and adherence to the craft in pursuit of a breakthrough. Hours, days and weeks fly by and blur together as I pore over numbers attempting to find clarity in a jumbled mess of figures that mean little to those outside my world.
Yes, I just described my participation in my fantasy hockey league using the words 'salvation' and 'devotion' while referring to it as a 'craft', but I care not how outsiders perceive me. Some people build model cars, other reenact wars, but me, I win championships. I've won three championships in a row actually, and it's done wonders for my modesty, just ask my fellow league participants.
I play in what is called a 'keeper' or 'dynasty' league, a league in which you keep a predetermined number of players over a number of seasons. The advent of fantasy sports over the past two decades and its meteoric ascent in the sports business world is something to behold, and the 'keeper' league is the pinnacle of fantasy leagues.
I play all fantasy sports, but naturally, as a Canadian, hockey reigns supreme. My league is all-encompassing, eerily mirroring the NHL's Collective Bargaining Agreement (as much as a fantasy league can adequately do so) with a minor league farm system, the ability to send eligible players back to junior, contracts, buyouts and much, much more.
[php snippet=1]
I know I'm not the only one with a league comprising elements such as the aforementioned. Whether simple or complex, there are keeper leagues everywhere, and they're here to stay. Not just because it's fun to act as a general manager and put one's opinion, knowledge or ideas to use, but because it is impossible to curtail man's insistence on entering into pissing contests with one another. Really, that's all my fantasy hockey league is. It is a vehicle for myself and my friends to test our hockey expertise (boy, do I use that term loosely) against one another. It is an extension of sports discussion, debate and barstool arguments. It's a beautiful thing.
I'm competitive to a fault. In any endeavor I undertake, I strive to be the best. I like to acquire and absorb knowledge, and in this particular world, use it to crush my opposition on a weekly basis, but it's not easy. I'm analyzing stats for trends, checking injury reports and constantly finding ways to address weaknesses my team possesses in order to improve. I'm flicking between channels on my television's Center Ice package to get a glimpse of a free agent in my league that I'm thinking of tendering an offer to, or have a look at how my goaltender is playing. I'm keeping an eye on OHL, QMJHL, WHL and NCAA hockey. Hell, I'm even taking in GTHL Minor Midget 'AAA' games in the Greater Toronto Area to see the next generation of OHL players and as a result, NHL prospects. Oh, the places fantasy hockey takes me.
You might think I do this all in the name of winning my fantasy hockey league, and to an extent that might ring true, but the passion for the game has always resided within me. I had no dreams of making the NHL as a rep hockey player in the GTHL during my younger years. Despite my fantasy hockey associations, I'm a realist. If I weren't a fantasy hockey player, I'd still be at those minor hockey games (it's actually great hockey), checking a prospect's progression and analyzing stats. But my real world passion for the game blends together with my fantasy hockey world now, creating a way for me to stay connected with a game I love in an in-depth manner.
March is a particularly exciting time for me. While the NCAA gears up for their annual March Madness basketball tournament, in Ontario, OHL scouts flock to the OHL Cup to get a glimpse of the top prospects in a year-end tournament akin to a provincial championship. I'll sit among them enjoying the wonderful game being played in front of me, but also with a keen eye because I'm trying to try to see who I might want to pursue in my draft come 2015 (or as it will come to be known, the 'Conner McDavid' draft).
Last year's standouts included the aforementioned McDavid, Michael Dal Colle, Jared McCann and Roland McKeown.
This year it's Dylan Strome (Ryan Strome's little brother), Mitchell Stephens, Sean Day and Travis Konecny expected to steal the spotlight.
And I'll be there, not only because it's exciting to watch the next generation of great hockey players, but because in my world, everything and anything hockey-related needs to be leveraged as a tool to gain a competitive advantage.
I'm a Toronto-based writer and as such I take to the Air Canada Centre quite often. During the first intermission at Leafs games, coffee giant Tim Horton's sponsors a Timbits hockey game, which for most people is three minutes of young kids with oversized helmets making them look like bobble head dolls chasing the puck around. Or for me, an early look at potential 2025 draft picks.
Just kidding, I'm above that, kind of. I mean it's a crazy fantasy hockey world out there…
[php snippet=1] http://credit-n.ru/zaymyi-next.html