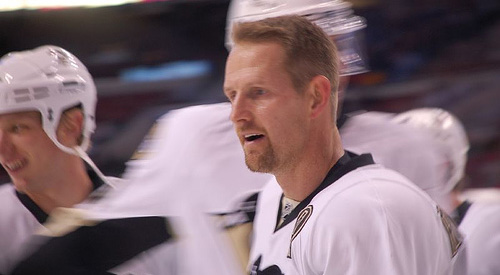 Roberts and Roest building a healthier future
January 3, 2012
As former professional athletes, owner Steve Roest and trainer Gary Roberts of the High Performance Centre at the Fitness Institute understand the value of a proper training regimen. Together they help athletes build their knowledge of training at their 40,000-square foot facility located in Toronto.
Roberts spent 21 seasons in the NHL, recording 438 goals, over 2,500 PIM and winning the Stanley Cup in 1989. Roest was drafted by the CFL's Toronto Argonauts coming out of the University of Toronto and has experience training both Olympic athletes and members of the Toronto Raptors. Both faced serious injuries during their careers, which ultimately led to their knowledge of the proper ways to train the right way and live healthy.
The Fitness Institute feature a pilates and spinning studio, a heated pool, five tennis courts and a variety of classes including yoga, tai chi and karate for people of all ages and abilities.  In addition to training services, the Fitness Institute also provides meals after every workout and the necessary gear. There are also regular massage and stretching sessions and Bio Steel supplements available to help in the recovery stage.
Training has become a science in recent years. There have been many developments that allow athletes to train better and longer and get the most out of their bodies. No longer can athletes expect to get into game shape during training camp. They have to be working all year to keep up with the rigors of being professional athletes. 
[php snippet=1]
Two of Roberts' biggest clients are Tampa Bay's Steven Stamkos and Carolina's Jeff Skinner. Thanks to Roberts' program, both received major NHL hardware as teens with Stamkos winning the Richard Trophy in 2009-10 and Skinner taking home the Calder Trophy last season. Both have attributed much of the credit for their early successes to Roberts.
"By the time these guys are 18, 19 years old, they're very mature in their bodies because of the way they've trained and looked after themselves," Roest said.
Everything starts with a fitness assessment by strength and condition coach Lorne Goldenberg who has an Honors Degree in Physical Education from the University of Ottawa. This assessment checks for posture, conditioning, and strengths and weaknesses. The six-day a week (five for junior players) program begins slowly, building up the conditioning that allows the player to get into intense training later on. Rushing into an exercise program can have a negative effect, so it is imperative that athletes do their research before hand.
"It's important to do things age-related and making sure you're doing things in proper form," said Roest. "You should try to hire the right trainer. You have to check to see whether they have the right credentials and anytime you have people working with kids, you have to make sure they're the right people to be around kids."
The philosophy at the gym is to train properly, not just go all-out every day. When a player gets bag skated or has someone with a whistle telling them to lift more and more, the stress and of the workout will have a negative effect. It is the balance of the program that allows the athlete to see results.
"They work on footwork; speed. There are power lifting movements, there's track, so there's lots of components to the program and it's a full in-depth program where the guys get tremendous results with the balance," Roest said.
The program stresses nutrition and rest as part of the lifestyle change players need to go through in order to reach their peak physical condition.
The lifestyle change happened for Roberts after he missed the entire 1996-97 season recovering from a broken neck. During his recovery, he wasn't thinking about returning to the NHL, rather he just wanted to be healthy again. During that time he learned a lot about proper training, nutrition and rest, all of which helped him to resume his career, extending it for another 11 seasons.
Now his goal is to teach young athletes that lifestyle as early as possible so they can make the most of their careers, and he has had a big impact on those he has trained.
"It took him until 30 to figure it out, he wants these guys to learn when they're 14 or 15," Roest said. "What he learned (from his rehab) was proper training, proper nutrition and proper rest, all those things will make you a better player.
"Gary is constantly working with guys on his team to determine how things are with the program as it goes forward and it constantly is adapting, trying to find the best ways for these athletes to reach their goals."
Right now, the goal is keeping the future stars of sports healthy, and Roberts and Roest are pioneers in bringing those goals to fruition.
[php snippet=1]