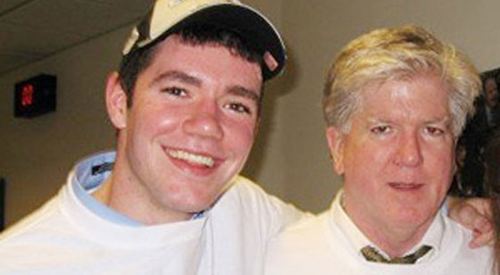 Embracing gay athletes in professional sports
February 5, 2011
Are professional sports taking away players' rights when it comes to sexuality?
In the fall of 2010, the United States military went from, "don't ask, don't tell" to "be gay, it's okay." It refers, of course, to a soldier's sexual orientation. The Catholic Church, on the other hand, and Pope Benedict himself have denounced homosexuality. It's deemed a moral sin.
But what about professional sports? Why haven't the major North American leagues dealt with homosexuality?
It's practically guaranteed that there are gay professional athletes playing in all of the NFL, NHL, NBA or MLB, statistics and population demographics don't lie. Yet, not a single athlete is publicly open.
In sports, players are role models to millions of children. What's wrong with a gay role model? It seems that the leagues and much of our society itself have teamed together to advertise that, as an athlete at least, you must keep your sexuality in the corner until you retire.
Only three NFL players have ever come out of the closet and they did so well into retirement. When you play football, you're a gladiator on the gridiron. You're strong like bull. You can't be gay.
Roy Simmons, a former NFL running back, came out once he was finished playing. He claims the NFL denied him Super Bowl media credentials because of his sexual preference and for suffering from HIV.
[php snippet=1]
In hockey, there's only been one male to come out, Swedish Elite League blue-liner Peter Karlsson. He was murdered at 29, as many believe, because he was gay.
Will the North American pro leagues ever stare at the sexual situation straight on? It's never talked about, never dealt with. No one wants to go near it.
What if Sidney Crosby was gay? Would he still be captain of the Penguins or the next Team Canada? Would Derek Jeter still be talked about as one of the greatest Yankees of all time?
In 2009, Brendan Burke, the son of Toronto Maple Leafs general manager Brian Burke, came out to the Miami University's hockey program, where he served as the team's video coordinator.
It was one year ago today that Brendan was killed in a car crash at the age of 21.
Much was talked about Burke's sexual orientation when he came out and even more so when he passed. He was a strong advocate for the lesbian, gay, bisexual and transgender – or LGBT – community and his connection to the professional sports industry through his father was hard to ignore.
It's only fitting, with all things considered, that we honor his life by furthering a message that he was so passionate about spreading. A message as simple as equality.
Burke's death shed light on what has been kept in the dark corner of professional sports since NFLer Dave Kopay was initially shunned after coming out in 1975.
Now, the NFL has players supporting the rapidly-expanding NOH8 Campaign, a "photographic silent protest" conceived in the wake of a successful Proposition 8 in the state of California. The 2008 vote banned gay marriage in one of the few places it was allowed in America.
It's not hard to find celebrities involved with the campaign, including New York Jets' cornerback Antonio Cromartie. NBA Hall-of-Famer Isiah Thomas and his son have also signed on in support of the initiative.
When athletes, or even just men and women who aren't scared of standing up for equality, do so, it gives other athletes the courage to stand up without being ostracized.
Unfortunately, the way things are now, any athlete that comes out mid-career will instantly feel the effects. Given what we've seen so far – Tim Hardaway, anyone? – those might not be pleasant. That's what has to change.
Homosexual athletes struggle enough with their orientation and whether or not to come out during their careers. They don't need the added pressure that will come just because they have a God-given talent to play a sport.
It's not a matter of whether it's right or wrong for players to come out during their careers. It's that right now professional sports leagues are making that decision for them.
[php snippet=1]