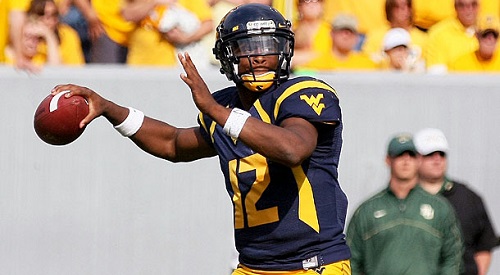 Geno and Hyde: will the NFL get the good or bad version of Geno Smith?
March 11, 2013
While the upcoming NFL draft is full of prospects whose potential draft position feels all over the place thanks to off-the-field issues, including infamously-catfished Notre Dame linebacker Manti Te'o and infamously-undisciplined Georgia linebacker Alec Ogletree, there's one player in particular who sparks notably different opinions of him based solely on his on-field performance. That would be West Virginia quarterback Geno Smith.
Through the first five  games of the 2012 season, Smith looked like a legend in the making, a Heisman frontrunner and a man who might lead the Mountaineers to a BCS bowl or even the national title game. Through the remainder of the season, that all disappeared; Smith struggled, the team fell apart and lost five straight before a 2-1 finish, and his draft stock took a hit. The question is if the NFL will get the good Smith or the bad one.
Smith is still seen as the top quarterback in this draft by many observers, but that isn't as much praise as usual thanks to what looks like a weak class of draft-eligible quarterbacks. Estimates of where he'll be selected range from first overall to the latter part of the first round, and that also could impact how he's eventually seen. If he falls to the late first round, but then turns into a NFL star, he'll be a huge steal for whichever team nabs him. If he's taken in the high first round and then plays the way he did over much of the last half of the 2012 season, though, he may go down as an infamous draft bust.
What's in Smith's favor? Well, consider the way he tore up defences in 2011 and over the first part of 2012. In fact, his 2012 start was good enough that he still finished the year with 4,205 passing yards, 42 touchdowns and just six interceptions, while completing 71.2 percent of his passes. Those are impressive numbers, to be sure. Smith has shown an ability to be a dominant quarterback at the NCAA level, and a remarkably efficient one. If he's able to translate that to the pro ranks, he could become a NFL star.
That may not completely sell NFL types on Smith, though. The NFL often asks the question 'What have you done for me lately?', and that's one that could really hurt Smith. Both halves of a season aren't created equal in many football minds. If Smith had struggled at the start of the season but rebounded to dominate the second half, there would be far less questions about him; that impressive performance would be fresh in executives' minds, and they'd feel that he'd managed to adjust to whatever was holding him back. A strong first half followed by a plummet to Earth is more concerning for most NFL scouts, though, especially with quarterbacks; then the question becomes if defenses were able to adjust to the player, and if he was in turn unable to compensate for those adjustments.
Smith's stats over the second half of the year don't paint a pretty picture, and his play during the Mountaineers' five-game losing streak is particularly concerning. Over that span, he threw 11 touchdowns against five interceptions (compared to 31 and one over the rest of the season) and posted completion percentages of 53.6, 65.6, 59.3, 66.7 and 57.1 per cent, well below his season mark of 71.2 per cent. Three of those games were against decent teams (Kansas State, Oklahoma State and Oklahoma), but the really troubling showings came in the 49-14 loss to Texas Tech (which finished the year 8-5) and the 39-38 double overtime loss to TCU (which finished 7-6). In those games, Smith posted completion percentages of just 53.6 per cent and 59.3 per cent, and he threw for just 278 and 260 yards respectively. He also didn't help his standing in the Pinstripe Bowl, where he threw for just 201 yards in a 38-14 loss to Syracuse. Smith can certainly be dominant at times, but he also looked bad-to-average against some very mediocre opposition in the college ranks. The question is whether those were just off-days, or if they're a reflection that Smith can be stopped by any team with the right defensive planning.
There's also the question of how well Smith will fit a NFL offense. NFL teams have deviated from the norm a little more than usual recently, finding success with players like Robert Griffin III, Russell Wilson and Colin Kaepernick who were once thought to only be suited for certain NCAA-level schemes that would never work in the pro ranks (such as the zone read.) However, that trend won't necessarily benefit Smith. He's not all that renowned as a runner, so don't expect him to be the next Kaepernick. Smith's been known for his time running another famed college offence, but unlike the zone read, the Air Raid hasn't yet quite made the jump to the NFL.
In fact, the Air Raid may count as a mark against Smith. It's worked brilliantly in college for coaches like West Virginia's Dana Holgorsen and Washington State's Mike Leach (who Holgorsen worked under at Texas Tech), but while a few Air Raid concepts have been seen in the NFL ranks, the offense as a whole hasn't really been tried there. Moreover, there's a sense amongst NFL types that the Air Raid produces "system quarterbacks"; players like Graham Harrell, Kliff Kingsbury, B.J. Symons and Cody Hodges shone in college at Texas Tech, but haven't yet done much in the pros (although Kingsbury's now Texas Tech's head coach), and Brandon Weeden, Holgorsen's former quarterback at Oklahoma State, hasn't exactly broken that trend so far with the Cleveland Browns. That doesn't mean that Smith and other quarterbacks who played in Air Raid-centric offenses aren't talented (or that they couldn't succeed in the right situation), but it does mean NFL executives tend to view them more skeptically than those from more conventional offenses.
In the end, Smith represents one of the most fascinating stories to follow in this draft. The potential's clearly there for him to be an elite NFL quarterback, as evidenced by his physical skills and the dominance he showed at times in the college ranks. However, he also carries a lot of question marks that may detract from his status, including the system he played in and his late-season collapse in 2012. Smith could prove to be the steal of the draft and a key figure in a decade of success for a NFL team, or he could be a tremendous bust who's out of the league in a few seasons. It seems likely he'll be remembered as one of the most notable players selected this year, but whether that will be for his  positive or negative side is still up in the air.