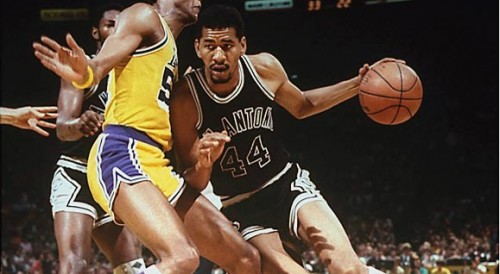 The man and the monument: How George Gervin became champion of the people
October 13, 2008
George Gervin deserves your respect. Not because he did for Michael Jordan what Michael Jordan did for Richard Hamilton in 2001. Heck, not for representing the San Antonio Spurs in nine straight All-Star games from 1977 to 1985 either. George Gervin deserves your respect because the tragically underrated, 1996-elected, Basketball Hall of Famer has never stopped giving back to the community that decades ago made him an undisputed "people's champion".
"When I hear someone like yourself recognize my accomplishments," the man says from his San Antonio home, "And when I go around the country and older people come up to me and say 'Ice Man, I just want to say thank you for entertaining me all these years, you were one of the greatest ball players I've ever seen', that's a hell of a feeling".
Consider then, the feeling one gets chatting candidly over the phone with a man who once scored 63 points in 33 minutes. A man whose track record of four scoring titles is eclipsed only by Michael Jordan and Wilt Chamberlain. Not bad for a guy rarely mentioned in casual talks regarding the greatest scorers of all time.
"When I played, the media wasn't as involved, the technology wasn't there," said Gervin. "If the world had a chance to see a lot of the guys – like myself – in this era, we would probably be looked at differently."
But that's not the only thing that's changed in the 22 years following the Detroit-born scoring phenom's retirement in 1986. Amidst growing concern about his own personal health, Gervin appeared at a San Antonio health exhibition to discuss the importance of hypertension awareness. In other words, George Gervin has high blood pressure and wants to make sure you get yourself checked out too.
[php snippet=1]
"I'm reaching out to let people know about a disease that you can be walking around with and not know. All you have to do is go to your health provider and get checked," he warns. "Hypertension is a silent killer, you don't feel it. It's something that needs to be addressed and hopefully I can motivate people to take that next step."
After years of dominating some of the world's best athletes on a day-to-day basis, Gervin admits to easing up on exercise in the years since and not paying as much attention to his diet as he probably should have, but for the now 56-year-old legend, concerns about diet in the 1970s and '80s were never necessarily the case.
"I just got out there and ran, worked out all the time and ate what I wanted," Gervin says of his playing days. "The guys today are blessed to have their own facilities, workout rooms, swimming pools, fruit juices and nutritionists. In other words, they got it going on".
The fact then begs the question; how would the players of yesterday fare in the highly controlled athlete environment that players exist within today? How would the man now synonymous with finger rolls (and lots of them) change his game to gel with, say, the current reincarnation of the San Antonio Spurs?
"I only knew one way, I knew how to put the ball in the basket," said Gervin, "But with this San Antonio Spurs team, I think it would make the game a lot easier for me. I didn't have to take a lot of shots because I was shooting a high percentage".
Of course the former swingman now closely associated with the franchise and the NBA in general hasn't forgotten about the drastic changes to the perimeter hand-checking rules that used to exist during his stint on the offensive.
"I could get 30 or 40 every night real easy, the way they let guys guard you these days".
Bold, sure, but unreasonable? Not necessarily. Not for the man who poured in a career high 63 points at will to regain the scoring lead from David Thompson in 1978, hours after the Denver Nuggets guard poured in 73 of his own to steal it in the first place.
"I needed 59 that night in order to regain the lead because I was leading the league in scoring all year until that last game. [Nuggets head coach] Larry Brown let [Thompson] get 73."
After hearing from the press what was necessary for the title and being convinced by Spurs coach Doug Moe and teammates to consider making a final push, Gervin set out on what would go on to be a record-setting night.
"We went to New Orleans in that big old dome and in the first quarter I missed my first six shots. I called timeout and said 'coach we don't have to worry about it' I was feeling the pressure," said Gervin. "But then I went back in and ended up getting 20 points in that first quarter. Then the second quarter came and I got hot, I scored 33."
Thirty-three points that would remain in the record books as the most in a single quarter to this day.
"I only needed 59, so I end up with 53 at the half and scoring 63 in 33 minutes. I needed 59 but I said let me go on and get a few more points just in case they miscalculate it".
They didn't and Gervin would go on to be crowned the 1978 scoring champion, one of four times he would ultimately take the crown. Though, during his career, Gervin quickly reserved his spot in the hearts of Spurs fans, a 1985 trade saw him wrap up his final year with a young Michael Jordan and the Chicago Bulls.
"Michael, I think was a second year guy at that time. That's when I was practicing with him everyday and started seeing that potential and that drive that he had," Gervin recalls. "He was unbelievable. We kinda got along, but it was his turn and I knew it. We had some good battles in practise, like the old bull against the new bull, but I knew I was on the downward part of the hill. I knew I had to sacrifice".
Jordan, of course, would succumb to an injury that season, limiting him to just 18 games on the year, 11 in which he came off the bench. From there he could look on as Gervin brought an end to a brilliant tenure in the NBA.
"We were in Dallas and he was sitting on the bench and I scored 35 in the first half. At the end of the game I only had about 40 and he started laughing, saying 'old man, you ran out of gas'. I said [back] 'I was just showing you how it used to be'".
Though the pair never dominated the league the way one, looking back, would have hoped, considering Gervin was years removed from his prime and Jordan yet to reach his, the fact that the two coexisted on the same franchise is, if nothing else, one of the best "what if?" paper combinations of all time.
Following his brief stint in the midwest, Gervin moved back to San Antonio where he plays an even bigger role in the community than he did with the franchise.
"The key to everything is to give back. To help those that are unfortunate," said Gervin. "I give back because I'm a product of being an underprivileged kid. I was raised by a single parent in the inner-city of Detroit and I was on welfare, it was tough times for me coming up as a young person, but I made it through.
Today, Gervin contributes to the community with seven organizations for kids who need them, including a technology school for those looking to pursue a second chance at education and a house for teenage girls coping with difficult pregnancies.
In this sense Gervin has eclipsed anything he ever contributed as an athlete, becoming, in the truest sense, the people's champion.
"People die every day but monuments live forever".
[php snippet=1]