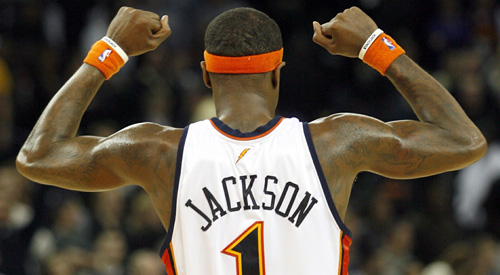 The Collapse of Golden State
December 30, 2008
Losing your star player to injury for the first half of the season can cause some major problems. Losing your team leader and point guard to free agency can cause even more. When two of your other starters demand a trade (one's already been dealt) problems seem to arise everywhere, unless of course you're playing the best team in the league.
Such is life in Oakland.
On the cusp of being handed the reigns of the Warriors franchise, Monta Ellis was involved in a freak moped accident that has kept him on the shelf to start the season.
The team's unquestioned leader, Baron Davis, bolted to the nearby Clippers, of all teams, while the Golden State front office was making the last amendments to his new contract, which, of course, was never signed.
Al Harrington, after months of public disappointment with the franchise, now calls New York home and Jamal Crawford currently suits up instead.
And now Stephen Jackson is demanding a trade. Or is he? The latest SLAMonline news feeds are more confusing than a Scientology infomercial. "Stephen Jackson Wants to Be Dealt" is followed directly by "Baron Davis: Back to Oakland?" 
[php snippet=1]
The first article looks at Jackson's displeasure with being challenged by coach Don Nelson, and discusses how Jackson has been open with teammates about his desire to set up shop elsewhere, while the second actually quotes Jackson discussing the possibility of the Warriors re-obtaining Baron Davis.
"That's all we talked about," Jackson said. "I went to his house, spent some time with his mom and his grandmother. He wants to come back. And if he wants to come back, I want him back."
Jackson went on to say that he thinks the re-addition of Davis would be great for the team.
"Coach loves him. Him and Monta have good chemistry. If they could work that out, that would be great for the organization."
The likelihood of such a transaction materializing however seems doubtful at best, as it would first require that Chris Mullin forgive a player that spurned him in the offseason. It would then require that he be willing to sacrifice at least one of his most recent acquisitions (Maggette and Crawford), and that the Clippers organization would accept some combination of the two in exchange for Davis, their biggest off-season pickup.
With such distractions and controversy swirling, and with a record of eight wins and 22 losses going in to Friday's match-up with the best team in the league, no one expected the Warriors to even compete, especially with Ellis, Maggette and Crawford all sidelined for the contest.
Yet, through some magical twisting of fates, the Warriors were able to sustain a comeback victory over the mighty Celtics behind 28 points from Jackson and 22 from second-year shooting guard Marco Belinelli.
When Kevin Garnett proclaimed "anything is possible" after last year's championship win, I think even he would have assumed the asterisk be added beside "unless you're this year's Warriors… or the Thunder".
Golden State quickly reclaimed their losing ways on Monday, behind a 17-point drubbing at the hands of the Lakers, and their previous victory appears that it will be the highlight of a shambled season.
While anything may be possible, it seems more likely that the Golden Gate Bridge will collapse than that the Warriors be featured in the post-season, especially with Baron Davis at their helm.
With that being the case, the forecast in Oakland calls for more distractions, more controversy and more losing for the foreseeable future.
[php snippet=1]