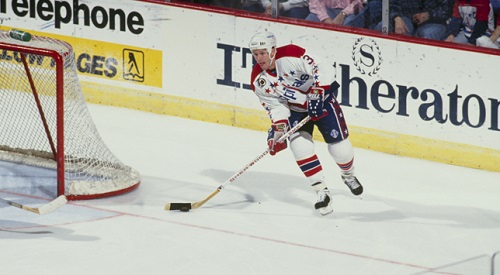 Putting the Offense in Defenseman: The '92-93 Washington Capitals
February 19, 2013
Twenty years ago, the NHL played what some believe to be its greatest season ever. From a regular season that saw a record 14 50-goal scorers and 21 100-point producers highlighted by Mario Lemieux's amazing 160 points in 60 games while losing time to battling Hodgkin's Lymphoma, to a playoff run made memorable by elite performances from Wayne Gretzky and Doug Gilmour, a few unbelievable upsets and Montreal's record 10 consecutive overtime wins on their way to Canada's last Cup, there were many storylines that made the 1992-93 season one to remember.
Not only has NHL.com been releasing columns all year detailing some of the most important aspects and events from that season, Todd Denault wrote a book on it entitled A Season In Time: Super Mario, Killer, St. Patrick, The Great One and the Unforgettable 1992-93 NHL Season. And yet, despite the coverage, one largely underappreciated feat has gone unmentioned: three defensemen – Kevin Hatcher, Al Iafrate and Sylvain Cote – all scoring at least 20-goals for the Washington Capitals.
Twenty goals for a defenseman is the equivalent of 50 goals for a forward. It takes sublime skill, the ability to capitalize on scoring chances and a little bit of luck to accomplish. An even rarer achievement, the 20-goal mark has only been reached 141 times by 55 different defensemen in league history while 91 forwards have scored at least 50 goals a combined 191 times. The high-flying Edmonton Oilers are the only team to feature three 50-goal scorers, in 1983-43 (Gretzky-87, Glenn Anderson-54, Jari Kurri-52) and in 1985-86 (Kurri-68, Anderson-54, Gretzky-52) and only four defensemen in the entire league have reached the 20-goal mark since 2008-09 which should prove just how special of a season it was for the trio of Caps blueliners.
[php snippet=1]
Hatcher, Iafrate and Cote helped pace the Capitals to 325 goals that season, producing career highs of 34, 25 and 21 goals respectively, career highs for each. It was the second-highest offensive output in team history, five goals behind their output the season before and seven goals more than the Alex Ovechkin-led team in 2009-10. All three had tremendous skill, though Cote concentrated largely on his own end, and were all selected in the first round of the 1984 draft.
Iafrate, was selected fourth overall by the Toronto Maple Leafs after the Dearborn, MI native spent the season with the Ontario Hockey League's Belleville Bulls and played on the U.S. Olympic team. Cote went seven spots later to the Hartford Whalers after the Quebec City native spent two seasons with the Remparts in the Quebec Major Junior Hockey League before Hatcher, from Detroit, was taken by the Capitals 17th overall from the North Bay Centennials in the OHL.
High goal totals were expected from Hatcher and Iafrate throughout their careers. Hatcher had a string of 12 consecutive seasons of at least 10 goals, reaching the 20-goal mark twice, while Iafrate, known for his wicked slap shot which was clocked during the Skills Competition that season at 105.3 mph, broke the barrier three times in his career. But adding Cote, with just 122 career goals in 1,171 games, into that mix is unprecedented as he peaked just at the right time to make history.
Hatcher spent the first 10 of his 16 seasons in Washington becoming the team's all-time leading goal scorer among defensemen, but Iafrate and Cote were acquired just a few seasons prior. Iafrate was traded to Washington from Toronto midway through the 1990-91 season in exchange for Bob Rouse and Peter Zezel while Cote was traded from Hartford during that offseason for a second round draft pick in 1992 that ended up being Andrei Nikolishin.
Washington was bringing in talent to try and make an extended playoff run; they reached the Wales Conference final in 1989-90 as the seventh seed and although they improved their regular season point totals in each of the next two seasons, they fell a round earlier every spring. Unfortunately, a plethora of 20-goal scorers, nine in total, was not enough to buck the trend of early playoff exits.
Perhaps the biggest reason this accomplishment has been forgotten is that the 1992-93 Capitals season is remembered largely for only one play, Dale Hunter crushing the New York islanders' Pierre Turgeon from behind after he scored a goal in Game 6 of the first round. With so much firepower, the Capitals could have made a splash in the playoffs, but three straight overtime losses in Games 2, 3 and 4 shut the door on their season. Iafrate did his part producing six goals, but Hatcher and Cote combined for just one goal and three points, disappointing numbers especially considering Hatcher's 34 goals was the eighth-highest total for a blueliner ever.
Unfortunately the trio was never able to experience that same magic again. Iafrate was traded the next season to Boston for Joe Juneau and only played 138 games after the 1992-93 season as knee injuries cut short his career and while Cote's next season saw him record 16 goals and a career-high 51 points, he would never approach those numbers again the rest of his career. Like Iafrate, Hatcher was gone after 1994, sent to Dallas after the 1993-94 season for Rick Mrozik and Mark Tinordi. The year ended earlier than they would have hoped and Hatcher, Iafrate and Cote never patrolled the same blueline following the next season, but for that year they were able to accomplish something that had never happened before and certainly will never happen again.
[php snippet=1]