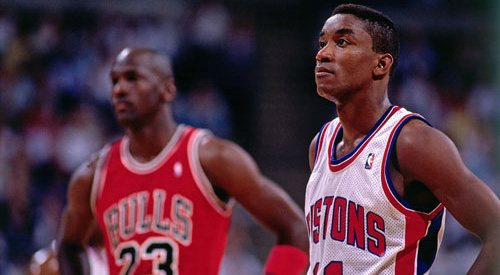 Where did it all go wrong for Isiah?
October 31, 2008
If Isiah Thomas had chosen Hollywood for his career path over the NBA, he would never have been cast in the role of a gang leader. His boyish grin and diminutive frame made him more Gary Coleman than Al Pacino. However, in the late 1980s and early 1990s, Thomas was indeed the leader of a posse of basketball outlaws, an outfit known as the 'Bad Boys'.
When the Detroit Pistons bullied their way to back-to-back NBA titles in 1989 and 1990, they could have been a cast from any old Western or Gangster movie. Thomas was the undisputed leader, while players like Rick Mahorn, Dennis Rodman and Bill Laimbeer filled the role of henchmen adequately. Joe Dumars functioned as the silent assassin all the while coach Chuck Daly called the shots.
The championship run almost began in 1988, when Detroit came agonizingly close to the title, leading the Final series against the LA Lakers 3-2, before falling in seven games.
Tough and uncompromising, Isiah wasnt blessed with the physical frame of a bully. Yet, standing barely six feet tall and weighing around 180 pounds was no obstacle, if you were on the court with him, the playing field was always even. Never one to take a backward step or blink, Thomas was at his best when the odds said otherwise.
Isiah was no angel. True winners rarely are. Thomas and the Pistons' style drew critics and enemies. Blood was spilt and bones were broken but the path to the top is never smooth. He copped a few bumps and bruises and dished out plenty too, but, like a boxer would always shape up for the next round, always ready to go another day. 
[php snippet=1]
When Isiah retired from the game in 1994, his trophy cabinet was full. He was a Hall-of-Famer, a 12-time All-Star (twice MVP), All-NBA First-Team three times, two-time NBA champion, Finals MVP and probably most notably, in 1996 he was recognized as one of the 50 Greatest Players in NBA History.
Simply put, Isiah Thomas was an exceptionally good basketball player.
During his playing days, Isiah became the eighth president of the Players' Association from 1989 until he retired in 1994. The PA oversees things like the Collective Bargaining Agreement and helps to resolve disputes between the players and the league.
Holding such a senior position suggested that Isiah would be able to make a smooth transition from the court to the office upon retirement.
But it seems that Isiah the player has had wildly different success to Isiah the business man.
The cool, cunning, ruthless point guard has become a bumbling clutz, who leaves a chaotic mess wherever he goes. He's become a toxic administrator who always gets it wrong.
The ability he possessed on the court to rally teammates and bring out the best in their game has been replaced by an awkward ability to upset and alienate anyone associated with him.
Isiah's first foray into management was in 1994 when he became Executive Vice President of the expansion Toronto Raptors. During his four-year tenure Thomas did manage to make some shrewd draft selections including Marcus Camby and Tracy McGrady. Thomas left abruptly though in 1998 in a dispute with ownership over the organization's direction and his responsibilities.
Isiah then had a brief spell as a broadcaster working along Bob Costas at NBC. It didnt last long.
Next up, Isiah bought the Continental Basketball Association in 1998 for $5 million dollars. By the year 2000 however, the league was bankrupt and it folded. Blame was spread around and fingers were pointed, but again Isiah didnt stick around for long to clean up the mess.
He quickly accepted the role of head coach of the Indiana Pacers for the start of the 2000 season. In three seasons, Isiah did a respectable job. The Pacers were beaten by the LA Lakers in the NBA Finals under Larry Bird the season before, so while Isiah was inexperienced as a coach, he had an experienced team with big expectations.
He guided the Pacers to the playoffs in each season, but they were eliminated in the first round each time. In 2003, Larry Bird returned to Indiana as President of Basketball Operations, firing Isiah and replacing him with Rick Carlisle.
Again, Isiah wasn't out of work for too long. In December of 2003, he was hired as President of Basketball Operations by the New York Knicks.
It was during his time at the Knicks where things really started to fall apart. And it all happened after what appeared to be a golden start. Thomas made a huge impact shortly after arriving by acquiring All-Star and Brooklyn local Stephon Marbury from the Phoenix Suns. The Knicks made a late charge into the playoffs but were eliminated by the eventual champions, the San Antonio Spurs. No disgrace there.
Since then though, Isiah and the Knicks became a laughing stock. Hirings, firings, sexual harassment allegations and fights all combined with some horrible personnel moves made Isiah's time on basketball's biggest stage at Madison Square Garden to be one ugly shipwreck.
The Larry Brown saga and the Anucha Browne Saunders suit didn't only cost Isiah Thomas his reputation, it also cost the Knicks organization millions of dollars. Even for Knicks owner James Dolan and his deep pockets, nobody likes to just give away money.
In the 2006 season, the Knicks became embroiled in a fight with the Denver Nuggets which allegedly began after Isiah had instructed his players to foul Denver's players hard. Isiah was caught on video mouthing the words "Dont go into the paint" to the Nuggets' Carmelo Anthony after Isiah felt that Denver was running up the score while blowing out the Knicks. Suspensions and fines followed but Isiah escaped any direct punishment himself, but it was clear that he'd had some involvement in instigating what had occurred.
Throughout the 2007-08 season, the Knicks struggled from the start. They were booed at home and the chants of "Fire Isiah" rang down from the stands home and on the road. For anyone who idolized Isiah as a kid, it was tear-jerking stuff to see how unpopular he had become.
Finally, Isiah was taken out of misery at the end of last season when new Knicks President Donnie Walsh "re-assigned" Thomas within the organization. In short, rather than buy out his contract, the Knicks chose to keep him on in a limited capacity. Awkwardly, a part of his agreement was that Isiah isn't allowed any contact with the playing personnel on the Knicks roster.
Things had been quiet for Isiah since the end of the season… until last Friday. News that Isiah was rushed to the hospital after suffering from an overdose of sleeping pills quickly made the headlines.
Immediate reactions were to hope that whatever had happened, Isiah would be okay. But even something as serious as a hospital visit has descended into a debacle in that Isiah refuted reports that it was he who had overdosed, but instead his 17-year-old daughter. The police have angrily denied Isiah's account of the events and once again, there is a mix of both truth and rumors.
Whatever happens from now on, hopefully Isiah can sort out his problems and rebuild the reputation he earned from his playing days. Like him or not, he was without doubt one of the best players the NBA has seen.
It's not too late.
[php snippet=1]