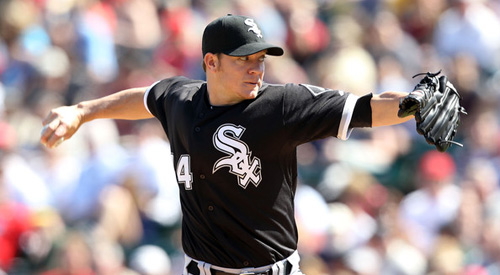 The torn tendon: Jake Peavy's return from an unprecedented injury
July 28, 2011
Both the life and baseball career of Chicago White Sox pitcher Jake Peavy have been all about finding and claiming new, rare territory.
He is one of just 10 pitchers in National League history to win the Cy Young Award with a unanimous vote, one of two players to ever win a Cy Young Award without pitching a complete game, and only the eighth player in the divisional era to win the pitching Triple Crown; leading his league in wins, strikeouts, and ERA.
But things came to a grinding halt for Peavy last year on July 6, when he was part of something just as rare as his 2007 season, though not in a good way, unfortunately. On a 2-2 pitch to then-Angels first baseman Mike Napoli, Peavy threw a fastball, a motion that defines routine for him.
The result, however, was anything but.
Peavy was clearly in pain following the pitch, but it wouldn't be until after he left the field and had gone for testing that anyone would know what exactly they just witnessed. After Peavy's injury was diagnosed, not many people knew what was going to happen next.
On that fateful fastball, Peavy tore his right latissimus dorsi tendon – the tendon that connects the latissimus dorsi muscle to the humerus bone – completely off of the bone. For a pitcher, this connection helps with the transfer of force from the legs to the arm. Without its proper function, the notion of a player pitching is less than a pipe dream. Imagine trying to kick something without the use of your hip. That was Jake Peavy's reality.
[php snippet=1]
Nobody in major league history had been believed to have ever suffered the injury Peavy experienced. There have been cases of a partial tear, Brad Penny and Ben Sheets being the beneficiaries of that, but nobody had ever experienced a full tear, which meant that nobody had ever returned to baseball from a full tear of the latissimus dorsi tendon.
The prospect of ending a once-promising career was a possibility, but not in Peavy's mind. He was determined to come back, and turned to Dr. Anthony Romeo for help. Dr. Romeo, a team doctor for the White Sox as well as an orthopedic surgeon, had had plenty of experience working with the lat muscle and its corresponding tendon, but not in this manner. Instead of performing his usual surgery of removing the tendon, Dr. Romeo was being asked to reattach it the bone, something he had never done before.
"I'm honored that he trusted me that way," Romeo told Amy Nelson of ESPN.com at the time of the surgery. "Some of my peers may think I'm a little crazy for making that leap of faith – that I would do that, and that I would be confident that it would work out well for him."
On July 14, just eight days after the injury, Peavy went under the knife, his professional career in the hands of a surgeon performing a surgery he had never done before on a pitcher with an unprecedented injury.
Although Peavy's injury was uncommon, the idea of an upcoming injury to the pitcher was not.
"I saw him pitch in San Diego, and I haven't seen too my pitchers that stand only six feet who threw as hard as he did," the Chicago Tribune's Mark Gonzales told The Good Point.
The word 'torque' comes to mind when watching Peavy pitch. A vicious, hard arm motion throwing fast pitches with a lot of movement; it was a recipe that created success, but also one that seems to have lent itself to problems. In addition to his lat injury, Peavy has battled through a multitude of tweaks and sprains that have dogged him throughout his career.
"There were whispers from scouts and other baseball observers that because of the way Jake threw, being a max effort guy, that it wouldn't be long before he wound up injured," echoed Dan Hayes, who covers the Padres for the North County Times.
His road back took its first big step five months after surgery, when he first started throwing a baseball. By Spring Training, Peavy was pitching again. His first game was, coincidentally, against the same Angels team that had last seen him pitch. He threw two scoreless innings, with his fastball reaching a high of 92 mph, but recovery was still a long ways away.
Dr. Romeo had informed Peavy that full recovery would be a 12-to-18 month process. His two starts against the Angels came just eight months apart. Given the fact that this was a new surgery on a new injury, there was really no precedent for anyone to juxtapose. Peavy being the competitor he is, decided to rehab on the fly and pitch through the recovery time.
During Spring Training, Peavy experienced some stiffness in his throwing arm. He decided to pitch through it, and it cost him the first month of this season. He came back in May, and in his second start he pitched a complete game shutout, allowing just three hits and striking out eight.
On June 25 against Washington, Sox starter Jon Danks left the game early after straining his right oblique muscle. The bullpen was wiped out after a 14-inning marathon the day before, so manager Ozzie Guillen was forced to pick a starter to eat up a few innings. Peavy volunteered, as did Mark Buehrle and Gavin Floyd, but Guillen went with the rehabbing right-hander.
He pitched well, throwing four shutout innings in an eventual Chicago win. But the long-term effects are still being felt today. Peavy has admitted the relief appearance, his first since Class A ball in 2000, took more out of him than he would have liked. Since his relief stint, Peavy has gone 0-3 with a 6.85 ERA. His scheduled Tuesday start two weeks ago was pushed back almost a week later to further rest his arm.
Peavy's passion and competitiveness has always been a positive aspect of his career, but it may be a hindrance to his recovery.
"It's remarkable that he's continued to push himself despite the rarity of the injury and the fact that he missed the final three months of 2010 and the first month of 2011," says Gonzales. "He tried to pitch despite a tight groin injury, and pitching in relief messed up his routine as a starter."
One of his greatest assets could be the biggest factor in shortening his career.
"If Jake believed his style would wind up hurting him, he never would have been the pitcher he was," adds Hayes. "He was such a competitor, and such a team guy, that if that's what made him successful, he would keep doing it.
"I'm not surprised his success isn't at the same level [but] even though he's not quite the same pitcher, the way he competes can still equate to success."
There's no way to ultimately know how good the post-surgery version of Peavy will be. Nobody can expect 2007 NL Cy Young form from Peavy, where he led all NL pitchers in ERA+, WHIP, and WAR in addition to his Triple Crown. Certainly, at least in Peavy's eyes, he can better than the pitcher who has allowed 17 runs in his last 21 1/3 innings. His recovery time suggests full recovery by the beginning of the 2012 season, where he'll at least get a full offseason of training to try and find his past magic.
But the right-hander is running out of time. Although Peavy is on his own island with his injury and recovery, Major League Baseball history is littered with ineffective 30-plus-year-old pitchers who have long histories of arm problems.
According to Gonzalez, if Peavy's not careful, his second chance at greatness could disappear entirely.
"Jake is that cat that is close to his ninth life."
[php snippet=1]