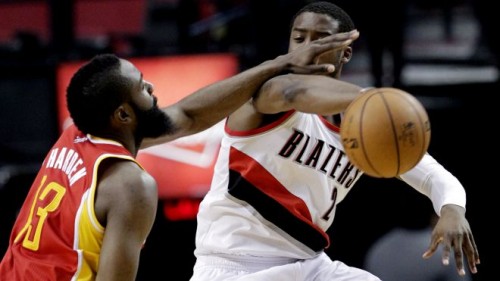 James Harden: When Defense Offends
October 2, 2013
On the Sep. 27, at media day, James Harden announced that he and the coaching staff were "all on the same page" about him guarding the opposition's best wing player.
Upon reading a discussion about this on an NBA forum, I came across comments such as "And the league's best players give a resounding cheer", and people talking about how "Harden will never be good enough to guard the best wing players in the league". Others would reference the 2012 Western Conference Finals, when Harden got lit up by Manu Ginobili to the tune of 18.5 points per game in 30 minutes on 50/42/93 shooting.
So with all this talk about Harden's defensive woes, and how that's what is really holding him back from being right up in the MVP discussion, I decided to head over to Synergy Sports and check out some film, paired with stats, of Harden defending spot ups, isolations, and pick and rolls, to really put the pieces together and figure out why he's gained a reputation as such a bad defensive player.
[php snippet=1]
Defending the Pick-and-Roll
Being a guard, Harden is often faced with defending the ball handler in the pick-and-roll. In fact, guarding the pick-and-roll ball handler accounted for 22.4% of his defensive possessions, and he wasn't too bad at it, giving up 0.8 points per possession, ranking him at 129th in the league. The Rockets never really developed a team philosophy at defending the pick-and-roll either, it was always just "get through and recover, and Omer Asik will be there to help at the rim". This led to numerous pull up jump shots, from Harden not showing respect to the shooter (more on this later) and either being nonchalant about going over the screen (as shown below, defending Russell Westbrook) or just waltzing under it altogether.
The Rockets not having a team philosophy on the pick-and-roll would really show at times, such as on this Tyreke Evans/Jason Thompson pick-and-roll. What are Asik and Harden trying to do here? Trap it? It's the only possible explanation for trying to fight through a screen for the poor-shooting Evans.
And here's one more instance of Harden trying to fight over the top of a screen, being way too slow, and Reggie Jackson ultimately hitting a nice floater over Donatas Motiejunas.
Defending Isolation
Harden was actually ranked pretty highly in defending isolation (0.72ppp, 73rd in the league), but I think that was merely an instance of Synergy defensive stats being flawed. Harden gets blown by a lot on D, but he has one of the league's best defensive centres in Asik to cover up for his mistakes. This missed Kevin Durant layup is a prime example of what I'm talking about – Durant easily gets by Harden along the baseline, but Asik shows us what a great defensive presence he is by meeting him at the ring to contest the shot. However, this counts as Harden defending an isolation, resulting in a miss, when really it was just bad defense on his part.
Harden also doesn't show much respect to shooters, and gives guys a lot of room on the perimeter. Take a look at him guarding Andre Iguodala here, he's practically begging him to shoot the long three.
Iguodala is not exactly an elite shooter, so you can't really blame Harden for stepping off, but if you give guys that much room on the perimeter, it gives them room to get a full head of steam going to the basket, something Rajon Rondo has become really good at over many instances of defenses having no respect for his jumper. However once again, they'd be met by Asik at the ring (and now Dwight Howard), so it's not really going to be an issue toward Harden's isolation defense ranking.
And taking a look at one more instance of Harden getting credited for a bad defensive sequence. Here he is getting blown by Kevin Martin, but who is then met at the ring by Asik who knocks the shot away.
Obviously getting beaten to the baseline isn't as bad as being beaten to the middle, but if Harden is really going to be guarding the opposition's best wing players, getting blown by this frequently on D is just inexcusable.
Defending Spot Ups
The last category that Harden defends at a high volume is the spot-up, and it is by far the one he defends the most, 38.5% of the time, which is unfortunate because he is absolutely horrific at it – he gives up 1.07 ppp and is ranked 296th in the league. Not only this, but his opponents shoot .404 from the three-point line with him defending. This stat in particular is extraordinary, because Harden is so long, quick, and athletic. Usually players like that are great at closing out around the three-point line.
So how can he be so bad? It's simple – he's a horrible defender off the ball. He is often caught well out of position trying to help, losing his man on cuts, and helping one pass away. What do I mean by that exactly? Let's take a look.
Here's an example of Harden helping one pass away – we see Durant drive, and Harden is guarding Derek Fisher near the corner. When Durant beats his man off the dribble, Harden comes over to help, but he doesn't really do anything, instead all he's done is given Fisher way too much room and he hits the three.
What Harden should do, is fake the help – that is, jab a step in Durant's way and quickly recover to Fisher. Even if Durant still gets by, Asik is right there to help out at the ring.
Here we see Durant get a flare screen from Kendrick Perkins, who was being guarded by Carlos Delfino. Harden doesn't even attempt to fight through the screen, so hopefully that means he called out a switch, which is what it looks like, as Delfino tries to contest the shot. If that's the case then it's a good play by Harden.
Harden is guilty of ball-watching far too often, standing in no man's land which puts him well out of position to recover and close out on his man. On this play, he doesn't even need to be out of position, but he is, and Durant makes the simple swing pass to get Thabo Sefalosha the wide open look.
And here is the exact same thing in the next game of the series. Compare the two, he makes the exact same mistake in the next game. And it wasn't just these two times, this happened over and over again.
Still not convinced? Here it is once more, earlier in the series, but on this one, Perkins sees him out of position (probably the only play Perkins contributed to on the offensive end for the whole game), and sets a back-screen for Sefelosha to get him even more room, and he has all the time in the world to get set and take the three.
Okay, so Harden helps one pass away and gets out of position a lot. That's not too bad, right? Heaps of players do that. Well, check out this sequence. Once again, Harden is guarding Sefalosha, and he's on the left wing. Just notice where they both are at the start of the play. Sefalosha cuts along the baseline to make the spacing a bit better, and Harden is busy staring at the ball and uselessly swiping at Durant. In the time it takes Durant to swing the ball, then the ball to get thrown cross court to Sefelosha in the corner, Harden still isn't able to get him in time, and he gifts him another wide open shot.
Go on, watch it again – just stare at Harden for the whole play. He has absolutely no idea where his man is. This is perhaps the worst defensive sequence by any "star player" that I have ever seen.
The obvious conclusion
James Harden is not a good defender, he deserves the reputation. But fortunately for him, helping one pass away, being out of position, losing his man, those are all things that can be fixed without hard physical work. That's just about reviewing film and working on team defensive philosophies at practice. As for guarding isolations and not being beat off the dribble, if he's improved like he said he has, then maybe we could see a new and improved defensive player in the coming season. He has the ideal body for a great on-ball defender, he just needs the effort. Not that it's going to matter too much with Howard standing in the key behind him this year.
[php snippet=2]