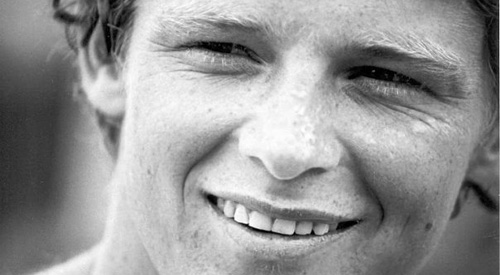 A Marathon of Hope: Jay Triano remembers Terry Fox
September 20, 2011
On April 12, 1980, Terrance Stanley Fox filled two bottles with ocean water from the Atlantic and headed west from St. John's, Newfoundland.
And so began his marathon.
This, however, was no ordinary marathon. This was something far more special. This, was a Marathon of Hope.
While an ordinary marathon runs a distance of 42.2 kilometres (26 miles, 385 yards), Fox's destination stood monumentally further: Victoria, BC. This would require him to run the length of a full marathon each and every day for months.
As if this task weren't daunting enough, he embarked upon it with just one leg.
Having lost his right leg to osteosarcoma at 18 years of age, Fox made it his mission to do something special, something different, something that would get people's attention in order to raise awareness of cancer and aid in its research.
While it may have seemed an insuperable task to run across the country on one leg, those who knew Fox knew that his perpetual determination would be on clear display as he pursued his goal.
One such person is Tillsonburg, Ontario native Jay Triano. Triano got to know Fox at Simon Fraser University, where he immediately noticed that Fox was indeed a special person.
[php snippet=1]
"We were both friends at Simon Fraser, long before he became famous and before he decided to even start his run," recalled Triano.
"He was very, very giving, very humble, and he wanted to do things for other people. He was just a really good guy who was very driven and cared about what other people were going through and how he could try to help them."
Triano, a Canadian hero in his own right, has played and coached basketball professionally and internationally, in addition to being the first Canadian-born head coach in the National Basketball Association, having served at the helm for the Toronto Raptors. As such, Fox referred to Triano as his hero; yet Triano unequivocally views things the other way around.
"It's humbling for me because Terry Fox was a guy who was everybody's hero. He was one of the greatest heroes we've ever had in our country," he said.
"When you hear that he thought of me that way, how do you respond to something like that? Here's a guy who, you know, the name hero is assigned to in this country, and for him to say that's how he felt about me was just very humbling."
On October 15th, 1979, Fox announced to the world his intention: to run across a nation.
"I was a little skeptical at first," recalled Triano. "But once you saw him training day after day and working as hard as he did, you knew that anything was possible with this kid.
"You just watched him everyday, and you watched him build what was a dream and turn it into reality. He just kept training and training and training, and then before you knew it, he was raising money and, the next think you know, he was running across Canada."
Sadly, Terry's Marathon of Hope was prematurely cut short. On Sept. 1, 1980 – after 143 days and 5,373 kilometres – Fox was forced to halt his trek just outside of Thunder Bay, Ontario, due to multiple health issues. Shortly after, it was learned that Fox's cancer had returned and spread to his lungs. Although he vowed to one day complete his journey, the cancer treatment proved ineffective and Fox succumb to the disease on June 19, 1981. He was 22 years old.
While Fox may not have reached his West Coast destination, the courage that he displayed will forever live on in the hearts of Canadians from coast-to-coast. He touched the lives of so many – Canada and beyond.
"It was just super-inspirational to be associated with a guy like that, that had such a great dream and who was not just going to talk about it and not just going to think about it, but was actually going to do it," said Triano.
It has been over three decades since Terry's passing, yet every year his memory is honored with an annual event intended to commemorate the Marathon of Hope, the aptly named Terry Fox Run. Since its inception in 1981, the Terry Fox Run has spread to over 53 countries and has raised close to $500 million.
Indeed, Fox's profound legacy and his inspirational Marathon of Hope continue to live on.
"What happened was that, while he was doing the run – while he had this dream of trying to help and raise money to find a cure for cancer – while he was doing all that, he inspired Canadians, and those Canadians are still inspired today," said Triano.
"Thirty years later, we are fulfilling and following the lead that he set, which was to not think about ourselves, but to think about other people that are going through hard times and to work together to help find a cure. That's what Terry's whole dream was all about."
[php snippet=1]