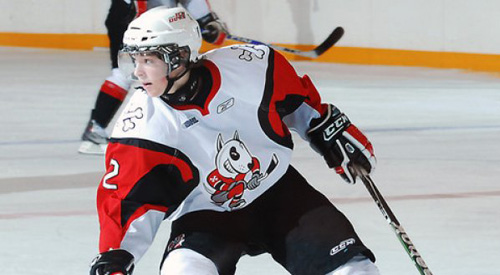 Jesse Graham eyes NHL Draft form Niagara blue line
November 7, 2011
One might not think a 5'11", 160-pound defenseman would immediately stick out like a sore thumb in a game of Major Junior hockey, but luckily for Niagara IceDogs sophomore Jesse Graham, his smooth, angelic skating and tremendous offensive upside make him hard to miss.
While scouts may be wary of his size (or lack thereof), when they finally get a chance to see him play, to see his skating, two-way ability and tenaciousness in the corners, they're quickly reminded of why they came to the rink.
"Jesse is one of the most exciting defensemen to watch in the OHL," said Ed Burkholder, Niagara IceDogs color commentator and head scout for the ECHL's Toledo Walleye. "His offensive ability coupled with his speed and skill is attracting continued interest by NHL scouts, and his thought process for the game, his vision and anticipation elevates him to an elite level."
"I have never seen Jesse take a shift off, and he has passion and a genuine love for the game."
For Graham, a 17-year-old Toronto native currently playing his second season of OHL hockey, those qualities allow his play to speak for itself, and the concern of size doesn't faze him.
"I'm not too worried about the whole size thing," Graham told The Good Point in a recent interview. "People will always say you need to get bigger, but I know I have a good work ethic and my size will come. I'll fill out as I get older, and when I do, it's just going to be a bonus."
After a successful rookie campaign with Niagara, where he immediately earned a permanent spot as a two-way contributor, Graham has found a way to adapt and become an effective player in all three zones.
[php snippet=1]
"Being a small guy on the ice isn't much of a factor with the style I play," he said. "I can still win battles against bigger players, and when I have the puck it's all about making the smart play, which is a part of my game that I'm really confident with."
That confidence may have been solidified when Graham entered the league with an opportunity to work with a defensive coach by the name of Mike Van Ryn, who, after retiring from the NHL as a Toronto Maple Leaf, joined IceDogs coaching staff for one season before departing for the AHL's Houston Aeros this past summer in a similar coaching role.
"Mike was fresh out of the NHL, so he was obviously a great guy to have giving you pointers and tips on how to play and improve your game," Graham said. "He really paid attention to the little things, so that helped me learn to play a much more detailed game."
Along with Van Ryn's experience, Graham played the majority of his rookie season alongside Boston Bruins first-round pick, Dougie Hamilton, where he managed to record one goal, 17 assists and a plus-27 rating in 63 games.
"I've been partnered with Dougie for most of my OHL career, and he's been a great guy to play with," Graham said of his teammate. "I think we're two different players, but we have good chemistry together on the ice. He's obviously a skillful, smart player, so it's nice to be able to play with someone like that."
With Van Ryn now in Houston, this year Graham is under the wing of IceDogs' defensive coach Jason Brooks, who has him continuing on with his familiar role.
"I really like the way Jason has worked with me so far," Graham said. "He seems really intelligent when working with the defense, and just knows what he's doing as a coach, so I've been lucky enough to have two great defensive coaches so far."
As far as improvements go, Graham has several goals he's set of himself this year both on and off the ice.
"I'm just working on playing a solid game in both ends, and I'd like to contribute a bit more offensively this year and play more reliable, longer minutes," he said, while adding working on his strength is his main focus off-ice.
"Getting stronger will help me more with battles in the corner, and I also want to improve my shot from the point and be able to put the puck to the net a lot harder."
Currently in his draft year, Graham admits that added pressure is something that's hard to ignore, but remains focused on playing and developing his game with the IceDogs, and often turns to his teammates for guidance.
"Obviously the draft is going to be in the back of your mind, but I try to focus on playing with the team I'm on and just improving my game throughout the year," he said. "I talked with Ryan Strome about it, and he told me how the year is going to go by so fast, but you just have to focus on each game, play the hardest you can for your team and the scouts will take notice."
And to that, Burkholder, who has watched Graham in nearly every game of his OHL career, concurs.
"He will go high in the 2012 draft due to his tremendous growth potential," Burkholder said. "Jesse will do great things in hockey and he deserves all the good coming his way."
For those who may not have had a frequent opportunity to watch him play, Graham is able to identify his greatest attributes and strengths he believes make him a valued asset to whichever team he plays for.
"I'm a good puck-moving defenseman, really mobile on the backend, smart with the puck, and I make a great first pass up to the forwards," Graham said. "I'm a strong enough skater that I can jump into the play and get in the position to create some offense, while still being able to make it back to the defensive zone if the play turns over."
Growing up in the greater Toronto area, Graham started playing hockey at the house league level under the guidance of his father.
"I started playing hockey at the Heron Park Arena in Scarborough," Graham said. "My dad got me into hockey and coached my house league teams all the way up.
"He made a backyard rink for me every winter so I could have all the opportunity to be on the ice and get better as a player, so he was definitely a big influence for me."
[php snippet=1]