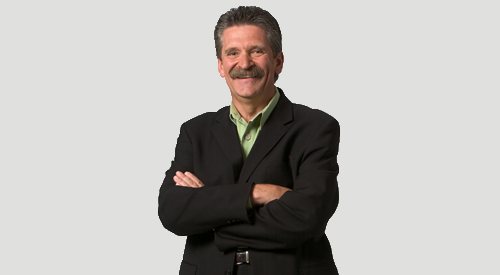 Around the Horn with Jim Van Horne
October 23, 2008
Jim Van Horne has long been synonymous with both radio and television broadcasting. Most prominently known for delivering sports from behind the desk as a TSN original, Van Horne is still going strong.
Growing up listening to CHUM AM, Van Horne's childhood dream was to be a DJ. He realized that dream in 1971 when he was heard reading the daily announcements at his high school and in turn landed a job at CKMP, a radio station in Midland, Ontario, located above a shoe store.
Born Dave Melnyk, the station believed that his name wasn't "hard rock" enough and he picked Jim Van Horne after the station gave him a variety of suggestions to choose from.
The following year Van Horne got a job at CKBB in Barrie. It was there that he got some insight from the Program Director at the time, Brian Henderson.
"He told me that I should seriously consider doing something else because I wasn't going to make it," said Van Horne. "So he transferred me to Collingwood. That sort of spurred me on." 
[php snippet=1]
Spurred may be an understatement. After Collingwood, Van Horne made brief stops at radio stations in Regina, Saskatchewan and Hamilton before being offered a job at CHUM in 1972. In just one year and a half, Van Horne went from saying the announcements at his high school to being a DJ at one of the biggest rock stations in Ontario. Not long after, Van Horne was named "Announcer of the Year" by Billboard Magazine, the only Canadian to ever receive the award.
Achieving his dream and getting recognized on the North American stage didn't enlarge Van Horne's ego, nor has anything. He believes that has helped him along the way.
"I can honestly say that I've never forgotten where I've come from. I think to be in this business you have to have an ego, but it's what you do with that ego that sets you apart from everyone else. I've always thought that throughout my career," said Van Horne. "Except for maybe a few times when I was DJ at CHUM, back when we were considered to be true rock stars. Things did get a little out of control [then], but I was young and stupid, so that's my excuse. That's my story and I'm not going to change it."
He stayed at CHUM for eight years before deciding he wanted to get into television and landed an internship with CityTV in sports. For the next year his day would consist of working without compensation at CityTV from 8 a.m. 6 p.m., then going to CHUM to do his radio show from 9 p.m. 1 a.m. All while being married and raising a child.
"After a year at City, they said the only way they were going to give me a fulltime job was if I got an afro," said Van Horne. "I said there's no way that's going to happen, so they basically let me go."
He then spent the next four years in Calgary with CFAC Television hosting the Calgary Flames games and their late night sports. In September of 1984, he was hired by the All Canada Sports Network as their first commentator, which would later turn into TSN. While there, Van Horne would go on to be nominated for a Gemini Award for his work on TSN's Sports Centre.
"TSN was one of the best places I've ever worked as far as atmosphere, people, learning, being challenged, being pushed and all the rest," said Van Horne. "I never looked at TSN as a job; it was part of my life. It is the place to work."
After 17 years anchoring the desk at TSN, Van Horne went on to short stints at TEAM 1050 Sports Radio and Rogers Sportsnet.
A private humble man away from the camera, Van Horne is keeping busy freelancing, highlighted by his third trip to the Olympics when he covered Women's Softball for CBC in Beijing.
"All the Olympics, Calgary [1988], Sydney [2000] and most recently Beijing [2008] were all highlights [of my career] but Calgary is probably the biggest. I lived in Calgary, I was there for the bid process and then getting to work with TSN covering the Alpine events was pretty big," said Van Horne.
Very few people in broadcasting are as recognizable as Van Horne. It's not his deep recognizable voice, nor his almost always perfect hair (Voted Best Hair in a Toronto Star readers poll in 2006 "Rating the (Canadian) sports announcers"), but his mustache that viewers associated with his name and don't expect that to change anytime soon.
"I grew it when I was 19 or 20. I used to have a full beard in radio but when I got into television I knew I was going to have to at least shave the beard. But it took me so long to grow the mustache there was no way that I was going to take it off," laughed Van Horne. "My kids have never seen me without it. I asked my son just a couple weeks ago if it would bother him if I took it off, he said, You're not taking it off. There is no way.'"
Van Horne can now be found either on his personal blog at www.jimvanhorne.com, appearing on NHL on the Fly, or teaching at the College of Sports Media in Toronto, Ontario. Or, alternatively, just turn on your TV and tune into your favourite sporting event, whether it be poker or bass fishing, Jim Van Horne has done it all.
"I do what I do, and I have fun doing it. I'm very passionate about what I do. I've never worked a day in my life."
[php snippet=1]