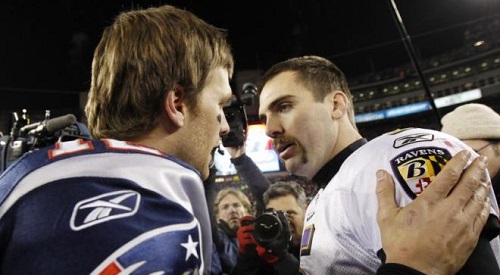 How to Value Joe Flacco
January 31, 2013
Baltimore Ravens quarterback Joe Flacco headed into this season without a guaranteed contract for next season and beyond. Fast forward to today; Flacco and his Baltimore Ravens are preparing to square off against the San Francisco 49ers in the Super Bowl this coming Sunday.
This past Monday there were reports that he may command an astonishing $20 million annual contract, also known as "Drew Brees" money. Whether or not that is accurate is between both the Ravens brass and Flacco's camp, but do note that only Matt Ryan of the Atlanta Falcons has as many wins as 'General' Joe Flacco in the last five years, postseason excluded.
One could definitely argue that Ryan and the Falcons had the better supporting cast the last 4-5 years. The Falcons have featured Roddy White and Julio Jones at receiver along with other weapons like Tony Gonzalez and Michael Turner, although his production has slipped the last two years. Meanwhile the Ravens have featured Anquan Boldin, Ray Rice, along with young up and comers Dennis Pitta and Torrey Smith.
Ryan headed into this season as a top pivot. Pundits questioned not if he would finally really break out, but when. Ryan had a splendid regular season to boot posting career highs in literally every single passing statistic this past regular season. Flacco on the other hand, didn't have as strong a regular season as Ryan. He threw 22 touchdowns to Ryan's 32 but posted career highs in both passing yards and passes of 20 yards or more. The product of Delaware also tied a career low with only 10 interceptions.  Flacco has had all eyes on him since his "I'm elite" proclamation prior to the start of the season. All eyes have witnessed him defeat Andrew Luck, Peyton Manning and Tom Brady this postseason alone. Other than former Raiders QB Rich Gannon, he is the only Delaware Blue Hen to make a Super Bowl.
The question, then, remains; is Joe Flacco an elite quarterback à la Matt Ryan and others? Has he surpassed him?
[php snippet=1]
Flacco's regular season numbers don't quite add up to those of Ryan. Flacco hasn't thrown more than 25 touchdowns in a season meanwhile Ryan has done it in each of the last three. It's not that simple, take a look at the conferences and divisions in which they play. The Ravens play in the AFC North, arguably the best defensive division in all of football the last three years versus the NFC South arguably the worst. Since Flacco and Ryan's draft year, 2008, AFC North teams have featured a top 10 defense an NFL high 12 times. In comparison, the NFC South has featured a bottom 10 defense seven times in that same span and the Falcons were the only top 10 defense out of that division this year. With that being said, it's evident that Flacco has played in the more difficult division and conference, hence regular season numbers shouldn't hold as much weight.
Quarterbacks are paid and regarded primarily by their successes or lack thereof in the playoffs. Tom Brady won his first nine playoff games and multiple Super Bowls yet it's mentioned more now that he is only 8-8 in the postseason since then and has not won a Super Bowl. That is what matters above all else. Flacco is the first and only quarterback to record a playoff win in each of his first five seasons. The former Blue Hen also led the league in deep pass percentage this year as he continues to solidify himself as a threat to launch one 60 yards at any given moment, just ask the Denver Broncos. He's the only quarterback in the AFC not named Phillip Rivers to not miss a game in the last five years under center. Flacco's 2012 post season has been… elite, to say the least. Flacco is averaging over nine yards per pass and has thrown eight touchdowns and no interceptions. Three more touchdowns would tie him with Joe Montana for the most in a single postseason.
The gamble by Flacco and his representatives to enter this season without an extension was risky. The gamble now seems to have paid off. It now seems that all the negotiating power has shifted in favor of Flacco. Many Baltimore fans will say that if not for a Lee Evans drop in the end zone or a Billy Cundiff missed field goal, the Ravens would simply be returning to the Super Bowl this year. Despite switching offensive coordinators late in the season, Flacco and his Ravens find themselves where they think they should have been at last season's end.
Flacco now has more road wins in the playoffs than any other quarterback in history with six. His eight playoff wins are third most by any QB without a Super Bowl win. Jim Kelly and Donovan McNabb are the other two.
Ravens GM Ozzie Newsome and co. will most likely use the franchise tag of 14.8 million to at least buy them time to work out a long-term deal. If 20 million is the magic number, then chances are that the closer to that number they are, the longer term Flacco will sign. If the Ravens are smart, they will lock up this elite quarterback to a long term deal north of 16 million. If not, there are plenty of teams in need like the Bills, Jets, Chiefs, Jags, Eagles and Bucs.
Despite his dull demeanor, let's face it; this is no ordinary Joe.
[php snippet=1]