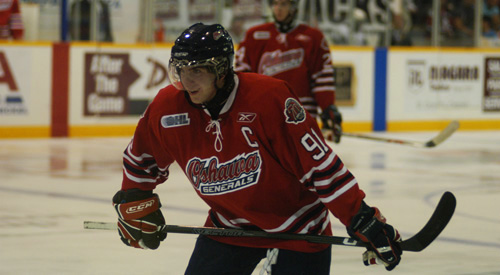 Young and Restless: The story of John Tavares and his last OHL season
September 28, 2008
For over three long years, hockey fans have anticipated the arrival of a softspoken teenager from Oakville, Ontario, a kid once widely thought talented enough to challenge the NHL's rigid age limit policy. And, for years, those fans had every reason to believe an exception for the 2008 NHL Entry Draft was all but guaranteed.
Fast forward to the beginning of the 2008-09 Ontario Hockey League season, however, and realize that 18-year-old John Tavares is still suiting up alongside the rest of the Oshawa Generals with whom he has played the past three seasons – the same team that made him the youngest drafted player in OHL history. So what happened to the critically acclaimed hockey phenom between then and now to prevent him from getting ready for his first year as a member of the Tampa Bay Lightning this September?
In short: nothing.
Born five days shy of the league's birthday cut-off for the latest NHL campaign, Tavares' decision to bypass possible appealing procedures is nothing to look twice at. Though the kid with 10 points already in his first five OHL games this season shares a birth year with first overall draft pick Steven Stamkos (and most of last June's honored rookies) John Tavares is just as content leading by example, finishing up high school in Oshawa, Ontario and being the type of kid parents wish all professional athletes were and would be.
Fresh off a third-period comeback victory against the Niagara IceDogs in which he registered his then-third goal of the young season, Tavares stepped aside from his Generals teammates to talk OHL, NHL and what exactly 18-year-olds get up to these days.
[php snippet=1]
Austin Kent: What would you say your role on the Generals is, both on and off the ice?
John Tavares: I think being more of a veteran guy [my role] is to be a leader and set a good example for the young guys and the younger veterans that we have.
Kent: Now, for a person of your reputation with the upcoming NHL Draft, how does that weigh on you as an 18-year-old?
Tavares: I came in the league pretty early and had been a roommate of one of our past captains, I learned a lot from him. I think it more just kind of happens, you really don't try to worry about it or think about what you should do – you lead by example. If something needs to be said it's said, and that's about it.
Kent: What about off the ice? How does it affect your life, you're barely old enough to vote right? How does this celebrity affect how you go about everything?
Tavares: You get used to it, everybody looking at you, watching what you're doing, how you act and stuff. Everyone always wants a piece of you, but it comes with the reputation of doing what I'm doing, especially here in Canada and the Toronto area, so I enjoy it. It's great, I enjoy it, it's a lot of fun. Not too many people get this opportunity and I'm just trying to take advantage of it.
Kent: What is a typical day in your life like, say a typical Tuesday or Wednesday?
Tavares: I'm finishing high school [in Oshawa] this semester, so I get up, eat breakfast, take a shower and go to school, go eat lunch. Some of the guys are on the team so we go to practice and afterwards we do a bunch of things. We've gone to a couple Jays games already. We've hung out as a team. My roommates like to play some video games, so we always do stuff like that. Sometimes we go rent a movie and watch it at home. What any sort of 18-year-old would do. My life isn't too different than anyone else.
Kent: In terms of training, I think a lot of people forget that, now that you've reached the level you've reached, you can't really rest there. What are you doing in terms of preparing for the NHL?
Tavares: Obviously I trained all off-season, five days a week for two hours a day and made sure that I prepared myself the best I could for this season. So I try and work out twice a week to maintain what I built over the summer. I make sure I keep that strength and that speed and my quickness up.
Kent: I know prospects always hate this question, but while you were younger, what team did you aspire to play on?
Tavares: Well I've always been a fan of the Leafs. Obviously growing up in Oakville, half an hour from downtown Toronto, I was always a big Leafs fan. Especially when [Doug] Gilmour and [Wendel] Clark were there and they were really good. It's tough to see what they're going through now but they're always my favourite team. It's kind of my only memory as a three-year-old- probably the memory I remember the most is watching Hockey Night in Canada – the Leafs versus the St. Louis Blues – with my father.
Kent: Speaking of Oakville, was it a surprise for you to hear about Stefan Legein? How did you react? Was that sort of something you knew about before hand?
Tavares: I saw him about a week before and he was running a few hockey schools and I could tell he wasn't training very hard. I heard he still might have been taking some time off because I know he has had a bad shoulder, but it was a surprise to me. I talked to him the day after it was released publically and he told me I wasn't supposed to say anything but I just tried to give him some advice, to make sure that he wasn't going to regret his decision and that this was really what he wanted to do because this is the chance of a lifetime and not many people are in our spot. It's a priviledge to be where we are, so it's unfortunate, but with some people it's just the way it is. This might have been good enough for him, just playing junior hockey and playing for the national team, representing Canada well. I know he'll certainly be missed in the hockey world and I'll miss seeing him out there and talking to him everyday about how his season's going.
Kent: From my understand there has been a lot of talk about your agent. Does your mom represent you?
Tavares: No. That was false. That was kind of a mix up. My mom said that we didn't have an agent and that we weren't looking for an agent then. People misinterpretted it as her being my agent. I've hired Pat Brisson from Creative Artist Agency, him and J.P. Berry are the two main guys there at that agency and I've been with them probably since late June or early July.
Kent: Last question, number 91, when I saw it I thought Dennis Rodman. But is it just 19 reversed?
Tavares: Well it was 19 reversed from when I was playing minor hockey. When I switched teams one year, one kid wouldn't give me the 19 so I just flipped it. After the year I asked my mother whether I should change it and she said it looked good, and I had a pretty good season, so I've pretty much just stuck with it ever since.
Kent: Alright fair enough. Well I won't keep you. Thanks John and I'll see you later.
[php snippet=1]