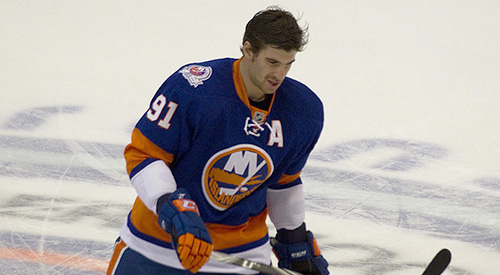 Forgetting John Tavares
December 19, 2011
Back in 2005, John Tavares was a hot topic of conversation throughout the hockey world.
Just days before his 15th birthday, Tavares made his major junior debut with the Oshawa Generals after being the first player ever to be granted early entry into the Ontario Hockey League. He didn't disappoint either – scoring 45 goals and 77 points as an under-aged rookie, following up the next season with a whopping 72 goals and 134 points.
In later years, Tavares continued with his 100-plus point performances and went on to play a key role on two world junior squads, helping Canada to back-to-back gold medals in 2008 and 2009 before ultimately being drafted first overall by the New York Islanders.
Tavares made his NHL regular season debut against Pittsburgh on Oct. 3, 2009, scoring once and adding an assist. That season, he played all 82 games, notching a substantial 24 goals and 54 points as a rookie and the youngest member of a struggling Islanders squad – although he was overlooked for the Calder Trophy, which went to Buffalo Sabres' brute two-way defenseman Tyler Myers.
Since then, it seems as if Tavares continues to be shrugged aside. You could argue he is the least talked about forward taken first overall in the NHL Draft in the past decade.
Stamkos, Kane, Ovechkin, Crosby. These are household names throughout the league. Tavares? Not so much.
Why is this? For starters, it could be the team he plays for – it's no secret the Islanders have been one of the NHL's duds since their dynasty run in the 1980s, and although they now seem to be taking a step in the right direction with plenty of promising talent in the system, right now Tavares is still the main attraction.
[php snippet=1]
It also might be because of the talent those players have to play with. Between the four of them alone, there's more than a dozen trophies honoring their accomplishments including scoring titles and Stanley Cups, but not one of them comes without a strong supporting cast of teammates.
If there's one major difference a player like Tavares notices when he reaches the next level, it's that it's much harder to be successful in the NHL if you don't have quality players around you. Tavares came from a junior system where he had no trouble dominating opponents, despite those he played with.
That said, what Tavares has done since becoming a full-time Islander is still very impressive – he's helped players such as Matt Moulson break out, while also continuing to improve his own game, which is evident in the 29 goals and 67 points he scored in his second NHL season, successfully avoiding the infamous sophomore slump.
Nonetheless, Tavares still doesn't have that elite, experienced talent around him to not only collaborate with offensively, but also learn from as a still young, up-and-coming player.
We've seen it in other young-blooded teams such as the Edmonton Oilers, who brought in veteran forward Ryan Smyth to work with the young guns in Taylor Hall and Ryan Nugent-Hopkins – the two most recent first-overall picks – which seems to be paying off for them thus far.
As previously mentioned, Tavares has done a commendable job essentially on his own to start his NHL career, but having a veteran by his side to help him along the way would surely benefit his game.
Another reason why Tavares may continue to find himself on the outskirts of the spotlight, is the fact that in recent years, many other youngsters – first-overall picks or not – have come into the league on better teams and had a greater impact on the overall success of their respective clubs.
Last season alone, we saw it in players such as Brad Marchand and Tyler Seguin (in the playoffs) who helped the Boston Bruins to a Stanley Cup; 18-year-old Jeff Skinner's unexpected performance with the Carolina Hurricanes; Logan Couture's impressive campaign with the San Jose Sharks, and Jamie Benn's important all-around role with the Dallas Stars.
Another interesting comparison is Colorado's Matt Duchene, who was selected two places behind Tavares in 2009. If you compare the two players' stats, they're almost identical over the current and past two seasons, although Duchene seems to still get just a bit more attention than the Long Island stud, thanks to their respective teammates.
In 30 games to start the 2011-12 season, Tavares is right on track once again, currently leading the Islanders with a total of 10 goals and 25 points, and on pace for another 27 goals and 68 points.
If you take the time to analyze Tavares' performance, you can recognize his play as being just as impressive as many of the other young guns in the league, yet he still doesn't seem to be getting the recognition.
A few months ago, the Islanders signed Tavares to a six-year contract extension, ensuring they'll keep their core piece in the fold long-term. Tavares will soon be joined by future Islanders' stars in Nino Niederreiter and 2011 first-rounder Ryan Strome. If the team's management can make the right move to bring in a veteran leader up front, watch for Tavares to regain the spotlight in years to come.
[php snippet=1]