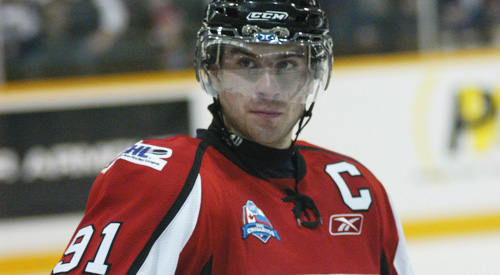 The Epic of John Tavares
December 16, 2008
John Tavares wakes up every morning and goes to high school – except on the weekends of course. On weekends, the 18-year-old phenom shifts his focus from student-athlete to athlete-athlete. On weekends, the barely-old-enough-to-drive-on-his-own phenom rents videos, catches up on sleep and lights up any of the OHL opponents who dare cross his path.
On Sunday, Dec. 7, Tavares did what Tavares does and has done so many times in the past. With a two-goal, one-assist night at the hands of the hapless Sudbury Wolves, the Oakville-native closed one more chapter in the book of his OHL career.
With World Juniors Fever well on its way (the result of a tournament only those north of the border can truly understand or appreciate), Tavares has been excused from his Oshawa Generals duties to prepare for the big show and help bring his homeland its fifth consecutive gold medal.
Just three weeks removed from representing the red and white at the annual ADT Canada Russia Challenge, Tavares is as excited and patriotic as ever.
"Every time anyone talks about [Canada versus Russia] you get the chills up your back, the history there goes way back," said Tavares. "Hopefully I'll get the opportunity to play for Canada at the World Juniors again. That's always exciting and to represent Canada is always an honour."
[php snippet=1]
This past Monday it was announced that Tavares' wish had came true, and anyone with yet another Canadian gold medal on their Christmas list will likely benefit from the same.
When the humble wunderkind returns to Oshawa in January, it will be to pick up where he left on the ice, and to finish the final weeks of his graduating high school semester off of it. With the June NHL Entry Draft just months away, Tavares knows what's in store and has taken the necessary preparations for it.
"Every morning I'm the type of guy that wants to get up and get to the gym," said Tavares, reminding me of the strength he gained this past summer and his desire to maintain it. But transitioning from child saviour to legitimate professional includes more than just lifting weights and running drills. "I'm a big fan of wanting to learn how to cook and things like that. Just how to take care of myself really as an adult."
Additionally the unadulterated student of the game has sought the advice of Los Angeles King Matt Moulson and 2008 fourth-overall draft pick, Alex Pietrangelo, among others.
"[Pietrangelo] always tells me how sweet I am and I just tell him 'Man you played in the National Hockey League'," said Tavares. "But I ask him how it was, what he learned from it. It's always good to get info from those guys. Obviously he thought it was great."
With the first five picks of last summer's draft all hailing from the Ontario Hockey League, and the projected first overalls for both 2009 and 2010 currently suiting up as well, it speaks to the level of talent produced in one of the most successful minor leagues in sport.
Having spent the past several years dealing with the media attention inherent with being labelled hockey's "next", Tavares has advice to pass on to 2010 prodigy Taylor Hall, a player Tavares has been rumoured to pair up with should talks of a possible late season swap between Oshawa and the Windsor Spitfires come to fruition.
"He's a great player and I'm sure he's a great player to play with," said Tavares. "I just told him to not worry about the pressure, just go and have fun. [To] really just enjoy it because it goes by so fast, just soak it up and before you know it, you'll be there and you'll be doing great things in hockey. He's going to be a great player."
And as for the rumors themselves that would undoubtedly make one of the best duos in the sport not excluding the NHL itself.
"I just try to take it day by day, I'm still a General and I still approach every day the same way. I really don't try and focus on it. I'm happy being a General and until I'm told otherwise, that's what I am."
[php snippet=1]