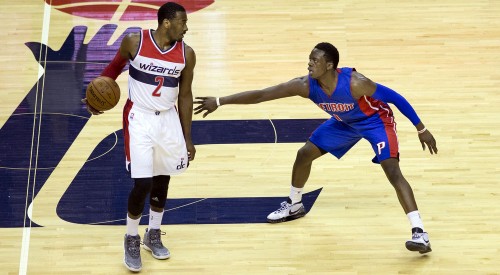 John Wall: The Place Beyond The Peers
August 18, 2015
We live in a golden age of point guard talent, part of the reason why the NBA has fared as well as it has over the course of the past decade. It's a time when the sport's biggest heroes come in its smallest packages, when the beloved role models of our youth are no taller or bigger than the very adults that they'll one day become (provided that they eat their greens, of course).
We just witnessed a landmark 2014-15 campaign, one in which the reigning champion Golden State Warriors were spearheaded by 6'3″ Stephen Curry and the most prolific stat-stuffer hands down was 6'3″ Russell Westbrook. Couple in the fact that some of the game's most marketable personalities include past, present and future MVP candidate point guards Chris Paul, Kyrie Irving and Derrick Rose and it really is no surprise that there exist other, equally legitimate stars who go overlooked at the position.
Enter John Wall. This is his life.
To say that Wall is wrongly overlooked would be reactionary and not entirely true. He's overlooked, yes, but can you blame those looking? With only so much attention to go around, it seems more likely that an individual would go by with less hype than he warranted than anther go by with more than he deserves.
Heck, the aforementioned Westbrook dropped 11 triple-doubles this season en route to one of the most memorable personal rampages in the history of basketball and still failed to make the cut for the All-NBA First Team.
Still, while the rest of the world is splitting their attention between the more conventionally popular point guards, Wall is quietly steering a moribund franchise in the right direction and I'm here to tell you why you should spare some time and attention for him too.
For five years the Washington Wizards toiled in mediocrity and had it not been for a briefly satisfying Gilbert Arenas Era before that slump began, it wouldn't have been just years but rather decades of the same old tiring displays of Eastern Conference cellar dwelling.
In the spring of 2014, though, things changed. Wall, a third-year combo guard charged with the task of justifying his own selection as the No. 1 pick in a bizarre 2010 Draft class (in which three of the best players taken were University of Kentucky freshmen), started to emerge as more than just a numbers guy on an underwhelming roster. Call it Wall's development or the synergistic contributions of a supporting cast anchored by productive veterans like Nene and Marcin Gortat and later Paul Pierce, but the Wiz went from being out of the playoff conversation altogether to a constant threat to contend for home-court advantage.
What isn't up for dispute is that, while Washington has rebranded as a legitimate force in the East (they've won playoff series in consecutive seasons for the first time since 1979), Wall has been their leader both on and off the court. That alone doesn't make him worthy of much more than a pat on the back and a retroactive apology for our having suggested that Eric Bledsoe was the more valuable Wildcat guard to come out of that John Calipari recruiting class, but it's a start.
Just last season Wall averaged 17.5 points and 10.0 assists per game. The former marks a near-two-point decrease from the previous season, but the latter just goes to show the type of playmaker the guard can really be. Since 1993 just two players have averaged more than 20 and 10 over the course of an NBA season, they are the previously mentioned Paul, who did it twice, and his 2005 Draft-mate Deron Williams*. Could Wall pull this off in 2015-16? Does it matter?
Suffice it to say, I'm well aware that 17.5 is less than 20, but it's plenty more common for guards to top 20 points per than it is to reach double digit assists. Only 40 players have ever averaged Wall's 17.5 and 10.0, yet over 70 have dropped 20-plus and, let's say, Curry's 7.7 assists. In fact, only 80 times in NBA history has somebody averaged 10 assists per game in a season, period (148 have averaged nine-plus while a total of 297 have averaged more than eight).
The feat is little more than a poetic accolade, it's important to understand that fundamentally, but what it represents is special. Of the 21 all-time 20 and 10 season, 13 were performed by Hall of Famers (15 if you assume that Paul will ultimately make it, too). For one individual to do so much with the ball in their hands is a truly impressive accomplishment. Not surprisingly, it's not every day that we find a player with both the talent and opportunity to do so.
Looking back, Curry may have his ring, Westbrook his spot in history, Rose an MVP trophy and Paul an opportunity to finally win a title with a Clippers team talented enough to do so in 2016, but Wall has that. Maybe, just maybe, that's enough for us to carve out some time to pay attention to what he's doing, too.
*Not coincidentally it could be argued that it was these two who started this glut of point guard talent in the first place.