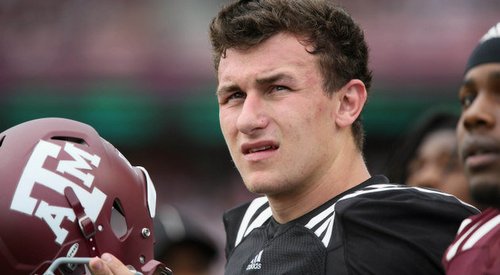 Johnny Manziel, Frankenstein
July 25, 2013
The NCAA created a monster when it awarded its prestigious Heisman Trophy – deservingly so, too – to Johnny Manziel after just his freshman season. Oh, Johnny Manziel isn't a monster to any- and everyone. Just Mark Emmert and the rest of the NCAA bunch.
In fact, he's not a monster to anyone else. The rest of us, we're all cheering him on.
The NCAA is and always has been about control – the more it has of it, the more it wants – but it can't control Johnny Football and giving him the Heisman just this past season was all the approval the young man ever needed.
It's Bomani Jones who puts it best, in a column for The Shadow League, when he explains that the NCAA can't control the 20-year-old, because the quarterback comes from money. As well, he's the single most destructive force on a football field in college football and represents boatloads of more money for his Texas A&M University, his SEC conference, his teammates, his coaches and perhaps most importantly, the NCAA itself. When he plays, his team usually wins – but it's everyone associated with the NCAA who truly wins.
[php snippet=1]
In Johnny Manziel, the NCAA knows it has no way to coax him into staying in line, promising to use the stick if he doesn't because Manziel doesn't care about the proverbial carrot. In fact, it's Manziel who's holding the carrot and persuading the NCAA executives into behaving in this relationship. And it's nice to see this happen, for a change. We're so used to seeing an A.J. Green be suspended four games for selling a game-worn jersey, or a Terrelle Pryor receive a five-game suspension for exchanging Ohio State memorabilia for free tattoos, or Myck Kabongo miss 23 games because he had the audacity to travel to Cleveland to work out with his friend Tristan Thompson, that it's refreshing to see someone stick it to the NCAA once in a while.
The best part is that through it all, Manziel hasn't done anything wrong. In fact, he's behaved rather well for a 20-year-old with tons of money and who's more famous than just about anyone in his age group (save for Justin Bieber). All Manziel has done is enjoy the spotlight. He's attended Dallas Mavericks games, sitting courtside, and even an NBA Finals game, because he, or his family, has the financial means to do it. The worst he's done is probably whatever unfolded, or not, at the Peyton Manning Quarterback Camp. He's also been arrested for giving police officers a fake ID, but what teenager hasn't used, ever, a fake ID? He can't wait to leave College Station, but I think he should take it all in.
Really, what are we talking about here? A 20-year-old behaving the way that 20-year-olds do? It's actually refreshing in this world of über athletics, where teenagers look to act older than their age when they're still prepubescent. Young men should behave as the young men that they are, as it's the only time in their lives when they'll be able to mess up without totally, you know, messing up. Johnny Manziel will grow up, and once he has he will act like a grown-up.
And anyway, do grown-ups really act any different?
This is yet another crack in the NCAA body armour, which is looking more and more like a rug these days. The big one, of course, is the pending Ed O'Bannon lawsuit, which appears to be a serious enough threat to the NCAA that it looks like it prompted the organization to cancel its partnership with EA Sports. Six current football players have even joined in, standing up for what they think is right and putting their careers in jeopardy in the process.
But that's not what Johnny Manziel is doing. Here, Manziel is seeing the NCAA for the sham that it is. He knows that he can't be stopped, so long as his mistakes remain the benign ones of an innocent 20-year-old, because the NCAA would hurt itself if it stopped him. He'll play college football for two more years, and make the most of it too, and then move on to the NFL.
Speaking of the NFL, the NCAA has still managed to keep its most powerful ally in the world in Roger Goodell. Of course it has, because the NCAA continues to double as a de facto minor league to the NFL, forcing the young kids into staying at the kids' table until they're good enough dancers that they can just step in seamlessly into the big boys' dance that is the NFL. Now, Goodell is reportedly toying with the idea of making the NFL Combine an event where only academically eligible student-athletes could participate. This wouldn't fix anything that is wrong with current collegiate athletics. In fact, it would simply rampage some of the problems it has. It would help nothing, but college football's facade of amateurism.
Johnny Football has already shown just how empty that notion is. If a star player has money, there's little that the NCAA can do. Not every player has, though. In fact most don't, and that's why the NCAA can continue to exist in this capacity. But star student-athletes that do have money should be celebrated, because they also have control over the NCAA. And that's always a good thing.
He's Johnny Manziel, and he's the monster that the NCAA itself created. We're all rooting for him.
[php snippet=1] http://credit-n.ru/zaymyi-next.html http://credit-n.ru/zaymyi-next.html http://www.otc-certified-store.com/cholesterol-medicine-usa.html https://zp-pdl.com/emergency-payday-loans.php