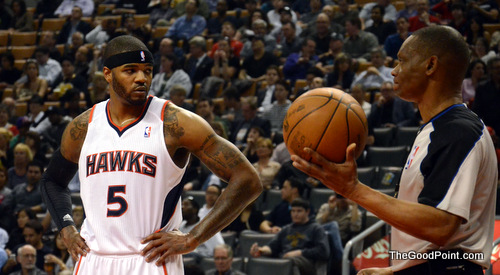 Boy Meets World: Why everything you think you know about Josh Smith is wrong
April 23, 2012
Don't look now but the Atlanta Hawks are a legitimate veteran ball club with not only a growing history of surprising success over the past half decade, but the talent, leadership and determination to win an actual NBA championship. Why? Josh Smith.
You can thank him for that.
"I've been faced with the opportunity to be one of the captains of this team, so with that there are a lot of expectations that I have to be able to match," Smith tells The Good Point. "It's my eighth season so each and every year I gain a little bit of wisdom, getting older and understanding what it takes in order to win in this league."
It's a good thing too, for it wasn't long ago when Smith – simultaneously touted as brilliant athletically but a menace intangibly – wasn't exactly considered by NBA fans, critics or Mike Woodson, to be boyfriend material. Still, he's not.
Smith's highly-publicized struggles to co-exist with the former Hawks coach ended too often with, in a best case scenario, both cast as villains in a twisted and largely unnecessary sideshow to Atlanta's otherwise on-court success.
But while the rest of the world has fixated impetuously on whether Smith, the 20-something with "attitude problems" was either super destructive or just really destructive, he's managed to set himself apart, carving out an impressive niche that will go unjustly but inevitably unnoticed.
[php snippet=1]
In the aftermath of all the invalidated criticism, while a thick coat of hate hangs heavily in the tainted air that surrounds him, there lies an unappreciated reality. The Atlanta Hawks have been to the postseason in five straight seasons. They've made it to the second-round in the last three – something neither the Bulls, Magic or even Mavs have done. Don't kid yourself that it was Joe Johnson doing that alone.
If Smith's near 18-10-4 pace this season doesn't satisfy the horde of brainwashed detractors – strangely, it never does – then perhaps his player efficiency rating nestled a notch below Kyrie Irving at 21.06, but ahead of Pau Gasol, Kevin Garnett, Steve Nash and Deron Williams will. Nobody's asking that Smith be voted MVP, just, you know, maybe scale back the animosity and the accusations that his numbers are empty.
Sadly, despite any progress he may make on the court, the reputation he's been pegged with will haunt him for the duration of his career – that's how stereotyping works. The man has been haunted by ghosts, literally since he walked to the podium on his draft night.
The fact that he hasn't shut the media out of his life altogether despite the, how do I put this, thorough barrage of constant shit-kicking he's endured, is a testament to his character. Character that isn't so much a liability (as the masses would have you believe), but rather an asset that makes him one of the most refreshing personalities in the game.
It's why the Hawks, who having already clinched a fifth-straight playoff berth, have their eyes set on a much larger prize.
"We want to be able to have a chance to win the championship," Smith says. "We have talent in this locker room to be able to do it, but we have to believe in ourselves and go out there and play."
They have to believe in themselves, see, because nobody else does. Because even in the midst of yet another solid season, they're cast aside as non-factors whose consensus "star" player is as forgettable as an Air Bud sequel, whose best player is a cancer waiting to metastisize and whose only competent, genuine big man is wearing street clothes.
Nobody, it seems, can appreciate the story for what it is because nobody wants to admit what it is. The Hawks, and specifically Smith, have been defamed by misconception.
Let's try the same story line with a more positive spin:
"We're just focusing on trying to get into the postseason injury free," Smith tells me. He's referring of course to the shoulder injury that's plagued teammate Al Horford since January, with little sign of letting up.
Still, without Horford, not all hope is lost. Between Smith and co-captain Johnson – two separate but complementary leaders similar only so far as the color of their jerseys – have embraced the task of guiding this team farther into the postseason than they've been this century.
Aiding Smith, who himself has improved particularly under the leadership of second-year head coach Larry Drew, are veterans Tracy McGrady and Jerry Stackhouse whose invaluable input could be just what the 26-year-old forward needs entering the prime of his career. They may even be enough to leave a lasting impression on the rudderless franchise looking to play on into the Eastern Conference Finals for the first time in franchise history.
"It definitely helps with guys like them who have been through enormous situations. Been in the playoffs, Jerry making the Finals. They definitely add an awareness of what needs to be done in order to be able to get over that hump."
It won't be an easy hump to overcome, not with the field of world-class threats like the Miami Heat and Chicago Bulls in the Eastern Conference alone, but it's an inspiring tale worth following.
Unfortunately, that's not how the story will be portrayed, because it lacks a certain animosity.
It takes a special blend of ignorance and confusion for a player of Smith's caliber to go eight full seasons without an All-Star nod. It's an impressive anomaly at first glance, but less so considering that the most flattering accounts of his personality describe him as misunderstood.
Even Lang Whitaker, celebrated SLAM Magazine forefather, current The Classical staffer and the only documented Atlanta Hawks fan from the Toni Kukoc Era has resigned to labeling the man a mystery.
Less informed, and certainly less generous, writers than Whitaker will attribute Atlanta's success over the years to Johnson's leadership in spite of Smith's counterproductive presence in the locker room. They'll rehash Smith's trade request from last month and his notoriety as a sourpuss all without realizing that it's in fact them and the monster that they created that he requested a trade away from in the first place. You can't blame him for wanting a fresh start given all that he's been through.
Being discontent doesn't make a player the source of a problem, and being misunderstood doesn't mean that Smith is necessarily hard to understand. Unfortunately, as with everything else other than, literally, games of basketball, Smith can never win.
He shoots too many threes, he disrespects his coach, he pouts too much. Let's all conveniently forget that the woebegone Atlanta Hawks who'd won no more than 35 games in a single season from 1999 to 2007 have become a mainstay in the postseason, never mind the fact that Smith's athleticism and versatility have allowed the franchise to thrive with a supporting cast of largely one-dimensional weapons.
If he acts spurned, it's because he's been nothing but.
Alas, a rational change of heart toward how we perceive Josh Smith would mean that we'd have to find another brilliantly-talented league punching bag to denigrate indiscriminately and without pause. (DeMarcus Cousins?)
The question is, are we – the fans, the media and maybe even Mike Woodson – ready to take a step back and reconsider the man's contributions to his team at face value? Entertain the thought that maybe the numbers he posts and the games he wins are worth more than just cents on the dollar?
The sooner we do, the sooner we can learn to appreciate that with a breakout point guard, the silent leadership of Joe Johnson, a handful of veterans who've seen it all and Josh Smith playing the best basketball of his career, the Hawks could even make some noise in the postseason.
Maybe Josh Smith is worth settling down with after all. Just treat him better.
[php snippet=1]