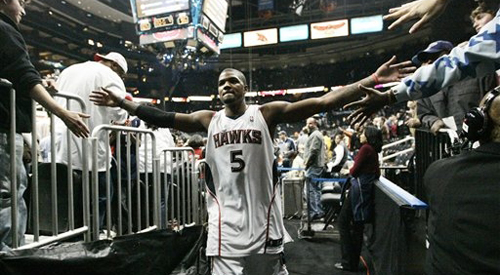 Never send a human to do Josh Smith's job
August 17, 2008
Josh Smith is a 22-year-old power forward with four years of NBA experience, a record-setting pace for blocks and enough highlight reel footage to start up his own multimedia empire, but ask the man himself what he really needs and discover nothing more than the feeling of being wanted.
On Friday afternoon Smith signed a five-year $58 million offer sheet with the Memphis Grizzlies, baiting his current Atlanta Hawks club to match the deserved market value or risk losing their second best performer in an improbable and highly successful playoff run last May.
With visions of Smith running the Memphis break alongside the likes of Grizzlies Rudy Gay and rookie O.J. Mayo, it didnt take long for the Atlanta brass to soundly and confidently recommit. It is, after all, not every day that you see a world class athlete anxious to build on a successful season with a team as historically unsuccessful as the Atlanta Hawks.
When Smith, alongside team scoring leader Joe Johnson and rookie Al Horford, forced the eventual NBA champion Boston Celtics into a seventh and deciding game in their first-round playoff match up last spring, it marked a triumph of proportions unlike any seen in recent Hawks memory. Not coincidentally, it marked the official beginning of an Atlanta basketball era that you wont want to miss.
Just days after news broke of his recent activity on the free agent market, the 6'9″ Smith was nice enough to set time aside from his his hectic adidas Nations schedule (where he serves as the NBA mentor of the class of 2009 US team) in order to talk high school hoops, offer sheets and obviously, NBA Jam.
[php snippet=1]
Austin Kent: First of all, Josh, lets talk adidas and lets talk high school basketball. What exactly is your role in Dallas this week?
Josh Smith: Well my role in Dallas it to just basically be a mentor to the kids and just help them. I see them making a lot of the same little errors in the game that I used to make, so I just try to talk to them and help them get better.
Kent: Have you always been an adidas guy?
Smith: Yeah, ever since I was 14.
Kent: Why is that?
Smith: My AAU team was sponsored by adidas and I wore them all the way up until now. Obviously you wear other shoes when youre in high school, but for the most part it was all I used to wear.
Kent: Now, your own situation as a high school player was a little bit different than these guys since you were able to declare for the draft. How does this affect the mindset of the best young players in the country? Whats different between them and you?
Smith: With me, like you said, I was able to go straight, but now they have a rule in there. Im not sure if other athletes are going to follow what Brandon Jennings did, you know, going overseas for a year and playing over there and try to get into the NBA after a year.
Kent: Well youre probably a good judge of this, do you think that could be the case with more of these players?
Smith: I think so, I think that Brandon Jennings just opened the door for other high school players to do what he did.
Kent: Say you were in his position and the same rule applied back when you were in high school, would you have considered something similar to that?
Smith: I probably would have went to school.
Kent: You dont have to talk too long about this, but what are your thoughts on the age limit?
Smith: Obviously I dont agree with it because I went out of high school. I feel that schools always going to be there, but with the NBA its just so rare for an athlete to make it. Some people are at their primes and some people peak early. I think that, like they say, once you get hurt you have nothing to fall back on, well, what if you get hurt in college? You really have nothing to fall back on. You know what I mean? You should have a little money to be able to finish school and get your degree. If youre injured in school, say you have a career-ending injury, you might get your scholarship taken from you, which then doesnt provide you with financial benefits that should be there for you to finish school.
Kent: Did you have a school that you would have considered if you didnt go into the draft?
Smith: I was going to go to Indiana.
Kent: Sweet. Well, moving on, off the court in terms of free agency and resigning with the Hawks, this has been a pretty big week for you. Is a congratulations in order here? Are you happy with how this all played out?
Smith: Yeah, Im happy. I mean, they wanted me to go out there and see if I could get something done with a different team and I was able to do it. So Im happy that Im going to be going back home and able to play in front of my friends and family.
Kent: Lets move aside a little bit and then well come back, what was the atmosphere like playing for such an exciting team last year? Obviously the playoffs were great, but even going back before then, it seemed as though their was a completely new attitude for most of the season.
Smith: There definitely was, it had to do a lot with our fans. Our fans gave us so much support over the whole entire season. I think they were real big in us even making the playoffs. You had to be there in order to witness the atmosphere, it felt like the arena was shaking. A couple of my friends told me that it was actually shaking, that the stadium was shaking. When we got knocked out the playoffs I went to a couple of different teams playoff games and the atmosphere couldnt compare to what was going on in Atlanta.
Kent: It was definitely exciting to watch. Now, heading into free agency back at the start of July, did you think it would take this long for a deal to take place? Did you anticipate, coming in, that it would take an offer sheet from another team to force the Hawks to raise their offer? I know you said that the Hawks kind of told you to go out there on your own, but what do you think about that?
Smith: I didnt think it was going to take that long. I feel as though I played my heart out for them. I didnt think it was going to have to come down to that. I look out and see Chicago showing that theyre loyal to Luol Deng and the same goes with Monta Ellis and [Andris] Biedrins and those guys. With those guys, their teams showed loyalty to them – and also Emeka Okafor. All I want to do is be wanted, and you know – I didnt really understand it at first, but now I understand that this is a business and you really cant get your emotions tied up in situations.
Kent: The Atlanta Hawks quickly matched your Grizzlies offer sheet, but what is it about Memphis that made you want to throw your hat in that ring? You had to be thinking in the back of your mind, what if Atlanta doesnt match, then you're a Grizzly. What is it about Memphis that drew you there?
Smith: Just the young talent that they have. I think that the Memphis Grizzlies are just a couple of pieces away from being a really good team because you have some very talented young players like Rudy Gay, Kyle Lowry, they just acquired O.J. Mayo, they have Javaris Crittenton, Mike Conley Jr. You have a lot of athletic guys who play hard and want to win.
Kent: Also, Darko Milicic. I think Im the only guy in the entire world who bought a Darko Milicic jersey on draft night.
Smith: *Laughs*
Kent: I bought two of them actually, home and away. That didnt pan out so well. But with the two of you in the front court, I dont think anybody would get a shot off, let alone make a basket. So I was kind of hoping for that as well, but that didnt happen and Atlanta seems like it will be a great situation again. But, speaking of free agency, can you talk about your relationship with Josh Childress? Was it as much of a surprise to you as it was for the rest of us when he announced that he would be leaving for Greece?
Smith: Me and Josh have a good relationship. Hes one of my brothers. We came in, we always had that special connection, we got drafted in the same year by the same team. We had a chance to grow in the league together and it was a shock to me because I didnt know what was going on. I had called him and he told me he was really considering taking the deal. It was a shock to me, but Im happy for him. He deserves it.
Kent: Did you think that maybe somewhere down the line – maybe this summer, maybe who knows when – that you could do a similar thing to that. Did that cross your mind at all?
Smith: I actually was joking with my agent like if this doesnt work out, I want you to start seeing whats going on overseas. But I dont know, maybe. If it came down to it, I wouldnt say no quickly, I would really think about it.
Kent: LeBron James and Kobe Bryant have come out and said that they would consider something like that, hypothetically, I guess. Hockey is doing it too, with the NHL, theyre trying to steal away a lot of the NHL players. Do you see this as a threat to the NBA at all?
Smith: I think so. Its kind of like, back in the day when I wasnt born, how the ABA was out there and how they had the NBA. Then they started grabbing the players from the ABA to play in the NBA. I think its going to be something similar to that.
[php snippet=1]