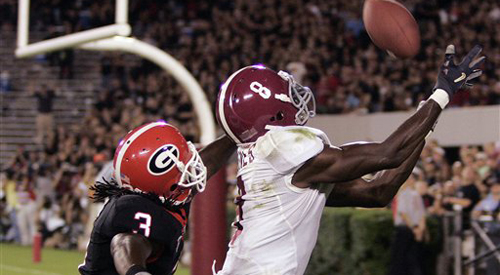 Julio Jones and the art of the draft day trade
May 26, 2011
Never have the competing philosophies of trying to win now versus trying to win later been more evident than during this year's NFL draft when the Atlanta Falcons and Cleveland Browns made one of the biggest draft day trades in history; the principal of which being Cleveland's No. 6 pick Julio Jones exchanged for a package of five Atlanta Falcons draft picks spread out over the next two years.
Atlanta came into the draft after putting up a NFC-best 13-3 regular-season record last year, but falling to the eventual Super Bowl champion Green Bay Packers in the divisional round of the playoffs. One key issue for them was the passing attack; despite having one of the league's best quarterbacks in Matt Ryan and top receivers like Roddy White, the Falcons only achieved the 15th-most passing yards in the NFL in 2010.
To try to address this, they put their eggs into one basket, trading their later (26th overall) first-round pick, their second-round pick and their fourth-round pick, along with a first-round pick and a fourth-round pick in 2012 to the Browns. In exchange, the Falcons received the opportunity with which they took highly-touted wide-receiver Julio Jones from the University of Alabama.
Jones was one of the standout wide receivers of the year in college football, with over 1100 receiving yards on the nationally-ranked Crimson Tide. In the NFL pre-draft combine, he posted the third fastest 40-yard dash time with a broken bone in his foot. At 6'4 and 220 pounds, he also possesses the size to be a top receiver in the league, drawing comparisons to Arizona Cardinals all-pro receiver Larry Fitzgerald, and not just because of his hairstyle.
[php snippet=1]
Jones will be joining a talented Falcons team looking to build on last year's success. Quarterback Ryan earned his first Pro Bowl invitation last year, throwing for over 3,700 yards with 28 touchdowns. Many of those were addressed to target White, who finished first on the NFL receptions list and second in yards. Beyond that, the future of the Falcons receiving corps' faces uncertainty, though.
Tony Gonzalez. one of the game's greatest-ever tight-ends, was second in the team in yards and receptions; at 35, though, his playing days will be coming to a close sooner rather than later. Jones should provide the Falcons with another talented receiver opposite White. Add one of the league's top quarterbacks, along with running back Michael Turner (who has averaged 91 yards per game in his three seasons with the Falcons), and it looks like you have a recipe for a completely dynamic offense.
However, offense is only half of the game, and having talented guys at the skill positions isn't always enough. Focusing too much on offense and flashy ball-handling players hurt the Detroit Lions in the past decade, ultimately costing general manager Matt Millen his job. Make no mistake though, the Falcons are in a better starting position than Detroit was, ranking fifth in the league last year in points allowed as well as points scored. Still risks to giving away this number of picks even to get a top player like Jones.
One precedent for this type of blockbuster trade was set in 1999, when Ricky Williams became the first player in NFL history to be the only draft pick by his new team. New Orleans Saints' head coach Mike Ditka traded all six of his 1999 draft picks, plus first- and third-round picks in the following season, to Washington for the fifth-overall selection, which he then used to draft Williams. Ditka's motivation was understandable, as the deal came on the heels of the Saints finishing the 1998 season with the league's lowest rushing total, 1,325 collective yards. That was less than what five individual players put up singlehandedly that season.
Meanwhile, Williams had just won the Heisman Trophy with the University of Texas, setting NCAA Division I-A records in scoring and touchdowns. As expected, Williams made an immediate impact as a rookie and averaged 82.3 yards per game over his three years with the Saints. The team itself was boosted by a division title in 2000 with the eighth-best rushing attack in the league. This led to the franchise's first playoff appearance in eight seasons, and also its first-ever playoff win.
The price was high, though. As compensation for dealing the draft pick used on Ricky Williams, the Washington Redskins hauled in eight picks, including two first-rounders. They then made a further trade with Chicago to pick up the seventh-overall selection, and used that pick to select cornerback Champ Bailey, who would make the Pro-Bowl in four of his five seasons in the nation's capital.
The 2000 first-round draft pick was linebacker LaVar Arrington, who made three Pro Bowls in six seasons with the Redskins. However, many of the other players selected didn't work out all that well at the NFL level, so given Williams' substantial NFL success, the trade may not have been as bad for the Saints as commonly thought.
The Falcons themselves are no stranger to draft-day dealings. In 2001 they swapped places with the San Diego Chargers, moving from fifth overall to first overall while throwing in a third-round pick to select quarterback Michael Vick. The Chargers ended up with record-setting running back LaDainian Tomlinson, but the deal wasn't bad for Atlanta. While Vick's Falcons tenure had an unfortunate ending due to off-field problems, on the field he became one of the most exciting players in the league and earned three Pro Bowl appearances in six seasons.
It's not like Atlanta is the only team to make big draft-day trades either, as the Chargers used their experience in the Vick deal three years later at the 2004 NFL draft. Holding the first overall pick, it was their intention to draft top-rated quarterback Eli Manning. However, Manning declared prior to the draft that he would refuse to play for the team. He would, however, play for the New York Giants, who traded their fourth overall selection, quarterback Philip Rivers to the Chargers for Manning, along with their first-round and third-round picks the next year.
The Chargers used these selections to draft linebacker Shawne Merriman, who made three straight Pro Bowls before knee injuries slowed his career, and kicker Nate Kaeding, tied for first as the most-accurate kicker in NFL history by field goal percentage.
Statistically, Rivers has the slight advantage over Manning. Rivers averages 234 yards per game while Manning averages 215 yards, though that is with 23 more games started. Rivers has 136 touchdowns to 58 interceptions, while Manning has 156 touchdowns to 113 interceptions. Rivers' 63.7 percent completion percentage betters Manning's 58 percent completion percentage. Both players have four playoff appearances, but Manning has Rivers beat in Super Bowls thanks to the Giants' 2008 victory over New England, the same team that defeated the Chargers in the AFC Championship game. In reality, neither team can be unhappy with how that trade worked out for them.
The Manning and Vick trades may have largely worked for both sides, but in Atlanta, if Jones becomes anything short of a consistent Pro Bowl selection, he'll forever draw comparisons to the players he was traded for. One comparison that might be interesting is to Greg Little, the wide receiver from the University of North Carolina who missed all of the 2010 season due to previous NCAA violations regarding accepting gifts. That doesn't have anything to do with play and capability on the field, but nevertheless, his year away from competitive football saw him drop to the 59th pick in the second round, where Cleveland selected him with one of the picks acquired from Atlanta.
Browns' fan Peter Pattakos of Cleveland Frowns is quite positive about the team's decision to move down and collect Atlanta's picks, despite the Browns finishing third-last in passing yardage last season.
"What's not to like?" Pattakos asks. "What receiver in the league is worth two first round picks, a second, and two fourths?"
The extra picks acquired also allowed the Browns to trade back up to the 21st overall pick, sending the 27th pick and a third-round pick to Kansas City in the process. That allowed them to select defensive tackle Phil Taylor from Baylor, a big nose tackle the Browns will rely on to bolster the league's sixth-worst running defense from last season.
With Atlanta's fourth-round pick, they added Stanford fullback/linebacker Owen Marecic, who should add even more power to their already-strong running game. Pattakos said the Browns, who have only won 14 games in the last three seasons combined, had enough troublesome areas that moving down to collect more picks made plenty of sense.
"For a Browns team with so many holes, this trade really was a no-brainer."
For Atlanta, the top team in the NFC last season, they'll, hope this trade solidifies their offense for next few seasons, creating a true juggernaut to accompany one of the league's top defenses. That shocking blowout loss to eventual Super Bowl champion Green Bay left the Falcons with bitter disappointment to end the year, and they're facing plenty of pressure to try and win now.
Jones may help with that, but with the high price tag of drafting him comes significant risk. A failure to repeat their Super Bowl run of 1999 will leave fans in Georgia wondering if all those draft picks were worth it.
[php snippet=1]