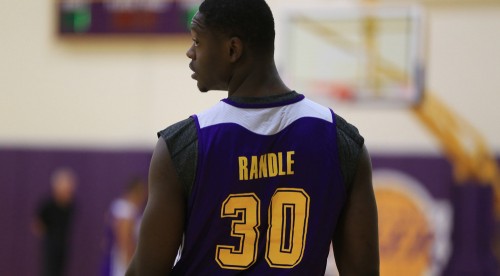 Rookie Monster: Julius Randle Tries Again
August 16, 2015
While there were a concerning number of future NBA stars once considered legitimate alternatives to Andrew Wiggins for the No. 1 pick in the 2014 Draft that quickly fell out of the Rookie of the Year conversation altogether due to unforeseen circumstances, the one that we're most excited about heading into the 2015-16 campaign is Julius Randle.
Randle, a thick big with soft hands and a nose for the ball, came up limping less than 15 minutes into his first official regular season game, the Bad Luck Brian-esque victim of a thoroughly fractured right tibia in his first taste of meaningful NBA action.
This summer Randle is back and ready to pick up where he left off, which is to say that he's back on the court motivated and ready to be the more NBA-ready option than the lot of his peers who at the time of their drafting were slotted in the lottery due to their raw athleticism and/or potential. The only problem is that the head start he was initially forecast to have is now moot.
Randle's primary selling feature, his readiness to produce out of the gates, is somewhat nullified heading into the new year considering that the competition he was up against for those prestigious top spots have now actually played in the NBA as opposed to simply just practicing with a squad while hobbling around on crutches.
Wiggins, to say no more, is now officially more NBA-ready than Randle. Noah Vonleh, for goodness' sake, is more NBA-ready has more NBA game experience than Randle.
This drastic change in Randle's value relative to his peers is significant in some ways, but less so in others and it's for that reason that I'm writing about him today. While Joel Embiid's name has managed to stay fresh in the news cycle thanks to his antics on Twitter and his team's ruthlessly programmatic approach to assembling an NBA roster of hypothetical assets, Randle has fallen off of our radars.
It's not easy for a kid with the skill set of Zach Randolph to steal the spotlight from a superstar of Kobe Bryant's magnitude on the best of days, harder still when that kid shows less charisma than the guy that checks your gas meter and has to spend the entire NBA season in street clothes. Until the Lakers drafted D'Angelo Russell with the No. 2 pick in this year's draft, he was at least the newest and shiniest thing on the roster, but now even that's gone too.
Of course none of this matters to coaches at the professional level, to fantasy owners or even to Julius Randle himself. Perhaps it will be in this role of unwitting afterthought that the forward establishes himself as the forerunner to win the Rookie of the Year award in 2015. It wouldn't be the first time he capitalized on being pegged an underdog.
With no clear cut favourite to dominate the 2015 Draft class for years to come, Randle falls among Karl-Anthony Towns and Jahlil Okafor as the over-aged and under-appreciated option that fans tend to forget to talk about.
At Kentucky, where John Calipari's 2013-14 Wildcats were heralded as one of the most formidable freshman squads ever assembled and then quickly cast aside after starting slow out of the gates, Randle proved himself to be a genuinely productive force and a competent leader capable of guiding a team to a championship.
Randle's per-minute efficiency numbers that year – like his 4.5 offensive rebounds per 40 minutes – suggest that he's more than ready to be a stable source of NBA production whether we're ready to throw him on the cover of a men's lifestyle magazine or not. He may lack the mysterious upside of a Wiggins or Towns, but is that really such a bad thing now that the Lakers have an even more marketable young prospect to tantalize the media in Russell?
It may be easy to forget about Randle as he prepares for his second official taste of NBA action, but don't – whether you're an NBA general manager, lifelong Lakers fan or fantasy team owner, he may be the most important rookie to keep an eye on in 2015-16.