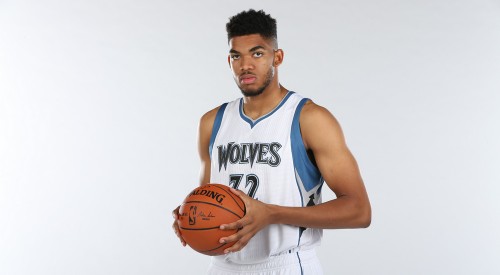 What to expect from Karl-Anthony Towns
August 13, 2015
The Minnesota Timberwolves were one of the most intriguing teams in basketball last season even before the arrival of Karl-Anthony Towns, but the addition of the second (wait, third) consecutive first overall pick makes the northern franchise that much more appealing. This isn't an article about Andrew Wiggins' development or the highlight reel production value of Zach Lavine's mere existence, it's not a treatment for a buddy cop film starring Kevin Garnett and Anthony Bennett either (although maybe it should be), it's an opportunity to talk about a slick-shooting seven-footer that I'd be remiss to pass up.
Towns may be one of the ten most exciting figures to watch in the NBA this season despite the fact that he isn't even the most bandied about on his own team. For that reason, if you don't plan to get League Pass this season, you should probably think again because I haven't been this enthusiastic about a randomly assembled team of projects in Minnesota since I dropped out of a biomedicine program to write about the partnership of Darko Milicic and Michael Beasley in the Land of 10,000 Lakes.
We all know that Towns is a formidable physical presence that gracefully flutters around the basketball court with the footwork of a young Luigi, but aside from the basic knowledge that he polices the paint with an intensity unseen since Billy Madison played dodgeball in first grade, it's hard to know where his floor ends and his ceiling begins.
If Towns was nothing but a defensive presence with a workable low post game, however, he wouldn't have leapt ahead of a refined offensive player like Jahlil Okafor in the draft. For the majority of the 2014-15 season, in fact, it seemed as though the Dukie, not Towns, would be the consensus first overall pick in the draft. What Okafor offers teams is a safe bet to get 17-plus points per game out of a solid but ultimately uninspiring big man. Although it was hard not to notice that he had a tendency to wallflower down the stretch for the Blue Devils last March, Okafor was – and is – a far more predictable asset.
In contrast, Towns may not have the polished low-post moves that Okafor has, but his agility for a man his size, coupled with an impressive outside jumper, serve as building blocks for an offensive weapon with significant potential. Towns isn't Frank Kaminsky in the sense that he may as well be reclassified as a pick-and-roll specialist or gigantic small forward, but bangers with legitimate perimeter skill sets have thrived so long as they can consistently handle all of the other demands of the 4/5 positions.
Don't hold your breath for more than 20 points per game out of Towns unless the Timberwolves substantially shake up their depth chart, but know that it's well within the realm of possibility for an athletic big to terrorize opponents to the tune 20 and 12 with a handful of demoralizing blocks. With that in mind, it's hard not to think that Towns is on track to at least eventually step in as a poor man's Anthony Davis.
As far as Year 1 is concerned, keep an eye on Towns with that style of blueprint in mind. It's more than reasonable to expect a solid rookie campaign of 14-plus points and close to double-digit rebounds assuming he ends up playing close to starter's minutes in 2015-16.
The real fun will come a season or two down the road when we can finally start to wonder if Towns' inevitable offensive improvement has been enough to vault him into the MVP conversation. Until then, enjoy the ride.