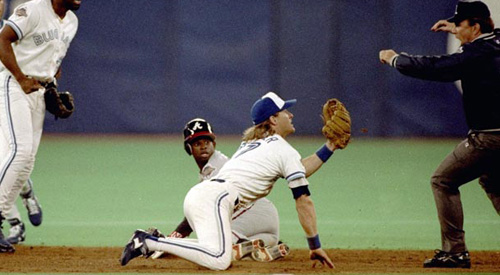 Kelly: At Home on Third (1992)
October 9, 2012
Rating: 6/10
I always cringe when some athlete or celebrity releases their autobiography midway through their career.
It's premature.
Why document a career while it's still in progress? Wouldn't it be better to wait until retirement? The future might be filled with even greater success and adventures.
Of course, the answer is simple: Money. Capitalize and strike the iron when it's hot, for it could be all over in an instant. That would certainly be the reason why former Toronto Blue Jays All-Star Kelly Gruber released his autobiography – "Kelly: At Home on Third" – in 1991.
In Gruber's case, it was good timing.
At that moment, Gruber was one of the most popular athletes in Toronto. He was also coming off what would be the best season of his career. In 1990, the third baseman hit 31 home runs and picked up 118 RBIs. He finished fourth in AL MVP voting and garnered Gold Glove and Silver Slugger awards. Many idolized him. 
[php snippet=1]
As a child, Gruber was the first baseball player I ever admired. In fact, I dressed up as him for Halloween one year (and no, I don't have a photo).
Sure, there were great moments in Gruber's career that came after his autobiography: The leaping tag on Deion Sanders to complete what should have been a triple play in Game 3 of the 1992 World Series; and who could forget the infamous chin-first slide that followed in Game 4?
But when the book was published, little did Gruber and co-author Kevin Boland know that a bone spur on his spine would ultimately end his career just a few years later.
"Kelly: At Home on Third" dictates Gruber's rise to fame. Boland is the storyteller while Gruber adds his two cents throughout the book. The tale is far from stirring. Gruber is the popular, athletically-gifted teenager who thinks he's invisible and life is full of golden roads.
He does get his comeuppance while playing minor league ball in the Cleveland Indians' farm system. His first few seasons with the Blue Jays weren't pretty either. But as it is widely known, Gruber became an all-star and a member of Toronto's first World Series championship team.
Gruber and Boland don't provide great detail about what happens on the field and in the clubhouse, save for a tête-à-tête involving Damaso Garcia. Expectedly, the reader is only told what he or she needs to know.
Interspersed throughout the book are chapters dedicated to Gruber's opinion on baseball and certain aspects of it. There's nothing earth-shattering; just simply one man's view. There are some genuine moments, too, especially when the focus is on Gruber's family.
The book also goes off course with a section about Gruber's agents, Alan and Randy Hendricks. While this portion does add context, it's too long, unnecessary and drags.
Overall, "Kelly: At Home on Third" is not a must-read and certainly won't find itself on any top-10 lists of baseball books.
If anything, it does have a nostalgic value, merely for Blue Jays or Gruber fans.
It's a time capsule showing Gruber's popularity at the height of his career. It's insight on a man who is still fondly remembered by the Toronto faithful. For those who followed Kelly Gruber's career, reading this book will conjure up images of him patrolling third base at the SkyDome (now Rogers Centre) as his long, blond locks flail in the wind.
[php snippet=1]