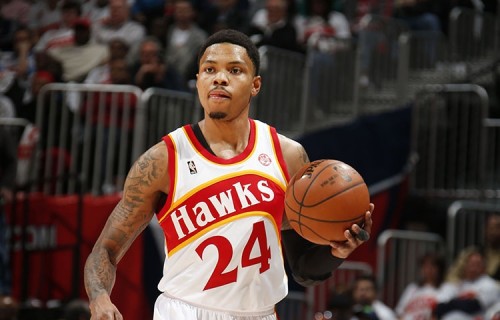 Kent Bazemore's ATL Ascension
January 12, 2016
A year ago last week, Kent Bazemore's Sports.ws analysis was updated.
If Bazemore played more minutes he might be worth a speculative add, but he doesn't seem to be in the running for a bigger role in Atlanta any time soon.
-Jan. 7, 2015
Whether the vague and relatively inconsequential remark was right or wrong comes down to how you want to dissect it, but there's no disagreement that the general sentiment of it is that of ambiguity.
Before this season, after all, was there anything but ambiguity toward Bazemore anyway?
Bazemore spent his first season and a half in the NBA playing spot minutes for the pre-contender Golden State Warriors. Shortly there after he was shipped off to Los Angeles mid-season and, like so many other fringe roster players in Los Angeles that year, feasted on an excess of opportunities in a Lakers lineup that didn't offer much in terms of competition. Bazemore played 28 minutes per game there, averaging a telling 13 points that we'll double back to later.
There was little to infer from that time spent in L.A., unless of course you choose to perseverate on the fact that it was at this rather peculiar point in history when Jodie Meeks, Wesley Johnson, Kendall Marshall, Steve Blake and Ryan Kelly started 70, 62, 45, 27 and 25 games, respectively. It was this year when Jordan Hill briefly flirted with must-own Sports.ws status and Nick Young convinced Iggy Azalea to marry him.
The point is, Bazemore's only extended sample size of opportunity came at a time of bizarre circumstances that represent normal about as much as Yao Ming does the general Chinese populace.
In the fall of 2014, Bazemore got on with his life, signed on with the Hawks and effectively reserved one of the best seats in the house to watch Atlanta obliterate expectations en route to the No. 1 seed in the Eastern Conference and a 60-22 record. That year Bazemore saw consistent, but limited action (less than 18 minutes per), and the stat lines he produced were in line with what fans could have reasonably expected so long as they hedged their bets somewhere between his rookie production and that outlying stint in Los Angeles.
Let's let the record show that at this point Bazemore was officially two things, a signed rotation player on an elite NBA team and a thoroughly average wing just about to enter his physical prime. Nothing more, but nothing less either. If, at some point during the 2014-15 you came to that conclusion on your own, nodded your head in approval and then moved on to answer the next of life's burning questions, you and I are officially on the same page, but I preamble for a reason.
This year, I drag up Bazemore's history not to discount his portfolio, nor the concept of young players paying their dues in established veteran lineups either. Certainly not to demean the nobility of filling a niche as a deep roster role player on a winning ball club. I do so to fill a word count underscore just what he's become, to make it loud and clear that the development that unfolds over a young NBA player's first few years in the league is as fascinating as it is unpredictable.
When Three-And-D perimeter threat DeMarre Carroll cashed the contributions he made toward Atlanta's fantastic season in for a four-year, $60 million contract with the Toronto Raptors, it opened a spot in the Hawks' starting lineup. In what can only be retroactively inferred as a sign of boss-like confidence, newly minted President of Basketball Operations Mike Budenholzer didn't even bother going out and replacing their departed star with another. He had one all along.
Through 33 games (and 26 starts) with Atlanta this season, Bazemore has done a fine job showing that he's a better player than he was in 2013-14. The numbers – 28 minutes and 13 points per game – are eerily identical to those he put up that fateful half-year in Los Angeles, but he's doing so with a 25% higher PER. His increased production isn't an illusion of numbers either, even Hawks bloggers like John Buhler of ATL All Day have begun to recognize Bazemore as a legitimate asset. Buhler even going so far as to rank him as the third most valuable player on Atlanta's roster.
Bazemore has scored over 20 points six times this season but never in consecutive games. The first time that he did so was on Nov. 1 and the most recent just last week. On top of that, he's poured in double-digits in 11 other contests. As if on queue, Bazemore has stepped up as a reliable scoring option, permanently ready and waiting to be activated as a focal scoring option if and when his team needs him. He's shot a career high .426 from beyond the arc this season (which has caught the attention of Peachtree Hoops' Kris Willis – see below) and has already pumped out a higher number of win shares this year than the rest of his brief career combined.
The Hawks are a well-oiled machine quickly becoming an inspiration in the East, so credit Budenholzer and the executive staff with establishing the self-sustaining organizational structure, but don't let the plug-and-play nature of their system diminish what it is that Bazemore is doing in his age-26 season. His spot among the collective's conscious is growing too. When the 2015-16 campaign broke in late October, Bazemore was owned in 25% of Sports.ws fantasy basketball leagues – yesterday that figure was all the way up to 72%.
Not only has Bazemore boosted his career stock as Atlanta's go-to small forward while improving both his "Three" and his "D", he's made a habit of squeezing juicy stat lines out of every single opportunity that he comes across.
As for these opportunities, while it may have taken him a few years to find and secure the truly meaningful ones, we don't see them going anywhere any time soon.