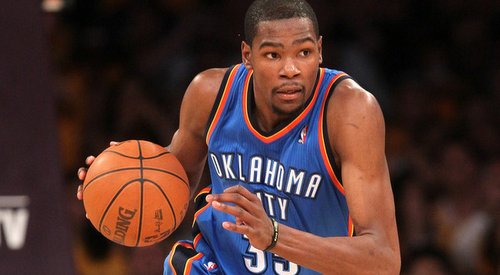 Kevin Durant's Looming Spot in History
September 23, 2013
At age 24, and after just six seasons in the NBA, the near consensus opinion of Kevin Durant is that he is the second best player in the league. He has already won the Rookie of the Year award, been selected to four All-NBA 1st teams, is a six-time NBA Player of the Month, he's finished second in MVP voting three times, been in four All-Star Games and is a three-time scoring champion.
Yeah, second best. For now.
But how will the rest of his career unfold?
It's pretty remarkable to look at what he has done in the league in such a short time, and even more remarkable when you compare it to what some of the players we consider to be all-time greats had done at his age.
Last season, Durant joined the elusive 50/40/90- a group of only six different players to post percentages of at least 50% from the field, 40% from the three-point line and 90% from the free-throw line over the course of a single season. He's in the company of all-time greats such as Steve Nash, Reggie Miller, Mark Price, Larry Bird and Dirk Nowitzki.
Durant's shooting last season was unbelievable, and this increased efficiency was a huge reason he was able to take on more of a point-forward role, posting a career high in assists. His height combined with his ball-handling and length makes him virtually unguardable, and taking a look at his shot chart it's easy to see just how efficient he has become.
His ability to finish over the top of the big men at the ring, combined with being one of the best shooters in the league makes him so versatile that he can run off screens for catch-and-shoots, take an on-ball screen to drive to the basket, or just pull up from the three-point line over the top of his defender. In fact, his incredible shot chart from this past season is comparable to Steve Nash's from his 2005-06 MVP season.
[php snippet=1]
KD is a scorer, he was in high school, he was in college, and he has been in the NBA, yet last year he was pretty open in saying he wanted to take on more of a facilitator role. He's happy to move the ball to build up confidence in his teammates. After Westbrook went down early in the Western Conference quarterfinals versus Houston, we got to see this, and Durant was the primary ball-handler and playmaker for the Thunder, averaging 6.3 assists per game for the playoffs (along with 30.8 points).
Needless to say, Durant has made the jump to the next level. Almost anybody would say that LeBron James is the best player in the league, followed by KD, and then there's a pretty significant drop to anyone below them. He had an incredible past season that would have warranted an MVP award in if it were almost any other year, and he's on track to be one of the greatest scorers to ever play. So where is his career going to go? How is his game going to age?
After six seasons in the league, KD is only around 2,000 points behind Jordan's career total at this point, and around 4,000 in front of Kobe Bryant, two of the most prolific scorers the NBA has ever seen. However, Kobe and MJ's games aged very well – that is to say, they were able to continue being top players in the league well into their 30s, years after most players decline from their prime.
Their games aged well for several reasons, one of the most important being that they both had incredible post games, with fadeaways and spin moves that combined with their elite mid-range shooting to allow them to continue to be great, efficient scorers. Not only this, but when necessary they could both play the role of the team's facilitator, could handle the ball and run the offense either through themselves or through others.
Looking at that, one might suggest that Durant's game is going to age nicely as well. He was ranked seventh in the league in post-ups last season, converting on a staggering 52% of field-goal attempts. Like Kobe is and Michael was, he's also one of the best mid-range shooters in the league, and combining this with his length and size, it's easy to see him sticking around in the league for a long time. There aren't too many small forwards in the league that can do anything about that face up jumper of his. You know the one. This one.
With that being said, if KD stays healthy, he has all the tools to go down as the greatest scorer the NBA has ever seen. While he might rely on his athleticism now, that's going to stay with him for a good five years at least, and on top of that, shooting touch doesn't go away. It's muscle memory, and as we've learned from seeing guys like Ray Allen, Rashard Lewis and Steve Novak continue to get paid despite being completely one dimensional later in their careers, there's always room in the NBA for shooters.
When you're Kevin Durant and you have that to go along with countless other skills and characteristics that won't decline with age, you're going to have a long, successful career.
[php snippet=2]