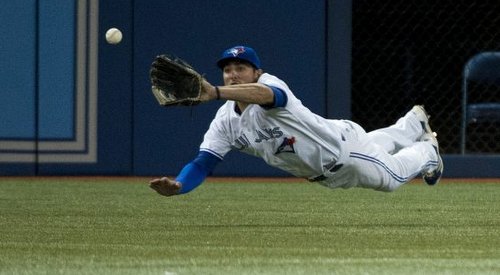 Kevin Pillar: Life Before the Bigs
August 19, 2013
In pronouncing Kevin Pillar's name, put the emphasis on the second syllable. In emphasizing Pillar's path to the Majors, pronounce the Blue Jays outfielder a scout-doubted, self-motivated steamroller.
He was born three days after New Year's, 1989. His father raced professional motocross; his mother played tennis; his brother, basketball.
In high school, he played basketball, football, and then, sure, baseball. (Basketball remains his favorite sport to watch). Afterward, things turned difficult.
"My No. 1 school I wanted to go to was Fresno State," says Pillar. It was, after all, his brother's school. "Up until the day I was about to go for my official visit. They called me the day before and told me they gave my spot away to a Long Beach State transfer."
Hung out to dry, he instead went with his high school baseball coach and joined Division-II Cal State Dominguez Hills, which needed an outfielder. With the Toros, Pillar began making the sort of headline-grabbing impact that would later mark every step along his Minor League career.
In 2010, he compiled a 54-game hitting streak, thereby setting a new Division-II record. The streak ended against arch rival UC San Diego in the conference tournament. In his final two plate appearances of the fateful game, Pillar was hit by a pitch and, agonizingly, issued an intentional walk.
"Ironically," he adds, "It was the only game we beat UC San Diego in all year."
[php snippet=1]
He was selected in the 32nd round of the 2011 draft, 979th overall, and signed for $1,000. The Blue Jays assigned him to Bluefield (WV), rookie-level Appalachian League. 14 games into his professional career, he was batting .207.
"I don't know if it was me adjusting to playing consistently with wooden bats every day, playing professional ball or maybe me just trying to do too much early on in the year, but I definitely struggled," remembers Pillar.
To beat the slump, he turned to hitting coach Kenny Graham and "Started my swing all over from the ground up, we just started from scratch". Day after day in the gruelling Appy League schedule, Pillar showed up early and, in the parlance of today's player, "grinded it out."
"As soon as August rolled around, everything just clicked. […] It was even better than the year I had had with the hit streak. It seemed easy."
The former Toro batted .440 in 28 August games, collecting 48 hits (16 extra-base hits), drawing seven walks and stealing six bases. The hot finish carried him to a .347 average at season's end, topping higher touted phenoms like Miguel Sano and Eddie Rosario and edging Brandon Drury by percentage points for the league's batting crown. He further batted .385 with a home run in five games in the Appy League postseason, but Bluefield lost to Johnson City in the Championship Series. More agony.
Then, as Pillar puts it, "I went from the lowest of lows to the highest of highs."
Expecting to head home at the close of the season, he was instead surprised with the news of a promotion to the Northwest League, where the Vancouver Canadians were also battling for a league title.
The Canadians had lost their first game of a Best-of-3 first-round series to Eugene when the Appy League batting champion arrived. Undeterred by the jump upward, he proceeded to collect nine hits, including two doubles and a home run, in five games, batting .391. Vancouver took the title and hoisted the trophy.
"I've never won a championship in little league, high school, anything like that," says Pillar, "So that was my first time playing in a big game like that and winning it – the dogpile, the celebration, it was special."
He spent the winter of 2011-12 training with fellow farmhands like Aaron Sanchez, breaking camp at the open of the new season with the Single-A Lansing Lugnuts. It was a year that began with his parents granting their blessing to a full-time baseball schedule without the need for a secondary job, and it ended with a promotion to A-Advanced Dunedin and the honor of the 2012 Midwest League Most Valuable Player Award.
In between, there were the moments:  May 12th at Dayton, when he went 6-for-6 to tie the league and franchise records, capping off the evening with a ninth inning grand slam. June 13th at Fort Wayne, when he dove into the stands and busted his nose making an outrageous catch, and then topped himself the very next evening with a game-saving, diving grab in the ninth. July 2nd and 3rd at South Bend, when he blasted dramatic three-run homers in the ninth inning each night.
Pillar not only worked tirelessly and creatively to improve and conquer, he worked infectiously. His own ethic and motivation spilled over to his teammates, causing them to install and follow a similar regimen to his. He was in many ways a mentor, demonstrating the proper attitude and routine required to overcome and improve. At his side, talents like speedy young outfielder Kenny Wilson flourished.
By the end of 2012, fans were starting to hear Kevin Pillar's name bandied about.  They heard it even more often in 2013, as he burst upon the scene in Double-A New Hampshire, collecting hits in bunches – 95 of them in just 71 games before Toronto sent him up to Triple-A.
The change of locale suited him just as well as it had in 2011. By the end of his first week with Buffalo, the former D-II standout had gone 4-for-5 with four doubles. In his second week, he knocked his first two home runs and notched another four-hit game on his belt. And in both Buffalo and New Hampshire, he batted upwards of .380 against left-handers.
On Wednesday, Aug. 14, 2013, a little over two years after he was drafted, Kevin Pillar made his Major League debut. He went hitless in four at-bats, true, but he also made a diving catch in left field, announcing that his presence would not be limited to his offensive success.
And now here we are, arriving in Pillar's present, his future unknown.
In retrospect, no, Kevin Pillar should not have fallen to the 32nd round, but these things happen. (Mike Piazza was a 62nd-round pick). Yes, Pillar's power is not prodigious, his speed is not lightning-quick, and his swing is not awe-inspiring; it remains to be seen how his skills translate to the Major Leagues.
Stick with this brief moral for now: Regardless of what obstacles get in his way – a rescinded scholarship, or a rebuilt swing in the face of a slump – a man who puts in hard, diligent, focused, positive work will have his day.
The day is yours, Kevin Pillar, and you've seized it inspiringly.
[php snippet=2]