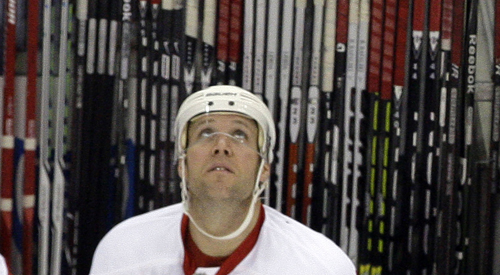 Kirk Maltby's grind to the Hockey Hall of Fame
October 14, 2010
Very few NHL players can call themselves a Stanley Cup champion.
Even less can call themselves a four-time champion. Not many can say they played 16 years in the NHL either, 14 with one team. And only 250 can say they've played 1,000 games in the show.
But what exactly qualifies someone for the Hockey Hall of Fame? Only 244 players, after all, have. Does Kirk Maltby make the cut?
The Hall's mandate is to honour great hockey players and generate money for a community.
When greatness is assessed, it shouldn't be measured in points. After all it's not just points that predicate success. A lot has been said about the Hall, about its tendency to select questionable inductees while leaving other, more deserving, names outside in the cold.
Following the announcement of his retirement from hockey, Maltby should be amongst the ones who look out at the cold from inside the comfy confines of the trophy room in Toronto.
His 260 career NHL points aren't anything to be impressed with, but Maltby wasn't famous for scoring goals, he was famous for stopping the other team from getting them.
As a member of The Grind Line, Maltby helped make room for shutdown forwards in the game again. Their success prompted other organizations to adopt their own shutdown third line, but none were able to match it.
[php snippet=1]
Of all the star-studded line-ups donning the Winged Wheel over the years, Maltby was used in the most important of situations. Whether it was a big penalty kill, shutting down the opposing teams' best players or just winning a big faceoff in the defensive zone, The Grind Line was called upon.
Not only did they represent exactly what the Wings needed, in hard work and consistency, but on a deeper level, the city of Detroit and the entire state of Michigan. Fans could relate to Darren McCarty's off-ice troubles, they respected Maltby's tenacity and they loved Kris Draper's toughness. The people of Detroit could relate to them and appreciated them for it.
They were famous across the NHL too. No one wanted to play against them because they shutdown superstars from Wayne Gretzky to Joe Sakic to Peter Bondra.
When all is said and done Maltby made up a third of one of the most famous, influential and successful lines in hockey history, one which was an integral part of three – arguably four – Stanley Cups for an organization that boasts 11.
But of course, when it comes down to it, his attempt at getting into the Hall of Fame will be just like his long, prosperous career; a grind.
[php snippet=1]