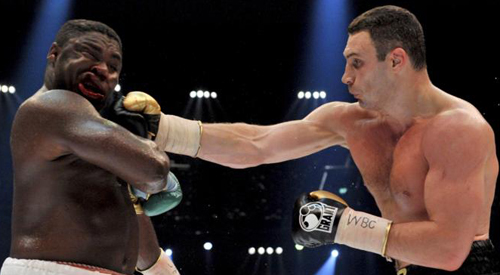 Re-evaluating boxing's stars
October 15, 2008
The present era of boxing, more than any other, is one that lacks any semblance of personality in its fighters. The present big draw of the sport is still Oscar De La Hoya, who has devolved from an exciting fighter who would take on anybody, to a promoter now appearing only to boost the profile of his company.
Floyd Mayweather Jr. appeared poised to eventually take over De La Hoyas role, but instead decided to call it quits as the top pound-for-pound fighter in the world, and will likely only be lured back by a massive payday for an easy win. The heavyweight division, usually the key for a healthy state of boxing, hasnt seen a dynamic champion since Mike Tyson and hasnt even had a dominant one since Lennox Lewis left in 2003.
Only three fighters have given the division any glimmer of hope since. The Klitschko brothers, Vitali and Wladimir, have clearly run the division post-Lewis. But not even the Ukrainian tandem were without their faults. After nearly beating Lewis in the legends final fight, Vitali only fought three more times before retiring himself in late 2005 after not being able to get healthy enough to do battle with top contender Hasim Rahman, an opponent Klitschko would have almost certainly beat. That left Wladimir, who carried with him a reputation for being knocked out by less-than-reputable fighters, as boxings only active Klitschko. Wlad clearly took the job seriously.
With his brother no longer in the picture, yet still part of his corner, Dr. Steelhammer is currently on a nine-fight win streak, having already beaten any fighter considered to be a threat to his top heavyweight ranking. The Klitschkos have stated many times that they do not wish to square off in the ring, and there are no indications that anything would convince them to do otherwise. 
[php snippet=1]
The only other true name of interest in the division was a different type of fighter: Nigerian-born Samuel Peter. Peter will never be mistaken for one of the Klitschkos. He doesnt have a doctorate, is six inches shorter than either brother and doesnt establish his jab to set up his power punches. Regardless, Samuel Peter can hit hard. In December 2004, Peter spectacularly knocked out top-ten heavyweight Jeremy Williams in his first real step-up into the heavyweight divisions elite. In September 2005, three quick knockouts later and still relatively untested, Peter fought Wladimir Klitschko.
For the first time in the ring, the differences between the two types of heavyweight became evident. Klitschko was clearly more skilled. With a six-inch height disadvantage, Peter failed to get inside Klitschkos jab, as Wlad racked up round after round. Peter, however, wasnt one to give up as his power nearly changed the fight. Three times, Klitschkos weak chin haunted him, as Peters power remained a legitimate weapon. The Ukrainians trips to the ground kept the fight interesting, but Wladimir held on to win the fight, continually relying on the jab to pepper Peter, who didnt seem affected by Klitschkos power until the final round, when he finally appeared shaken. Wladimir still has failed to look back since that battle, becoming the divisions consensus top fighter. Still, the thought of Sam Peter could not leave the mind of boxing fans. He took everything the massive Ukrainian had to offer and even sent him to the floor three times. At 25 years of age, this kid had true potential.
Soon after, it started becoming a possibility that Samuel Peter had peaked. A year after the fight with Klitschko, and with two easy wins under his belt, Peter took on veteran James Toney, looking to complete the difficult task of knocking out the crafty veteran, or at least to outbox him. Its still debatable as to whether Peter did either. Toney certainly did not hit the floor, but Peter won a questionable split decision, which led to the World Boxing Commission (WBC) demanding a rematch. In that fight, in January 2007, Peter became a true contender again. He didnt knock Toney out, though the chubby veteran did find the ground once, but Peter left no doubt that he could box. He was no longer a stocky hotshot who had only his own power to rely on in addition to his reputation of throwing looping shots that continually pegged his opponents in the back of the head. With the two victories, Peter had earned a shot at WBC champion Oleg Maskaev, a veteran who appeared to be a fairly easy target for the Nigerian Nightmare.
This is when the true downfall of Samuel Peter began. Maskaev appeared to be only a couple decent paydays short of leaving the game. Peter was a risky, fairly cheap fight, and did not appear to be on Maskaevs agenda. Maskaev first tried getting boxing legend Evander Holyfield to fight him, but Holyfields lack of a presence in the WBCs top-15 rankings prevented that from happening. When that fight became an impossibility, back into the picture entered Vitali Klitschko.
Vitali was retired, and was certainly not ranked by the WBC. He did, however, retreat as the WBCs champ, and was granted Champion Emeritus status, allowing him the opportunity to fight for the title immediately upon his return to the ring. It worked out perfectly for Maskaev, who could fight for a huge payoff in Europe, with Klitschko likely taking home the title. The WBC, realizing that Peter truly deserved the title shot after twice defeating Toney, decided to hold off Klitschkos immediate shot, forcing a battle between Maskaev and the Nigerian. Klitschko then elected to come back with a tune-up fight, against veteran Jameel McCline.
Not everything, however, went as planned. Maskaev and Klitschko both got hurt, setting up a fight between Peter and McCline for the WBCs interim title. In October 2007, Peter went from possibly being a heavyweight phenomenon to possibly being a heavyweight flop. Late in the second round of his fight with McCline, Peter went down hard. The man that Wladimir Klitschko needed almost all of 36 minutes to even stagger, had hit the floor against a journeyman in under six. The next round, McCline knocked Peter down twice more. Their fight then became a game of survival for Peter. Shockingly, the Nightmare returned to his game plan and edged out the fight by unanimous decision. Though he had the win, the interim belt, and a rescheduled match with Maskaev, the aura of Samuel Peter was gone. It didnt take an elite heavyweight to get to him, it simply needed somebody that had the power to knock him down and box competently after that point.
With Vitali Klitschko now content to fight for the title without a tune-up, Peter fought Maskaev in March 2008. With both fighters giving their opponent trouble at points, the match became a war of attrition, and Peter was the first fighter to land a big enough shot. He no longer had the label of the next great heavyweight, but he was the WBC champion, and the Klitschkos were back in his sights. Beating Vitali and getting the rematch with the now-unbeatable Wlad was clearly the most important thing.
That dream ended on October 11th. Peter went to Berlin, Germany to fight Vitali, who finally came off his four-year layoff. After his whole camp appeared at the fight week press conference in a bad mood, complaining about both the fights location and the press conferences being conducted in German, Peter also got outclassed in the ring. The fight was practically a carbon copy of Peters fight with Wlad. There was a Klitschko throwing jab after jab, not letting Peter near him, and then connecting on the Nigerian with right hands. There were two differences between the fights: Peter never was able to break out the game-changing power and the fight never saw the final scorecards.
It wasnt the fact that Peter didnt even finish the fight that hurts his standing. If hed simply gone down to a Vitali power shot, there would not have been any shame in the fact. Klitschko looked like his old self. After four years off, he didnt even appear at all rusty. Maybe it was similar to Randy Coutures fight with Tim Sylvia at UFC 68, where Couture came back from a 13-month layoff as a changed fighter, largely because the time off allowed any aches to heal, letting the veteran show up in top shape. Vitali Klitschko, in beating Peter, left no doubt that the best two heavyweights in the world have the same last name. Samuel Peter, however, never even saw the floor.
After eight rounds, Peter returned to his corner, took a seat, heard the judges open scorecards announced, and never got off of the stool for the ninth round. Samuel Peter had quit.
Ill fully admit that Ive never been in a boxing ring, and do not have any plans to enter one. Ive never taken a heavy punch, much less 24 minutes of them from Vitali Klitschko. But for a man that gets paid to step in that ring and trade, the least he can do is go down swinging. Weve seen the game-changing power before. Wladimir Klitschko came close to getting a new set of nightmares from it. For all we know, Jeremy Williams is still staring at the lights, remembering it. On October 11th, Samuel Peter decided not to give it another 12 minutes to show itself, and that is not good for the sport of boxing.
The Klitschkos are now the top two heavyweights. No other fighter appears to have the stuff to take on either of them, and they wont fight each other. Heavyweight boxing, and the sport as a whole, remains somewhat in the doldrums. The saviour for the division is surely among us somewhere. It might be 2004 Olympic gold medalist Alexander Povetkin, who gets Wladimir next. Maybe its Lennox Lewis himself, as Vitali wants a rematch. The one thing we do know is that, after 24 minutes in Berlin, its certainly not Samuel Peter.
[php snippet=1]