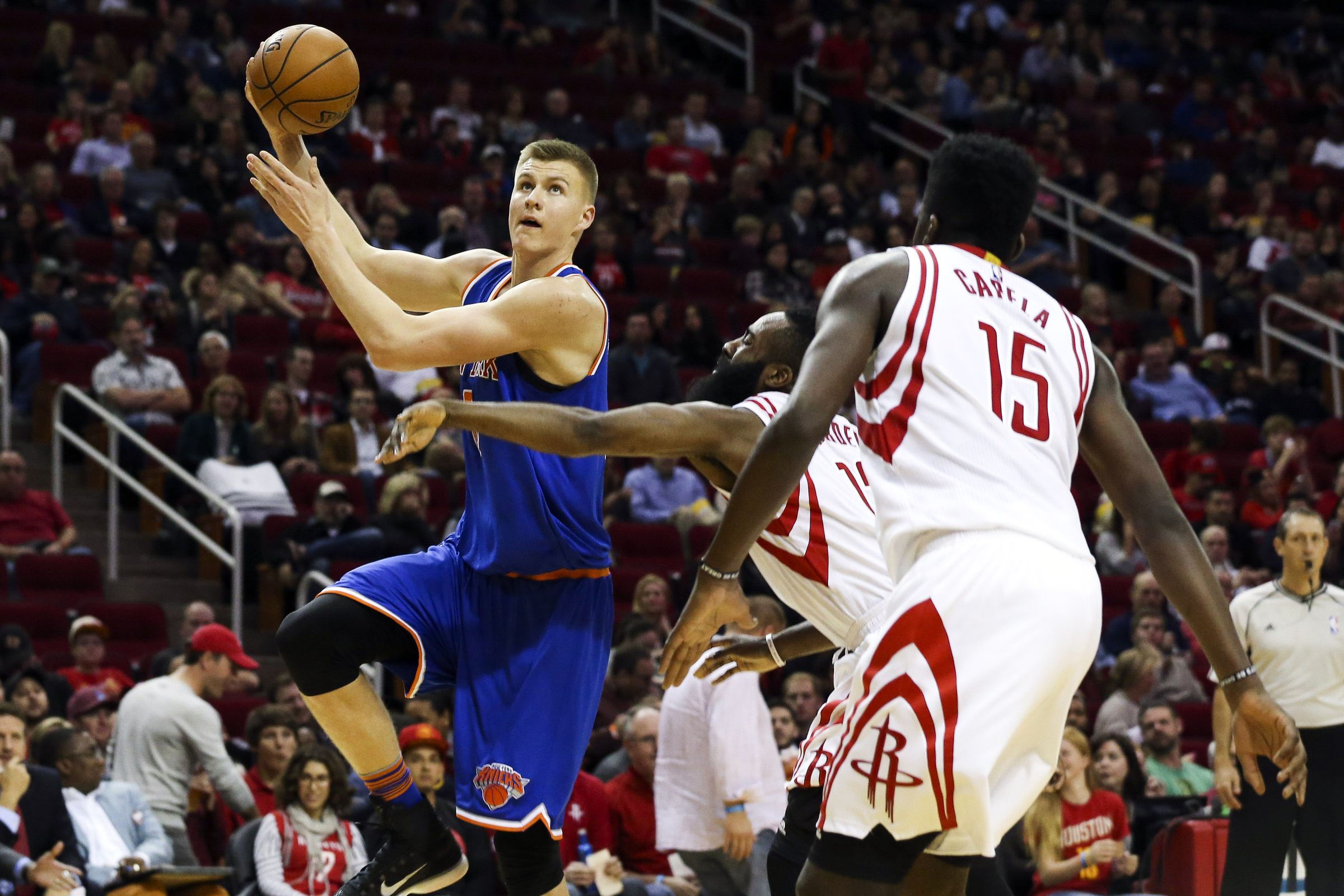 Yao Zingis: Is Kristaps Porzingis a generational talent?
November 30, 2015
Kristaps Porzingis is a fleet-footed, vengeful beast with ice water in his veins,  an abomination straight from the depths of the most savage Breaking Madden-esque Create-A-Player Dream World the basketball community has seen since Yao Ming. These, of course, are both good things but the best thing about the fourth overall pick in the 2015 NBA Draft is that he's done so with the demeanor that he's done it with.
We're one month into an NBA season and already the oddly-proportioned prodigy has made analysts and aficionados alike look stupid and prejudiced. Can you blame them? Yes, actually.
Through 18 games so far this year, Porzingis has averaged 14 points, nine rebounds and two blocks per game. That's in less than 28 minutes per night, too. Already he's posted four 20-and-10 games, blocked six or more shots twice and even knocked in a potential game-winning three-pointer that was 0.1 seconds away from officially beating the buzzer.
What's more, he's a fun to follow off the court as he is on it. The dude rocked corn rows like a boss as a child and has already sworn to seek revenge on Dwight Howard after the Rockets center crushed him with an alley-oop in a late November matchup.
How did we not see this coming? The majority of us – fans, media, doesn't matter – didn't even stop to consider the notion that the Latvian prospect would warrant serious attention out of the gates. Even our Sports.ws analysis was quick to write him off as an asset better served sitting on and waiting for later.
Just this August, Knicks general manager Phil Jackson made a hardly inauspicious comment about his first-round pick, likening his build to that of former NBA punchline Shawn Bradley.
"Like Shawn Bradley, who was nevertheless a pretty good player, [Porzingis] might almost be too tall for the game," Jackson said of the 7-foot-3 prospect. "What I mean is that his core strength might never be good enough, and that he might not be able to get low enough to get himself into prime defensive position to body power rebounders or drivers."

From the New York Post.
The problem is that the media hears what it wants to hear and rather than stopping to reflect on the comments for what they were, rather honest and indisputable observations about two men with similar body types, they fancied themselves the barriers of the controversial news that the much bandied about Knicks' draft pick was just as much of a bust as the crowd at the Barclay's Center thought he was the night his name was called fourth overall.
Annoying, right?
This, naturally, is why despite all of his on-court accomplishments so far, the best thing about Porzingis is his demeanor. We don't deserve a fired up kid flying around the court defying expectations like a bad ass, we really shouldn't get to sit back and watch highlight reels of the first-year hybrid after we so easily cast him aside as a player years away from contributing if he were to ever even contribute at all. Should Knicks fans get to hitch their bandwagon to a rising star they were so quick to deride when Adam Silver called his name? Really?
Fortunately, Kristaps Porzingis is better than his detractors and better than the media. I guess you can just chalk it up as one more thing the gangly project is better at than we naturally expect him to be. Maybe it's time to just pull up a seat and stop talking.