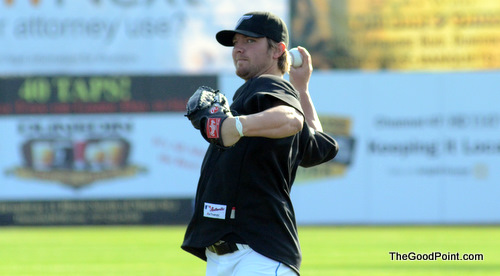 Son of a pitcher man: The Kyle Drabek story
April 15, 2011
At first glance, Kyle Drabek does not appear to be an intimidating force on the mound. Once the ball leaves his hand, though, opposing hitters immediately recognize that he is exactly that, a borderline assassin.
With only six Major League starts to his name, Drabek is already inflicting damage on his targets with a variety of weapons. Whether he's throwing a two-seam fastball with late sink or a cutter that strikes panic into left-handed hitters, he can certainly bring the heat. It's something that comes naturally to the young right-hander, especially with his straight, four-seam fastball that sits in the 92-95 MPH range. Effortlessly, the ball leaves his hand for home plate like a locked-on torpedo, with the ability to touch 97 should he order it to do so.
Shockingly, none of Drabek's fastballs even compare to his best pitch, a sharp, spike curveball, a superhero-like power that's already one of the best curveballs in the American League, if not all of baseball. The ball acts as the student and listens to its master, fooling hitters as they start their swing into thinking the ball is hittable at the letters before it devilishly buckles their knees.
At just 23 years old and starting his first Major League season, Drabek has dealt very well with the pressure that comes with being a rookie in the Major Leagues.
Then again, pressure is nothing new to him, as he's faced it his entire life. On top of dealing with the stigma of being a highly-touted first-round draft pick after a standout high school career, his father, Doug Drabek – the NL Cy Young Award winner in 1990 – was a former Major League pitcher who left some big shoes for his son to fill.
[php snippet=1]
The elder Drabek was a 13-year MLB veteran who owns a career 3.73 ERA in over 2,500 innings. Few players have had the luxury of having a former Cy Young Award winner as a father, and the younger Drabek has enjoyed every single valuable pointer his father has given him over the years.
"Have fun and just play," said Drabek, regarding the best piece of advice his father has given him. "Even though it's a job, you've got to be able to have fun with it, or it's going to be a long road."
If there's anybody who knows about long roads, it's Drabek.
After making his pro debut at the tender age of 18 years old, he was forced to undergo Tommy John surgery in 2007 after blowing out his right elbow. Conventionally a procedure performed on Major League players after longer periods of pitching, it was a blow to the young right-hander who hadn't even completed one calendar year in the minor leagues.
Fortunately for Drabek, he made a new friend during his time with the Phillies who had also had Tommy John surgery, and that relationship worked wonders in helping him prepare to successfully return to the mound.
"I had Mike Zagurski with me which helped out a bunch [and] it was good to hang out with him every day," Drabek told The Good Point about his team-assigned roommate at the time. "We would watch the Phillies games and talk about the game, and I learned a lot of the mental side of baseball from him"
In 31 starts following his surgery and after some key mechanical adjustments, Drabek emerged as a completely different pitcher, managing a 3.03 ERA with 166 strikeouts in 190.1 innings.
As if he hadn't already had his fair share of memorable experiences in his life, Drabek's strong post-surgery performance in the minors made him the centerpiece of an offseason trade to the Blue Jays and away from the only organization he had ever been a part of. Once again, he sought the advice of his father.
"It was a little weird when it happened, I didn't really know what to do at all," said Drabek about the trade. "Talking to my dad, he said that it's just one of those things that's an off-field issue, and you can't really worry about it when you're pitching or how it affects you every day. He was pretty much just telling me to drop it, let it go, and just go out there and play."
Drabek certainly just went out there and played, enough to get the call to the Majors and make his big league debut with the Jays. This season – after sporting a team-low 2.81 ERA in spring training – Drabek has already shown glimpses of the ace many are envisioning he will be.
In three 2011 starts so far, Drabek has managed a 1.93 ERA (3.73 FIP) with 17 strikeouts in 18.2 innings, and the Jays haven't lost any of those games.
While there are multiple reasons he's an improved pitcher this season, Drabek has certainly noticed that a positive change in philosophy under new manager John Farrell – in comparison to the Jays' skipper last season, Cito Gaston – has rubbed off on him.
"I didn't really get to know Cito that well, since I was only with him for such a short time," the Texas native said. "Johnny's real talkative, it's almost like having another pitching coach around, too, which is good for the pitchers, and he seems like he knows what he's doing. "
"I know Cito did too, but knowing [Farrell] a little bit better it seems like he's got everything down and knows what he wants."
With 11 walks in his three starts this year, Drabek obviously hasn't perfected his game, and he fully understands that he can still improve in many areas.
"I've been working on repeating my delivery – that's the main thing for me – because I tend to get a little wild," he said. "Being able to repeat my delivery, my command will be there, because once I start getting too amped up, that's when I start throwing the ball up and not knowing where it goes."
While Drabek already has the ability to throw an assortment of pitches for strikes, he's working on mastering another pitch, one that would put the finishing touches on a repertoire fit for an ace.
"A lot of them are where I want them to be at, at least at this point," Drabek said of his pitches. "I'm definitely working on the changeup still, because that's going to be one of my main pitches that I'm going to need. I've been working on that a lot, just working on the feel and command of it."
Even without a plus changeup and without minor improvements to the pitches he already throws, Drabek is pitching just like a No. 2 starter, the position in the rotation he was given at the start of the season if only by default when Brandon Morrow went down with a forearm injury.
With Morrow set to return from the disabled list soon and Drabek pitching the way he has been, it seems like he has done what he needs to do to stay in the rotation for the rest of the season, and for many seasons to come.
Impressive already, If Drabek perfects his changeup, cuts down on his walks, and continues to build up his confidence, he could very well be one of the most intimidating pitchers in baseball.
You've been warned.
[php snippet=1]